The Button-Down Shirt Hack Taking Over TikTok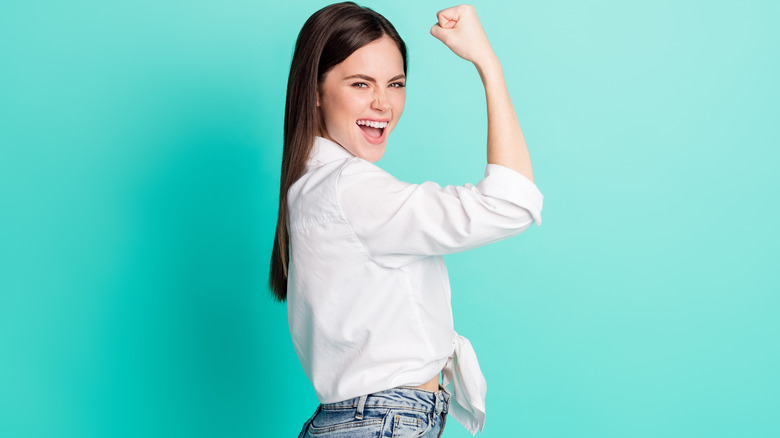 Shutterstock
According to Vogue, a white dress shirt can be a refreshing way to spice up your wardrobe. If you have a button-down shirt you love, chances are you occasionally pair it with some cute denim or another favorite bottom and tie it at the waist. Of course, that tie might get big and bulky depending on how long your dress shirt is. It's a cute way to make a dressier item more casual and relaxed, especially if you're working on a "hot girl summer" or just summer in general. 
As with many areas in life, a smart and innovative TikToker created a hack for how to tie the long tails of the shirt near your waist without having the bulky tie and tails that go every which way. A TikTok user with the handle @xosimplylo shared the simple trick for styling the shirt at your waist, and it works for button-down shirts of any color or print. Check it out below.
Here's how to tie a button-down shirt without a bulky knot
TikTokers shared @xosimplylo's video more than 14,300 times, and more than 156,000 users hit the like button. To get the flat tie, she buttoned the shirt to her waist, leaving the lengths unbuttoned. Then, the TikToker pulled one tail through the hole created between the bottom button and the one above it. After that, she pulled the opposite tail through the gap over the top of the first tail, securing the shirt at her waist while leaving the area flat with no bulk over her tummy. 
The whole life hack looks simple, and it could change your silhouette when wearing a button-down. BuzzFeed gave the tip a 10 out of 10, with the reporter noting that she had a horizontal, flat tie at her waist, which she felt was an improvement over the bulkier "wonky" tie she had from a regular knot. If you're looking for a better way to style this type of top, try out this simple hack to see if it works for you.