Etsy Is Reporting A 11360% Increase In Searches For This Jewelry Trend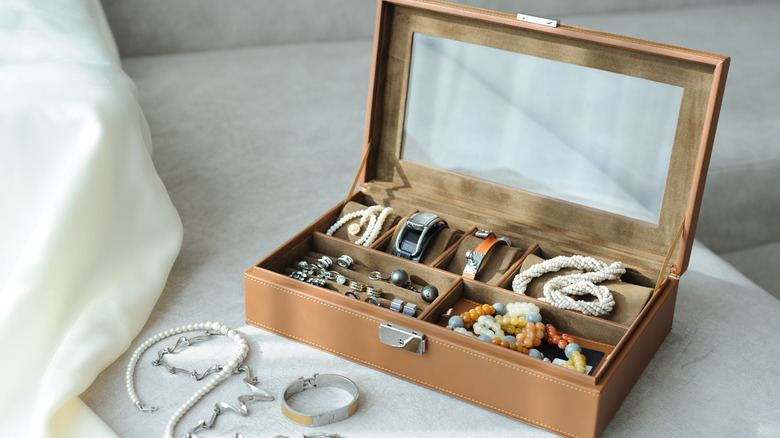 Shutterstock
It's no secret that trends recycle. The puffy sleeve of the '80s, the mini-skirt of the '60s, and even the jelly shoes of the '90s, per InStyle, are all trends of the past that have worked their way back into mainstream fashion. And as much as we love the refreshing Japandi effect of keeping our closets tidy and minimalist, it's often difficult to get rid of or donate clothes when we constantly wonder, 'But what if this will come back in style?'
Well, it has happened again, and this time with a well-known accessory of the Y2k (early 2000s) era we honestly thought would have kept its grin in the past. Not only are we catching glimpses of it in the streets and flooding TikTok, but there is actually trusted data to prove just how explosive this reborn trend has become. This is where Etsy enters the picture. Etsy, an e-commerce platform that was created for independent sellers to showcase their hand-made and vintage products to the masses, per Insider, has reported that the site has seen a massive spike in searches for the Y2K trend. Keep scrolling to find out what specific accessory from the early 2000s is making such a strong comeback.  
This trend is data-backed and undeniably back
Etsy has become a trusted site for both consumers and crafters alike since its inception in the mid-2000s. So when the platform reported a rapid increase in searches for a specific trend, we were all eyes and ears. In May 2021, Etsy reported that it is seeing a 11360% increase in searches for the "Y2k trend" of smiley face jewelry, per The Guardian.
If you're on board with this nostalgic and grinning trend, you can check out Etsy, dig through your decidedly non-minimalistic closet to the find the dusty box in the back, or take a blast-from-the-past trip to Claire's, a place where many of us had our ears pierced as kids. If you really want to go all out, jewelry making kits including smiley faces are readily available for you to put a smile on your face and around your neck, like this kit found at Nordstrom.
In addition to accessories with smiley faces etched, glued, and painted onto them, mood rings are also rising in Etsy's searches. In the end, it's up to you if you want to participate in this recycled trend — or simply watch, smiling from afar.