These Two Harry Potter Actors Actually Dated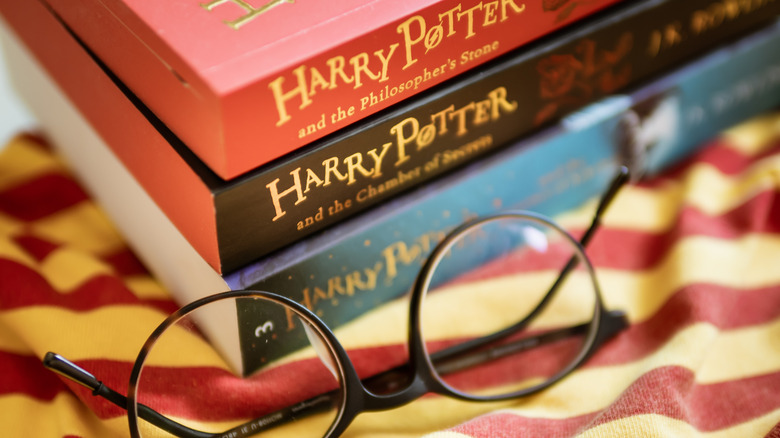 Shutterstock
The end of the "Harry Potter" series saw the rise of its fandom. An alarming number of people received their official Pottermore Hogwarts House, endless lines still wait to shop the wands and potions sold at Harry Potter Stores, while Android phone users have updates that come with spells like Lumos and Silencio (via Telegraph).
The fandom also comes equipped with imaginative romantic "ships" between characters who didn't get together in the books (via ScreenRant). These fan fictions delve into the first kisses, arguments, and nuances of the "(relation) ships" they think would've worked in canon: "Dramoine" (Draco and Hermoine), Luna and Neville Longbottom, Harry and Fleur Delacour are just a few of the couples who missed out on their rom-com storylines.
While most of these relationships remain in video tributes or Wattpad stories, there was one couple that found its way out of the wizarding world, and into muggle land.
Luna and James dated IRL
In 2015, whimsical Luna Lovegood got together with Daddy Potter, and it was a relationship we didn't know we needed off-screen. 
Actors Evanna Lynch and Robbie Jarvis (who played James Potter in the movie) were reported to have begun dating some time that year after Evanna posted a picture of them on her Instagram (via Metro). The caption read, "Happy 29th Birthday to this little babe!! @awildrobbieattacks sweetest boy! Off to see a show together
" Soon after, Robbie posted a picture of Evanna and what looks like her cat, saying "Miss my girls a lot this weekend."
The two definitely packed in silly PDA on Instagram for the year that they were together, including a picture of them wearing Hedwigs as hats; hey, at least they make each other laugh. Unfortunately, it was sadly short-lived. Us Weekly confirmed that they weren't dating when they attended the premiere of "Fantastic Beasts and Where to Find Them" in New York City. While most of us will turn to the world of fan fiction to relive the relationship between Luna and James, take solace in the fact that Evanna revealed: "We're still friends." Who knows, maybe there'll be a reunion.