Meet Lori Silverbush, Tom Colicchio's Filmmaker Wife
John Lamparski/Getty Images
While Tom Colicchio is a household name due to his work as a talented chef and head judge on "Top Chef," many people might not realize his wife is an accomplished filmmaker.
Lori Silverbush earned her master's degree from New York University's Tisch School of the Arts and went on to graduate from the American Film Institute's Directing Workshop for Women, according to her official website. As an independent filmmaker and recent graduate, she looked for ways to supplement her income and was hired as a waitress at Gramercy Tavern, where she met her husband (per The New York Times). Once they got together, Silverbush left her job at the restaurant to focus on filmmaking that "interrogates themes of personal autonomy, social justice, and the power of human connection" (via Silverbush Productions).
She went on to release the short film "Mental Hygiene" in 2001, followed by her first feature-length fiction film, "On the Outs," in 2004. The latter film, which focuses on teenage girls serving prison sentences, was called "shockingly fresh" by The New York Times and "a small miracle" by Newsday. 
Silverbush was named one of Filmmaker Magazine's 25 New Faces of Independent Film in 2005. And in 2014, she and her filmmaking partner, Kristi Jacobson, released the documentary "A Place at the Table" about the millions of Americans who don't get enough to eat each day (per IMDb). "We discovered that hunger is solvable," Silverbush wrote in Woman's Day. "It's not a condition we should simply accept."
Lori Silverbush and Tom Colicchio work together to fight hunger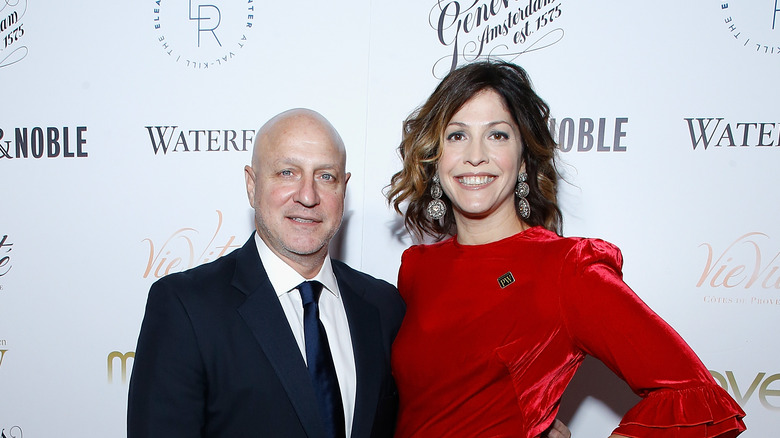 John Lamparski/Getty Images
Lori Silverbush used "A Place at the Table" to launch "a national movement for food justice, and become a leading voice advocating for citizen activism and food policy reform as linchpins of a just society" (via Food is Fuel). She and her husband, Tom Colicchio, are working together on Food is Fuel, a foundation striving to end national hunger and make it a priority for legislators.
"You can't have enough fundraisers. You can't do enough drives," Colicchio told CBS News. "It's a people's movement that needs to happen, and I think if enough people decide that this is unacceptable in this country, it'll force politicians to take notice."
When not fighting hunger, Silverbush and Colicchio are focused on family, which includes Dante, Colicchio's son from a past relationship, and Luka and Mateo, whom he shares with Silverbush (per People). The family lives in a renovated townhouse in Fort Greene, Brooklyn, which they purchased in 2019 because they wanted their kids to grow up in a more diverse neighborhood than Manhattan.
"I didn't feel like that would give us that wonderful thing that you get for raising kids in New York: You get to raise a real New Yorker," Silverbush told Today. "A real New Yorker to me isn't someone who's only ever met people who look and sound and think exactly like he or she does; it's the opposite."