Why Kevin Hart And Nick Cannon's Pranks Have The Internet In Stitches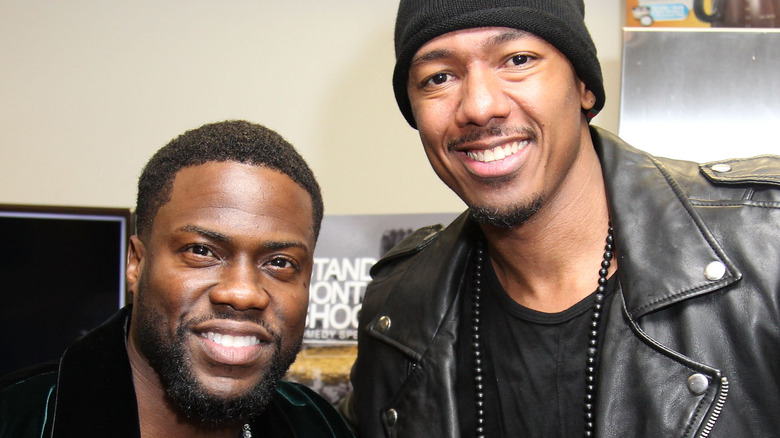 Leon Bennett/Getty Images
Comedian and actor Kevin Hart just pulled a huge prank on one of his closest celebrity pals, Nick Cannon. According to People, the "Get Hard" star revealed he had paid for three billboards in Los Angeles, Atlanta, and New York to display Cannon's personal cell phone number for all to see. Along with the number, they read, "For any advice on fatherhood? Call my best friend Nick Cannon."
Revealing details of his epic gag on Thursday, July 22, Hart uploaded a photo of one of the three billboards on Instagram, along with a caption that read, "Since my brother @nickcannon decided to buy me a lama for my B Day I decided to do something nice for him as well....Here is a digital billboard in Los Angeles....I also did some in ATL & NY." 
The post continued, "if u want any advice on fatherhood please call my BEST FRIEND @nickcannon ....I'm sure his phone has been ringing nonstop GOTCHA BACK BITCH #PRANKWARS."
Kevin's billboard prank was the ultimate payback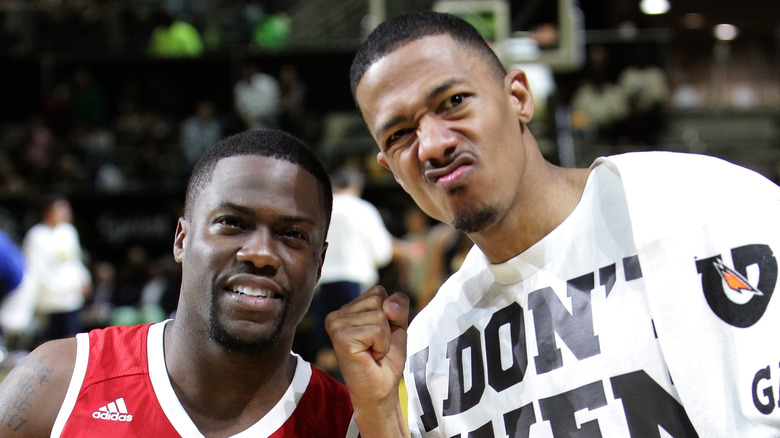 Leon Bennett/Getty Images
According to The Daily Mail, Nick Cannon later responded to the prank on his Instagram story, writing, "My phone won't stop ringing! @kevinhart4real is a a**hole!!!"
As People reported, Kevin Hart's billboard gag comes just a few weeks after he was pranked by Cannon, who, for the actor's birthday earlier in July, purchased a llama and had the animal delivered to Hart's home. Speaking in an Instagram video uploaded at the time, Hart described "The Masked Singer" host's prank as "childish," and revealed that a birthday note delivered with the llama from Cannon read, "Since I'm having all these new kids, I thought I would bless you with a new one as well. Save the drama for your llama. Happy birthday."
The pair's recent shenanigans appear to have provided a great amount of amusement to fans of the duo online. "The @NickCannon and @KevinHart4real prank war is just starting .. looking forward to seeing what's next," one Twitter user wrote after news of Hart's billboard prank broke. "I'm here for the Nick Cannon and Kevin Hart spending an absurd about of money to prank each other ... goals tbh," another fan wrote.