The One Member Of BTS That Doesn't Have His Ears Pierced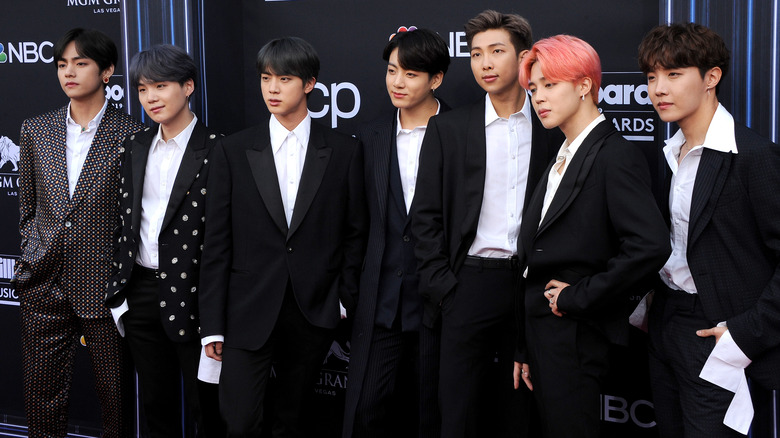 Shutterstock
K-pop has been enjoying global success in recent years, and BTS are undoubtedly the most successful of the bands to have broken through to a global audience. Their hit song "Dynamite" sold more than two million units in the U.S. alone (via Forbes) even if their more recent track "Butter" went one better on the charts, and they're the only Asian and non-English speaking artists to be named the IFPI Global Recording Artist of the Year. Make no mistake, they're huge right now.
The members of BTS are known almost as much for their sense of style as they are for their music, however. (Case in point, they're the newest brand ambassadors for Louis Vuitton, via Vogue). Indeed, all the guys in the band have their own style, including their favorite accessories, as well as tattoos (Jungkook and Jimin) and piercings.
As for piercings, almost all the members have pierced ears, and regularly rock various styles of earrings — look at a photo of the band and you're likely to see them sporting some eye-catching pairs. Of the seven members of BTS, though, just one of them has shunned earrings, deciding against getting his ears pierced and instead staying natural.
J-Hope has no interest in piercing his ears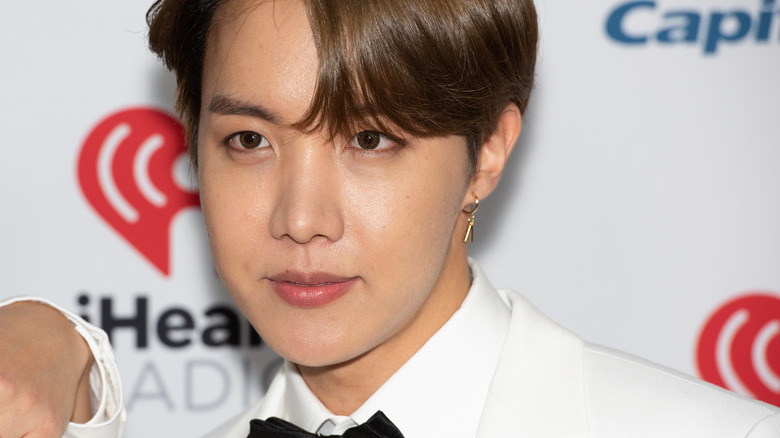 Shutterstock
Out of everyone in BTS, only J-Hope doesn't have his ears pierced. Per Cosmopolitan, he wants to "keep the purity" of his earlobes rather than have them pierced like his bandmates — clearly, he's someone who's happy to do his own thing. Having said that, he has played around with ear cuffs and clip-ons, getting the look of piercings but without the pain and permanence (via StyleCaster).
The 27-year-old has been part of the band since they made their debut in 2013, and has stayed with them ever since, while also working on his solo career, too. He released a debut solo mixtape in 2018, "Hope World," (via Time) and in 2019 became the first member of BTS to appear on the Billboard Hot 100 chart as a solo artist with the track "Chicken Noodle Soup," featuring Becky G (via Billboard). He might be one of the more well-known faces in BTS, but just don't expect him to add any (real) piercings to it any time soon.