Fans Are Calling Out Team USA For Their Uniforms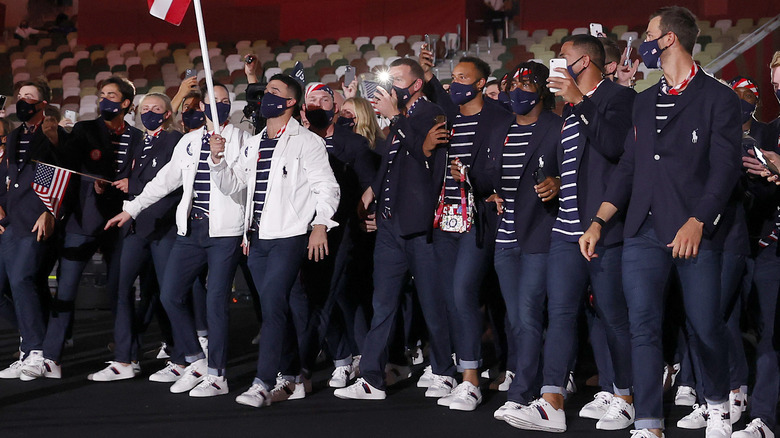 Jamie Squire/Getty Images
American designer Ralph Lauren has been pulling together Team USA's Olympic look for some time now — since 2008 to be exact, and this year was no different. While the look might have been reminiscent of the look and feel seen in past games, this year, Lauren pointed out that competitors wore jeans ("blue denim") instead of slacks, and the fabric was designed with what it called "RL COOLING" which was meant to keep the wearers cool (via Sporting News). The look was, as The New York Times admitted, "red-white-and-blue preppy classicism," but that wasn't enough for Olympic fans who thought it was time for a fashion reset. 
"The Team USA Ralph Lauren outfits look like they're meeting at the Yacht Club for brandy after a hard day of watching their trust fund grow," complained a Twitter user, adding a throwback photo featuring George W Bush. Another tweeted: "Why do the Team USA outfits look like they'd report you to HR for cursing." Even Christine Pelosi weighed in, tweeting, "Ralph Lauren's Team USA Olympic outfits are giving off major Thurston Howell vibes."
Lingerie blogger Cora Harrington took to Twitter to complain, writing: "Ralph Lauren is dull, and everyone knows it. I'd be really into in an article that goes into why they have the contract, and what it means ... especially since the brand seems less culturally relevant than ever before."
Outfitting the hundreds on Team USA can be a challenge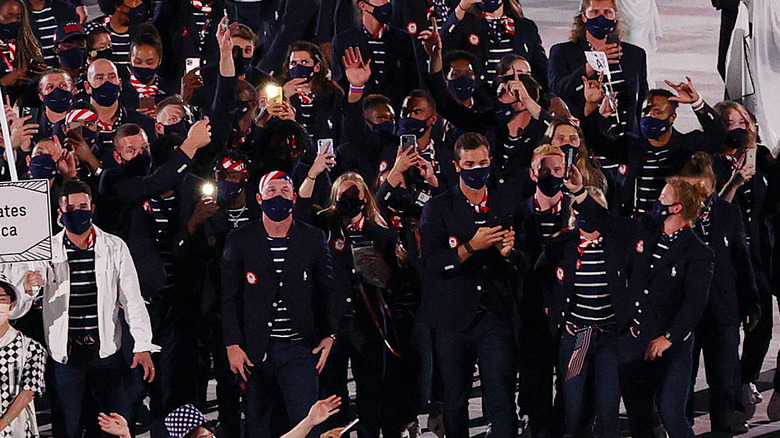 Patrick Smith/Getty Images
The New York Times' Vanessa Friedman took to social media to remind the public exactly what is at stake when a designer opts to take on the responsibility of pulling together an Olympic look. "All those people calling for a new official Olympic outfitter for Team USA instead of more Ralph Lauren — I get it, but remember: they have to be able to afford making free clothes for 615 competitors plus coaches etc. There are limited designers with that budget," she tweeted. 
One Twitter user admitted: "The complexity of sourcing and producing this quantity of product in the US is beyond challenging. RL has the know how, relationships, and logistical expertise to execute it. Sure it's a little stale but most other designers even if budget isn't an issue don't have it all covered."
But those who bothered to look under the outfits will discover there has been some kind of refresh, because it was announced in June that Kim Kardashian would be the fashion force behind Team USA's off-the-clock vibe. The partnership, Kardashian said, covers undies, pajamas, and loungewear for both men and women (via CBS). So maybe there is room for some kind of a refresh after all.