How To Pull Off A Pixie Haircut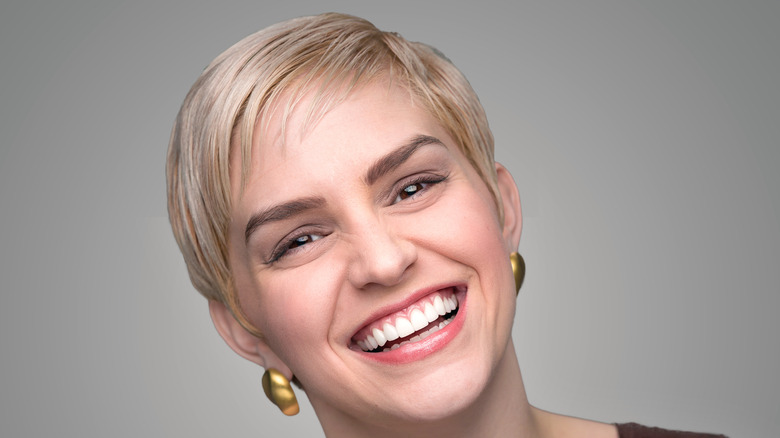 Shutterstock
We may receive a commission on purchases made from links.
The pixie haircut is the ultimate badass, confident look. It offers a refined, modern take on femininity and signals to the world that you don't need long luscious locks to look beautiful. But while this all sounds great in theory, making that decision to commit to the pixie cut can be a huge challenge for some. After all, it takes some major strength to decide to cut off all your hair, especially if it's your first go at the look. But rest assured that if you do decide to make the cut, short hair and pixie cuts are super cool and trendy these days — so you most likely won't be the only person you see rocking this look (via Harper's Bazaar).
But how do you know if a pixie cut will suit you? Well, there's a few ways to determine this before chopping it all off. According to Byrdie, first and foremost, the most important element to rocking short hair is literally just your attitude. If you wear the 'do with confidence, there's no way you won't look absolutely killer with it. But, if you want a little more reassurance than that, Byrdie recommended paying attention to your face shape and hair texture to figure out what kind of short hair will suit you best.  Buzzed? Shaggy? Lob? Pixie? There's loads of options for you to choose from so that you can feel like your best self in your new short hair.
Short hair can be intimidating, but it is incredibly versatile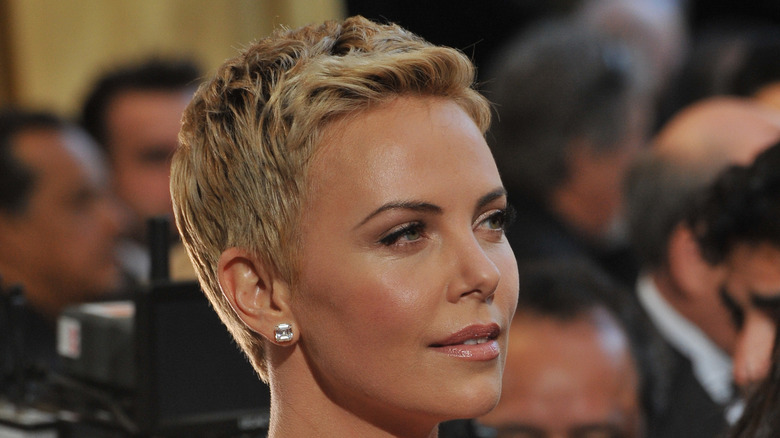 Shutterstock
Short hair can be quite the plunge to take, but once you've finally cut your hair, there are loads of styles you can go for. In fact, the versatility of short hair is one of the reasons that people love it so much. For an edgy, cool look you can slick it down, Byrdie suggested wearing a slicked look with freshly washed hair, parted in your desired direction. You can then add a shine-inducing product that will not only give your hair a gorgeous glow, but will give it that wet look that really sells the whole style. This look has become synonymous with actress Eva Marcille due to how well she pulls it off.
Trying to go for a more Charlize Theron inspired style? We don't blame you. The A-list actress has given the short hair a run many times throughout her career, but there's one particular look that we can't get out of our minds. At the 85th Annual Academy Awards in 2013, Theron wore her pixie blonde hair with exposed dark roots and choppy, textured pieces (via HuffPost). It was so effortless and cool looking that even eight years later, we're still thinking of it.
Use pomades and waves to add texture to your short hair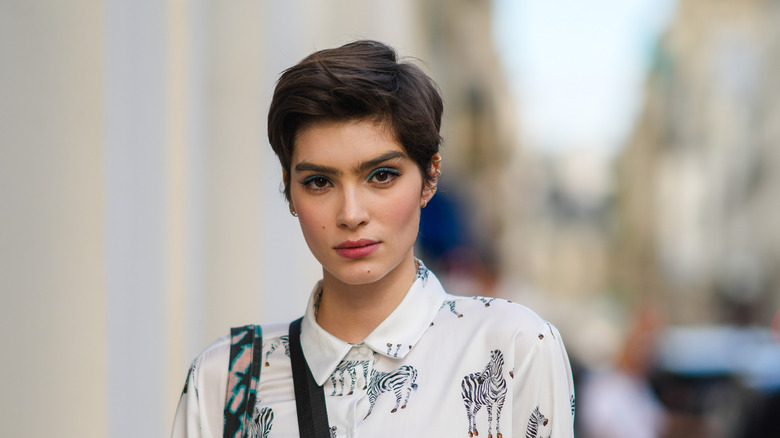 Edward Berthelot/Getty Images
According to Allure, the way to achieve a cute pixie cut is by going pretty heavy on waves and pomades in order to add "toughness and texture" to the hair. This style is pretty much the exact opposite as the aforementioned look on Charlize Theron, as Sally Hershberger hair stylist Tim Rogers recommended abandoning all products that create sleekness, such as gels. But if products speak to you, Bustle reported that one of the best — and most affordable — hair pomades is the SexyHair Style Control Maniac Styling Wax. It creates long lasting textures that are formulated to hold even the shortest of hair, and it's only $18.95.
Finally, if all else fails and you simply can't get your short hair to behave — go for the accessories. Byrdie reminded us of Lupita Nyong'o's penchant for hair accessories in her short hair, and we can't get enough. Hair accessories are super versatile, as you can buy ones that suit any aesthetic that you're going for. You can opt for headbands, clips, jewels, and even flower crowns.
In the end, all that matters is that you wear your short hair with confidence!