Darcey Silva Opens Up About Her Most Difficult Moments With Georgi - Exclusive
Fans of "90 Day Fiancé" have long been invested in the love life of one of the franchise's fan favorites — the loveable, spunky, and ultra glamorous Darcey Silva. The reality starlet captured our hearts when she was cast on Season 1 of "90 Day Fiancé: Before the 90 Days" and met her long-distance Dutch boyfriend Jesse Meester for the first time in person (via YouTube). After their tumultuous breakup, Darcey went in for round two in the reality relationship department, starring in Season 4 of "B90" with her British beau, Tom Brooks (via YouTube). After that split, considered one of the hardest to watch in the show's history, per ET, Darcey, ever the hopeless romantic, put herself out there again in search of the lasting love she deserves. 
On Season 1 of "Darcey and Stacey," the spinoff show the darling diva and her supportive twin sister, Stacey Silva, were gifted in 2020, we were introduced to Darcey's new love interest, Bulgarian model Georgi Rusev (via YouTube). As we witnessed, Darcey and Georgi's relationship definitely has its ups and downs, and Darcey, who is known for her tell-it-like-it-is attitude, is open about her struggles on the way to finding her fairytale ending.
The List sat down with the Silva sisters over Zoom just as the second season of their hit series was about to premiere. The power duo dished on what's in store this time around, including Darcey's highs and lows with Georgi. "In Season 2, you're going to see a little bit more where we dive a little deeper in why our relationship took a little bit of a turn," Darcey explained.
Darcey doesn't regret reaching out to Georgi's ex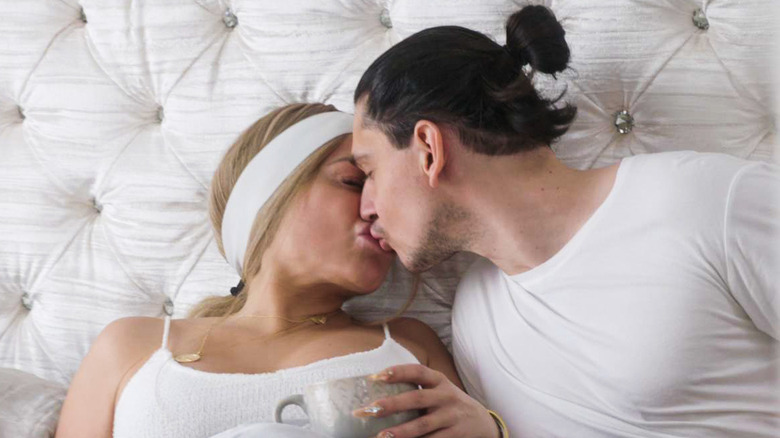 TLC
After Darcey Silva's back-to-back public breakups, she was very careful about who she let into her life. "I'm not going to just settle on one person ... Because I want to choose ..." she explained of her thoughts at the time. So how did Georgi Rusev manage to steal her heart? He reached out to her on Instagram, they met up in Miami, and the rest is history. The Bulgarian native, who is 14 years Darcey's junior, made his reality TV debut on Season 1 of "Darcey and Stacey." The pair quarantined together, and Darcey was devastated to find out that her boyfriend was still married (via People).
After overcoming that hurdle, in June of 2020, the pair got engaged (via People), and as fans will witness in Season 2, their road to the altar is rather bumpy. "There was some lack of transparency there and openness, and I had to reach out to his ex-wife to get some clarity on some things," Darcey, who has zero regrets about taking what she felt was a necessary action, explained. Georgi also did some digging of his own, by reaching out to Jesse Meester, Darcey's ex, which was painful for the reality star. " ... I think that was a very wrong manipulative move on both their parts, and a slap in the face," she said.
Darcey considers some moments with Georgi the hardest to film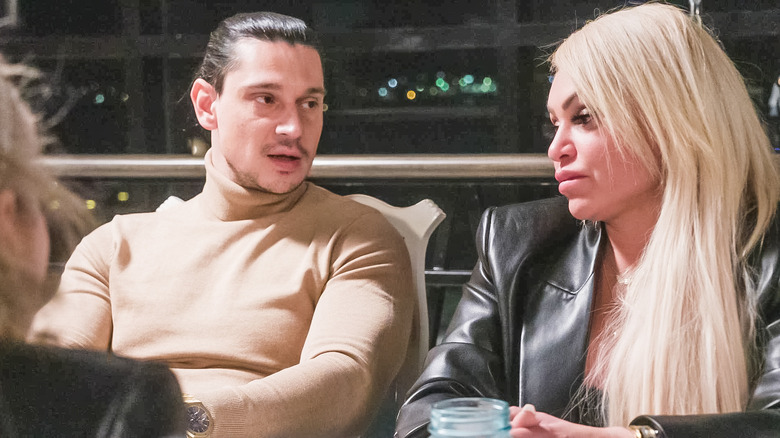 TLC
When asked what the hardest scenes to film on "Darcey and Stacey" were, Darcey Silva noted the ones where they explored her trust issues with Georgi Rusev. The mom of two confessed that she did not want to repeat the past. "I didn't want to have to feel like that in another relationship ... And I just feel like I deserved so much more," she explained.
So what does the future hold for Darcey and Georgi? " ... Maybe there's hope, maybe there's not. We're still trying to figure out things," she revealed. And although her journey has not been easy, Darcey appreciates the self-awareness that has come from her experiences. "I had to forgive myself about things, and set boundaries in relationships, and not be such a 'yes' person all the time," she said. "So, there's a lot of growth that you'll see on this season, for sure."
Season 2 of "Darcey & Stacey" airs on Mondays at 8PM ET/PT on TLC and is available for streaming on discovery+.