The Sleeve Trend That You Probably Already Own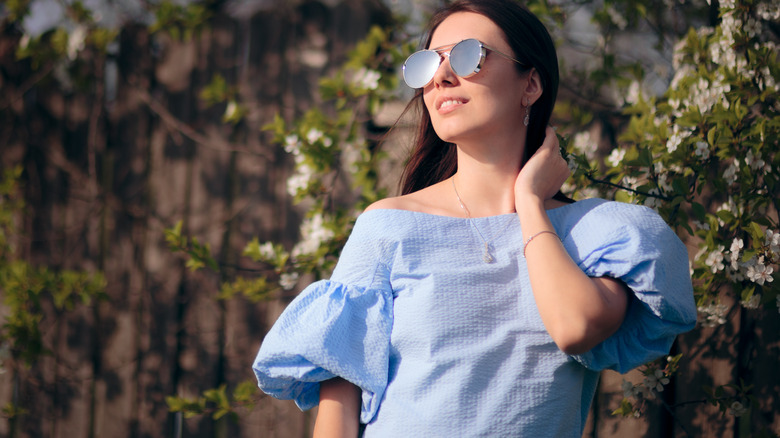 Shutterstock
Aside from mini skirts and heeled flip-flops (via Refinery29), the biggest summer fashion trend is puffy sleeves. The Victorian fashion era has (finally) arrived in the 21st century. According to InStyle, puffy sleeves are the it item this summer (though we suspect the trend will last through winter and beyond).
What's so great about this sleeve trend is you can style it up in so many ways! See, unlike crop tops and other summer staples, puff sleeves are accessible to all (there are plenty of plus-size puffy sleeves available to pick from). Also, did we mention that puff sleeves are so versatile? Whether you want big puffy sleeves or a slight rumple, chances are you'll find what you're looking for (via InStyle). Plus, each sleeve comes in a variety of colors, including bright bolds like pinks and baby blues.
To accessorize this trend, InStyle recommended pairing the shirt (or dress) with some bold earrings, along with some stylish wrap shoes (heeled sandals are your only option, duh).
If you're into cottagecore fashion, read on to know more about puff sleeves and other statements that align with the aesthetic.
Puff sleeves, wrap dresses, and more are a part of cottagecore fashion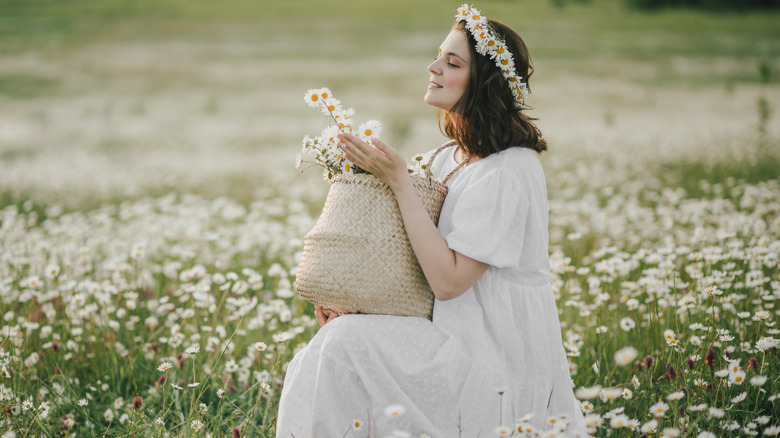 Shutterstock
The puff sleeve look, though gorgeous, is just one part of the cottagecore look. The aesthetic first emerged during the early months of 2020, and since then people have been obsessed (via Cosmopolitan). "During the worldwide pandemic and long periods of stay-at-home orders, the movement accelerated rapidly as people looked for an escape from our dark reality," Amelia Ansink, accessories editor for Fashion Snoops, told Today. "Cottagecore unintentionally represents the ideal quarantine life, where isolation in nature is strived for and everything we need can be produced at home and by our own hands."
From wrap dresses to lace skirts, this aesthetic represents lazy days at the cottage (hence the name), romance, and comfort. Think prairie dresses, straw hats, "Evermore" by Taylor Swift, vintage outfits, and of course, puff sleeves, but more modern and fashionable, per Today. And, what's so great about cottagecore is that it's eco-sustainable, the outlet added. "Sustainability and a do-it-yourself ethos are key when it comes to clothing and accessories for this movement," Ansink said. Since a lot of cottagecore fashion staples rely on hand sewing, it's more eco-friendly than other trends that rely on fast fashion.
You can engage in cottagecore and wear puff sleeves while saving the environment. Sounds good to us.