The Truth About Martin Scorsese And Robert De Niro's Friendship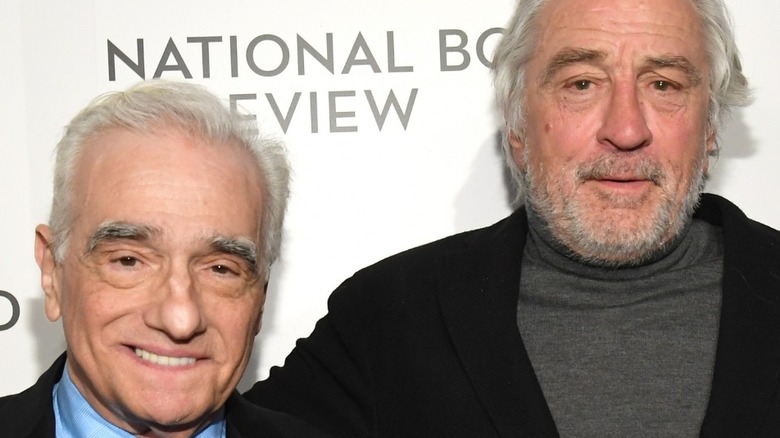 Kevin Mazur/Getty Images
We all know who Martin Scorsese and Robert De Niro are (I mean, unless you live under a rock, or just avoid watching really good movies). Scorsese is considered one of the most prominent directors to grace the big screen and has shown us his vision through films such as "Taxi Driver," "Raging Bull," "Goodfellas," "The Irishman," "Cape Fear," and of course, "Casino" (via IMDb). That's only a fraction of the amazing movies Scorsese has directed, but there's one common denominator in the aforementioned films: Robert De Niro. 
That's right, our favorite mobster actor (sorry, Joe Pesci — we love you too!) has starred in all of them, as well as three other major films not listed above. That's a total of nine out of 25 Scorsese films that De Niro has acted in, per IndieWire. If we didn't know any better, we'd say they really enjoy working together and leave it at that. However, their relationship is not strictly confined to the big screen. The Queens-born director and Manhattan-born actor are also incredible friends (maybe it's a New York thing). So how did this lifelong friendship between two GOATS come to be? Read on for the tea.
Martin Scorsese and Robert De Niro have known each other since they were teens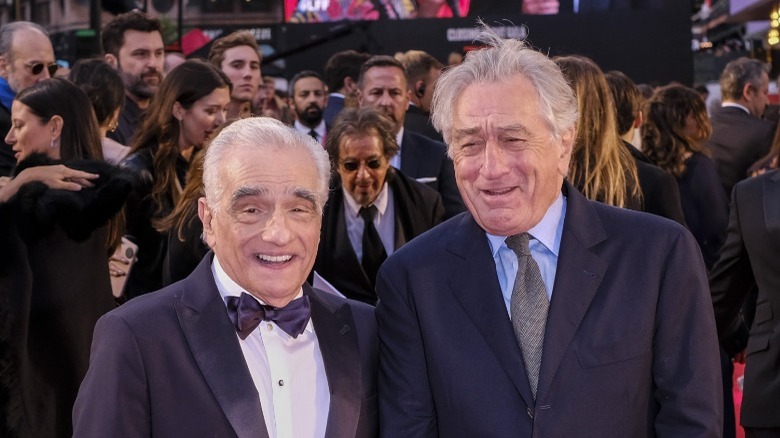 Gareth Cattermole/Getty Images
Although the legendary movie-making duo initially met when they were both 16 years old, they didn't cross paths again until the 1970s, according to Metro. 
Just picture it: The year is 1973, and Martin Scorsese has already solidified his insider status with the "Movie Brats" — a term used to describe a group of the most influential movie directors of the 1970s (which included the likes of Steven Spielberg and Francis Ford Coppola), per Empire Online. Scorsese had only put one major film out and was working on his second ("Mean Streets") when he cast a young Robert De Niro as one of the leads alongside Harvey Keitel. 
Scorsese said of De Niro's acting in "Mean Streets" (which is now considered by BBC to be one of the greatest American films of all time) that he just "got the people, and the tone and flavor and temperature of it," and by the time they worked together on "Taxi Driver" just a few years later, he knew that "it was something extraordinarily special" (per Deadline). 
They continued making amazing movies throughout the years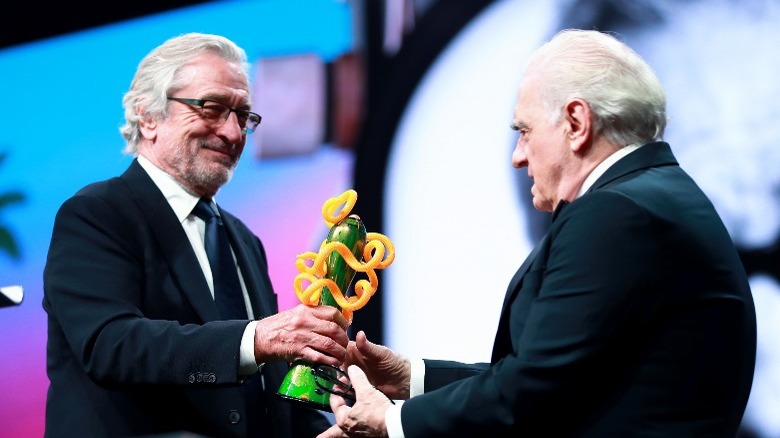 Rich Fury/Getty Images
Following the commercial success of "Mean Streets" and "Taxi Driver," Martin Scorsese and Robert De Niro continued to make movie magic as colleagues while simultaneously deepening their bond as friends. Still, Scorsese said the two never discussed the profound moral dilemmas that were often depicted in his films, according to his 2020 interview with Deadline. Despite this, Scorsese said that there was an "extraordinary unspoken trust between us that was tested a number of times." 
The most recent movie Scorsese and De Niro worked on was "The Irishman," which was released on Netflix in 2019 and also starred Joe Pesci and Al Pacino (dream team, am I right?). The film was very well-received and even nominated for 10 Academy Awards, per People. "Doing this film was so special for all of us no matter what happened," De Niro told People in 2020. He added that he considers himself "very lucky to have that long of a relationship with [Scorsese]," and that he can't imagine his life without it.
Scorsese sang similar praises to Deadline: "I'm very happy to have found a collaborator like him. We've been very lucky over the years and also it turned out people change over 20 or 30 years," he said. "Yeah. We changed, and then came back together and I would call that a highly fortuitous situation."