Inside Simone Biles' Jaw Dropping Exit From Team Gymnastics At The Olympics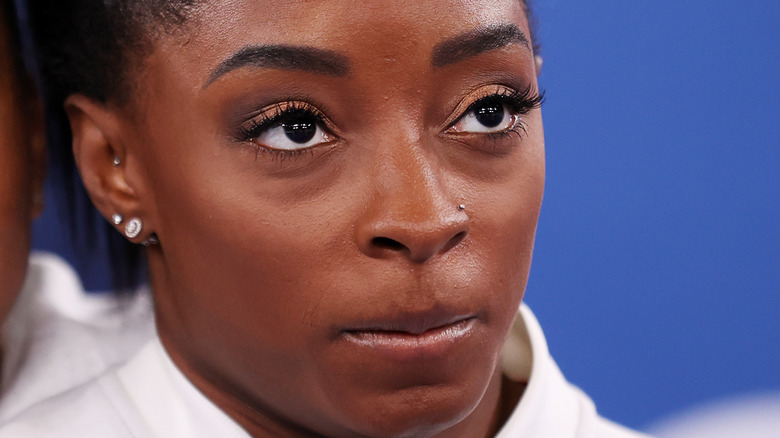 Laurence Griffiths/Getty Images
Team USA may have wanted to capture the gold in gymnastics team finals, but it came away with a silver instead, after it finished without its star performer. Simone Biles withdrew from the high-level tournament after posting the third lowest score out of all the competitors for her vault, in a performance that showed that Biles was off her game. Shortly after her decision to withdraw, USA Gymnastics issued a statement that said that Biles was pulling out "due to a medical issue. She will be assessed daily to determine medical clearance for future competitions. Thinking of you, Simone!"
It didn't take long for Biles' coach to clarify what the medical issue might have been, saying, "Physically she is fine. But she is done for the night" (via NBC). 
Social media stayed supportive of the young gymnast and her decision to withdraw. "Poor thing, sending her so many good vibes. I feel for her, truly. The pressure to be perfect and to perform for the first time ever without your family by your side ... I don't blame her one bit for the struggle. Be proud Simone, you're still my hero," one social media user said. 
Another reached out, saying, "I really hope that the love, support, and positivity is gonna outweigh the incoming amount of negativity that is come her way because mental health is still so stigmatized. Take care, Simone. You are truly an inspiration and the GOAT."
If you or someone you know is struggling with mental health, please contact the Crisis Text Line by texting HOME to 741741, call the National Alliance on Mental Illness helpline at 1-800-950-NAMI (6264), or visit the National Institute of Mental Health website.
Simone Biles has had a lot on her plate since the Rio Olympics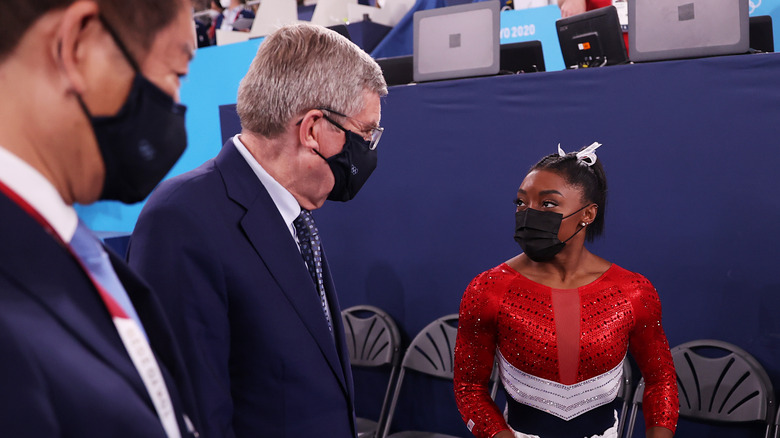 Laurence Griffiths/Getty Images
New York Times writer Juliet Macur, who profiled Simone Biles before the games kicked off, could have said that she saw this coming. Biles played a leading role in speaking out against USA Gymnastics physician Larry Nasser, when she went on social media to talk about what happened. In a statement she posted on Twitter, Biles said "Most of you know me as a happy, giggly, and energetic girl. But lately ... I've felt a bit broken and the more I try to shut off the voice in my head the louder it screams," before talking about the impact Nassar's abuse had on her. Following that revelation, she told Vogue that she became depressed and slept a lot because she said "it was the closest thing to death without harming myself" (via The New York Times).
And then there is the physical pain of being a gymnast. The New York Times also said Biles had a problem with her ankles, which made every step she took searingly painful.
By withdrawing today, Biles follows in the footsteps of tennis player Naomi Osaka who had to walk away from both the French Open and Wimbledon (via CNET). As one Twitter user said: "Simone Biles today. Naomi Osaka earlier this year. Tuukka Rask last year. They all tapped out for personal reasons [and] I support them all. Sports are a form of entertainment; they mean nothing. Mental health means everything. Props to the athletes who are figuring this out."
If you or anyone you know has been a victim of sexual assault, help is available. Visit the Rape, Abuse & Incest National Network website or contact RAINN's National Helpline at 1-800-656-HOPE (4673).
Simone Biles hinted she was struggling in an Instagram post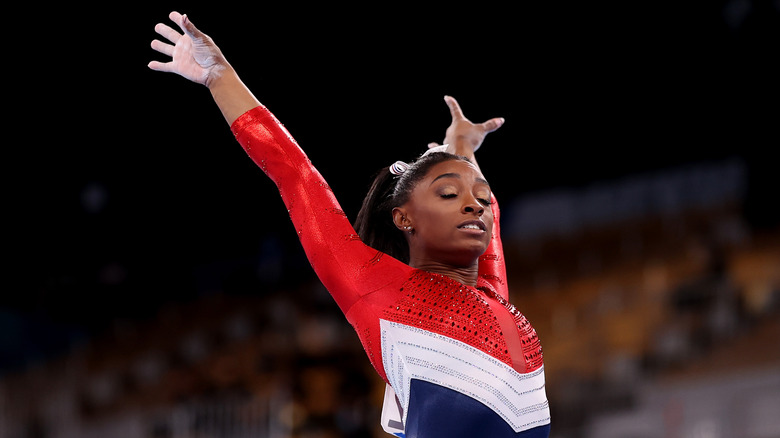 Laurence Griffiths/Getty Images
Simone Biles' discomfort would have been visible to all who might have taken the time to read her social media posts. After the first day of competition, she took to Instagram to say: "It wasn't an easy day or my best but I got through it. I truly do feel like I have the weight of the world on my shoulders at times. I know I brush it off and make it seem like pressure doesn't affect me but damn sometimes it's hard hahaha! The [Olympics] is no joke! BUT I'm happy my family was able to be with me virtually — they mean the world to me!"
NBC's Hoda Kotb had nothing but praise for the young gymnast, as she took to Twitter to say: "Someone said it best. [Simone Biles] already won. She is a class act. Withdrew from team competion (sic) after vault ... stayed and cheered on her teammates ... got them chalk for their hands ... encouraged ... hugged them. She already won. Congrats on the silver medal!" 
Another person who tweeted out her support for Biles was teammate MyKayla Skinner who was eliminated earlier. She said: "I'm so so proud of our girls for fighting to the very end. Each one of them is gold in my eyes. We are all human ... Can't imagine what Simone is going through. She deserves all the support in the world right now. And still our GOAT!!!"