Why Naomi Osaka Is Causing Such A Stir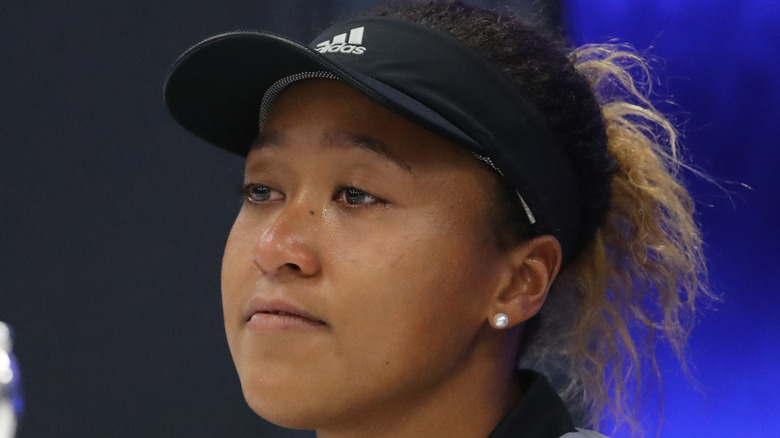 Shutterstock
We're already a quarter of the way through the highly anticipated 2021 French Open, and there has been no shortage of drama on and off the courts and at the center of it all is the reigning champion of both the US Open and Australian Open, Naomi Osaka. You may alternatively know her as the first female tennis star to go toe-to-toe with the 13-time Grand Slam solo winner Serena Williams. 
When the pair faced off in a 2018 Grand Slam match, Osaka became the first Japanese player ever to win a Grand Slam title, per The Undefeated. But for Osaka, the event that should have ended in her head held high ended in tears, as the crowd erupted in disapproval. After consoling the then-20-year-old, Williams took the mic and told the crowd, "I don't want to do questions, I just want to tell you guys she played well. This is her first Grand Slam ... Let's not boo anymore." In Osaka's interview, she went so far as to apologize for her win.
Fast forward a few years, and now Osaka is the one refusing to answer post-match questions, and it's caused quite a stir. In fact, the drama just ended with a shocking statement from the tennis star herself.
Naomi was fined for skipping out on press conferences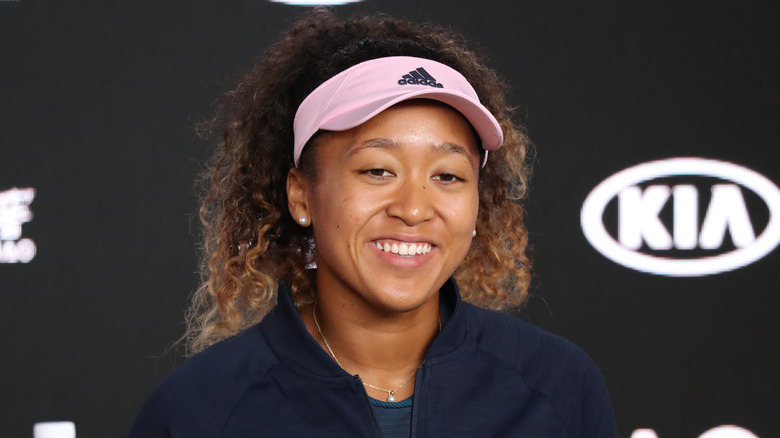 Shutterstock
On May 26, the eve of the 2021 French Open, Naomi Osaka took to social media to announce she wouldn't be participating in press at the event, per Sporting News. 
"I've often felt that people have no regard for athletes mental health and this rings very true whenever I see a press conference or partake in one," she wrote. "We're often sat there and asked questions that we've been asked multiple times before or asked questions that bring doubt into our minds and I'm just not going to subject myself to people that doubt me." 
She went on to discuss the sad reality of organizations continuously ignoring the mental health of athletes and also predicted that she'd pay a hefty price for her actions. She ended her statement by adding, "I hope the considerable amount that I get fined for this will go towards a mental health charity."
When the 23-year-old was true to her word and skipped the post-match press conference following her first-round win, the board of the Grand Slam tennis tournaments released a statement in which they gave the star a warning. In addition to threatening expulsion and future suspensions, the board also slapped Osaka with an expected $15,000 fine (via People). 
Naomi made a shocking statement amid French Open controversy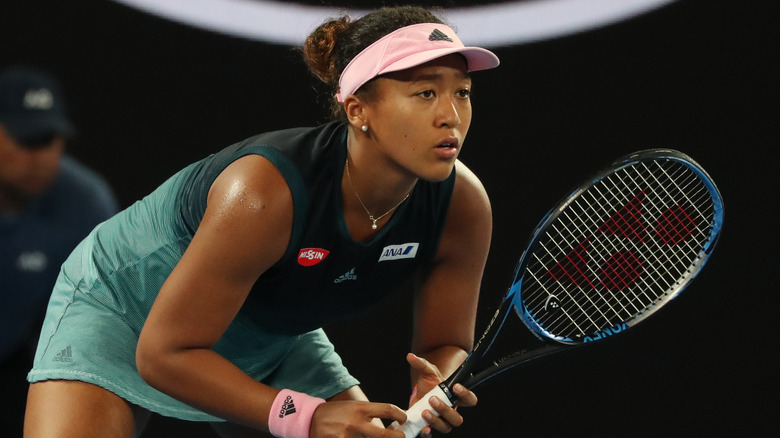 Shutterstock
Following the harsh words from the board, Naomi Osaka refused to back down. On May 20, she took to Twitter to write, "Anger is a lack of understanding. change makes people uncomfortable." While this is a pretty clear message, it's not the tweet that turned the tennis world upside down.
On May 31, Osaka released a follow-up statement, tweeting, "This isn't a situation I ever imagined or intended when I posted a few days ago," she wrote. "I think now the best thing for the tournament, the other players and my well-being is that I withdraw so that everyone can get back to focusing on the tennis going on in Paris." 
She went on to describe her social anxiety, bouts of depression, and fears against public speaking. Osaka also apologized once again for letting others down, adding, "I wanna apologize especially to all the cool journalists who I have hurt." 
Towards the end of her statement, she noted, "I'm gonna take some time away from the court now, but when the time i right I really want to work with the Tour to discuss ways we can make things better for the players, press and fans."
Only time will tell how exactly this news will affect the rest of the tournament, not to mention Osaka's shining tennis career as her statement has received mixed reviews (though most are in agreement with her position on the matter). 
If you or someone you know is struggling with mental health, please contact the Crisis Text Line by texting HOME to 741741, call the National Alliance on Mental Illness helpline at 1-800-950-NAMI (6264), or visit the National Institute of Mental Health website.