Why This Trump Family Member Might Be More Popular Than Donald As A Future Candidate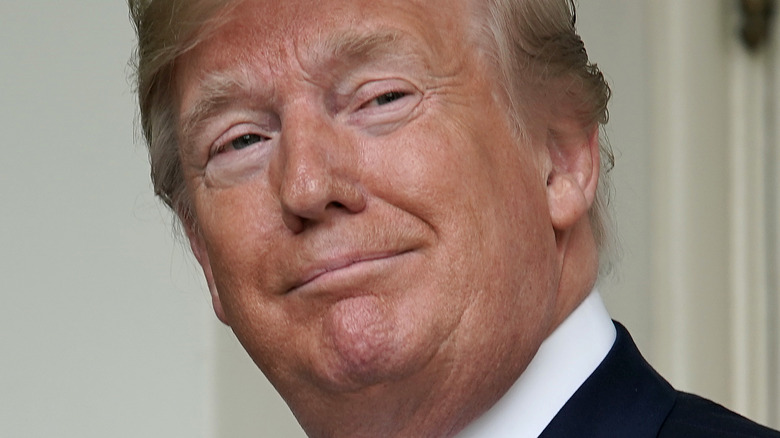 Chip Somodevilla/Getty Images
Donald Trump continues to keep fans on tenterhooks about whether he's running for president again in 2024. Although, according to a recent report in Rolling Stone, the former commander-in-chief has been bragging to various "dinner buddies" lately that he's definitely up for it. A former senior official at the Republican National Committee revealed Trump has told at least three different people in recent months that he's all set for a 2024 presidential run. However, the insider quickly added, "Now, whether he does or not is a different issue. We've still got three years to go. But he's telling people that."
One of the dinner guests claimed the controversial politician is more interested in being included in the ongoing conversation and cornering the field. Trump "wants his name out there" more than anything else. According to a former staffer, who's still in contact with members of the reality star's inner circle, similar conversations have reportedly occurred behind closed doors, too. "All the people I talk to who deal with him directly think as of now he is running," opined the ex-adviser. A recent survey by GOP pollster Tony Fabrizio confirmed half of the respondents would support a 2024 Trump run (via Politico).
However, the former commander-in-chief may find himself with some serious competition — from within Trump's own family no less.
Donald Trump Jr.'s family connection is everything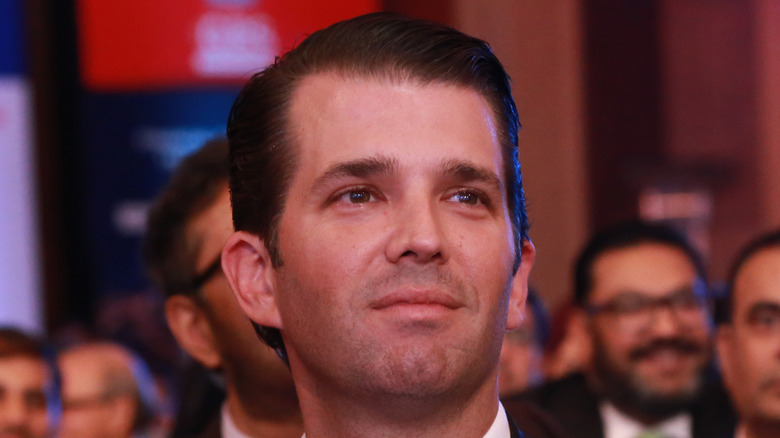 Shutterstock
Although whole swathes of the American population would fear a possible 2024 run from former President Donald Trump, there could be a more concerning scenario in the form of his son, Don Trump Jr., taking the highest office in the land instead. According to a recent poll of his core base, shared by Axios, conservatives are behind the controversial politician's son taking over from President Biden in a few years' time. Don Jr. is closely followed by Ron DeSantis, who's emerging as a front-runner if the former president decides against running again. As pollster Tony Fabrizio, who polled Trump's previous campaigns, advised, "Ron DeSantis and Donald Trump, Jr. are well-known and very well-liked by most Republicans, doing best among President Trump's biggest supporters."
There are many reasons to fear a Don Jr. run, as Vanity Fair details, including the fact he's one of the biggest trolls on Twitter, and a well-established hunter and gun rights' activist who also pushed conspiracy theories about Hunter Biden benefiting from nepotism with unabashed hypocrisy. Elsewhere, Trump's eldest is a failed comedian who proudly defended his family's alleged tax-dodging ways. However, considering the poll in question didn't include Trump Sr., it's reasonable to assume father and son won't run against each other in 2024. It's worth noting, too, DeSantis doesn't exactly have a clean slate either, since the Florida governor turned his home state into a COVID-19 hot-spot after refusing to institute necessary mask mandates and lockdowns.