Where To Get The Exact Clothes Cynthia Bailey Wears On The Real Housewives Of Atlanta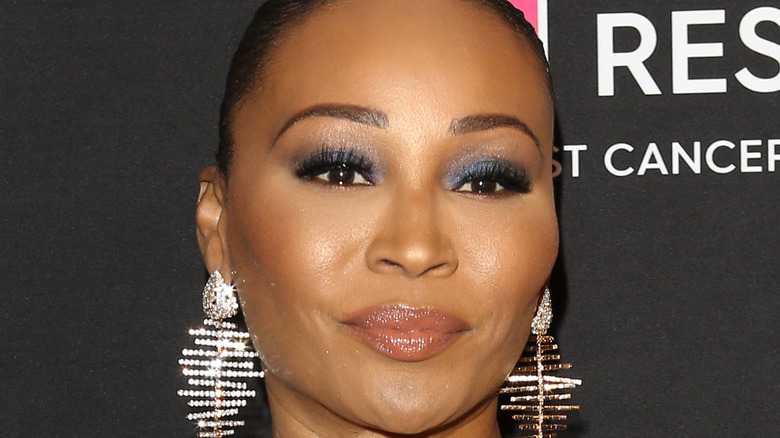 Shutterstock
"The Real Housewives of Atlanta," a Bravo reality television show that has been on since 2008 as the third installment of "The Real Housewives" franchise, focuses on attractive and affluent women in Atlanta, Georgia. Since the third season, Cynthia Bailey has been part of the main cast, as viewers have watched her raise her daughter, get remarried, and experience drama with some of her costars.
The drama is always exciting, but one of the best parts of these shows, though, is the fashion. And thanks to the site WornOnTV, fans can browse and shop for the exact clothing items Bailey wears on "The Real Housewives of Atlanta."
For instance, during Season 13, Bailey wore a pair of Faux Leather Camo Legging by Spanx, which are available on Revolve, Nordstrom, and Zappos. A bonus point goes to the fact that these were also worn by Sonja Morgan on "The Real Housewives of New York City!"
Even Cynthia Bailey's one-shoulder, high-slit reunion gown can be purchased
An outfit is not complete with the exact right accessories, and one memorable ensemble from this "The Real Housewives of Atlanta" star would be the Serial Chiller Edition Bag by De Vesi. Those who want their own version of Cynthia Bailey's purse can turn to de-vesi.com.
A casual look for someone who is part of this franchise looks a little different than sweats and a tee. For Bailey, she opts for items such as the Leopard Print Zipper Drawstring Jumpsuit by Hot Miami Styles, which is oh-so stylish.
Of course, reunion ensembles are definitely a big part of what WornOnTV reports on, as these gorgeous gowns are seen in multi-part and drama-filled episodes that wrap up each season. For the last "Real Housewives of Atlanta" reunion, which was held virtually, Bailey showed up in the One Shoulder Beaded Gown by Tarik Ediz, and this V-neck, high-slit, chiffon dress can be found via CoutureCandy.com.