Simone Biles Finally Speaks Out After Her Jaw Dropping Exit From Team USA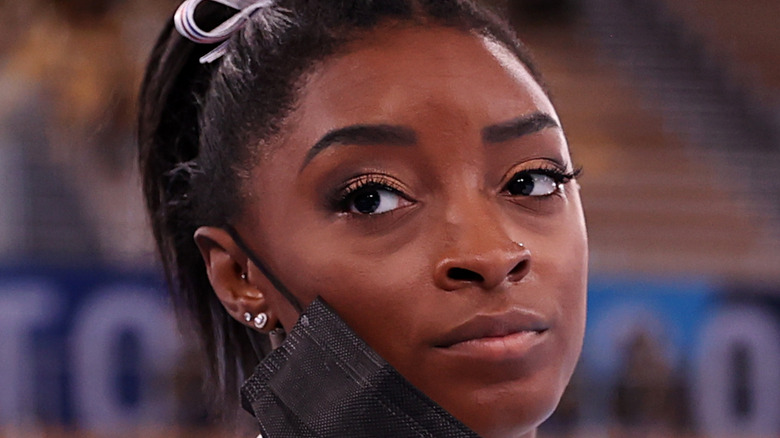 Laurence Griffiths/Getty Images
Award-winning gymnast Simone Biles had a choice to make during the Tokyo 2020 Games, and she made it by choosing to preserve what really mattered not just to her, but also to those who love her: her mental well-being. After a vault performance that did not go as planned, Biles announced that she would be stepping away from the team gymnastics event. What was originally announced as an injury has now been clarified, and Biles shared that her mental health was taking a hit. 
"I just think mental health is more prevalent in sports right now ... we have to protect our minds and our bodies and not just go out and do what the world wants us to do," she said, adding that "I don't trust myself as much anymore ... maybe it's getting older. There were a couple of days when everybody tweets you and you feel the weight of the world" (via Reuters).
To her it was important that her fans, and those who supported her rise within gymnastics, remembered that, "We're not just athletes, we're people at the end of the day and sometimes you just have to step back. I didn't want to go out and do something stupid and get hurt ...​  It's so big, it's the Olympic Games, at the end of the day we don't want to be carried out of there on a stretcher. You have to be there 100 percent or 120 percent or you're going to hurt yourself."
Will she return to compete again?  The multi-awarded gymnast said that she's going to reassess when it comes to the women's all-around final. "We're going to take it a day at a time and see what happens ... I'm just trying to gear up for the next test," she said. 
If you or someone you know is struggling with mental health, please contact the Crisis Text Line by texting HOME to 741741, call the National Alliance on Mental Illness helpline at 1-800-950-NAMI (6264), or visit the National Institute of Mental Health website.
Twitter was deeply divided over Simone Biles' decision to step aside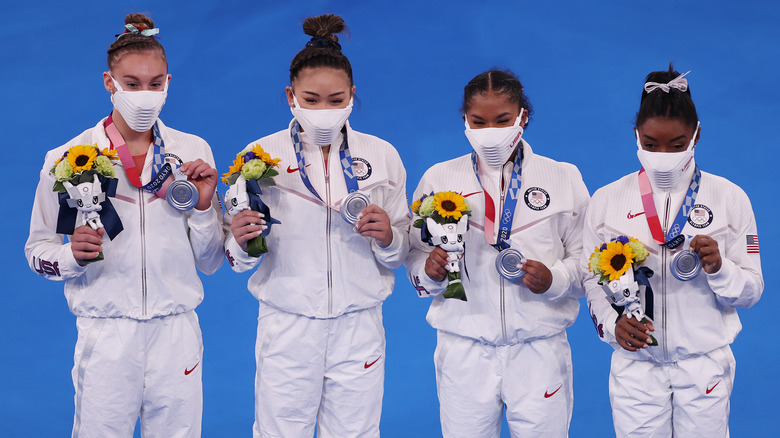 Jamie Squire/Getty Images
Despite Simone Biles' admission that she was close to a breaking point, her withdrawal from the team competition triggered debate in social media, between those who understood her dilemma and those who felt she should have continued to take one in the chin for Team USA.
Among those that understood and supported the iconic gymnast was one social media user who said, "It's impossible to understand the pressure Simone Biles — the greatest gymnast in the history of the sport — and Naomi Osaka are feeling, but we're lucky to live in a time where young Black trailblazers are publicly prioritizing their mental health above all else. That's power." Another said that these amazing athletes are revered as "demi-gods," but that fans have to remember that behind every incredible athletic performance is a human being whose mental health has to come first. "No matter what the outcome the best to her and what she represents," the Twitter user concluded. 
Simone Biles faced unfair criticism on social media regarding her decision to step aside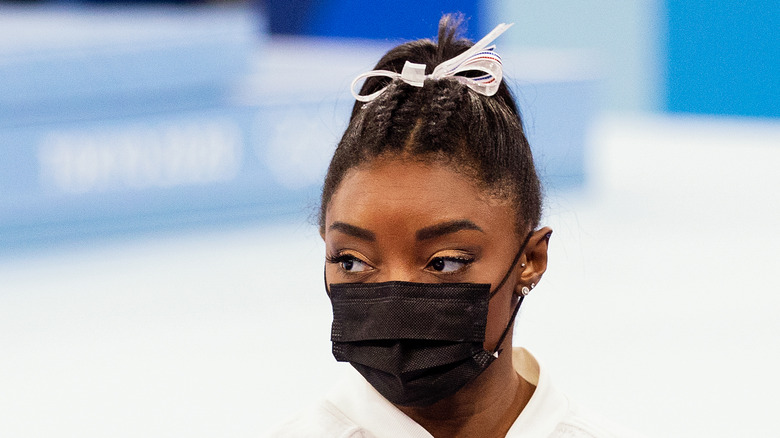 Bsr Agency/Getty Images
While many people championed Simone Biles and her decision to step aside from the team gymnastics event, some weren't so thrilled and took to social media to air their thoughts. One social media user hit out, saying, "I'm sorry, but you are an Olympian representing your entire country and the international stage. If you are not tough enough to take that stress, especially mentally, then you shouldn't be on the team. Regardless of the level of talent." Another huffed, saying, "So, in other words, she chickened out. I get all the mental health thing, but if you can't handle the pressure of being an Olympian make room for the next person. I'm sure there would be a thousand athletes that would kill to be in her place." You know, because Biles' six Olympic medals, 25 World Championship medals, and four skills named after her aren't enough... 
But there were those that recognized the importance of the moment, like this Twitterer who said, "Unlikely that any other #Olympics2021 moment will be this impactful. The decision by the world's greatest gymnast to focus on mental health shows millions of children — gymnast & non-gymnast — that it is ok to prioritize their own mental well-being." We're with you all the way Simone, and we should all take her bold example as a reminder that mental health should always be a priority.