The Truth About Kim Kardashian's Relationship With Her Kids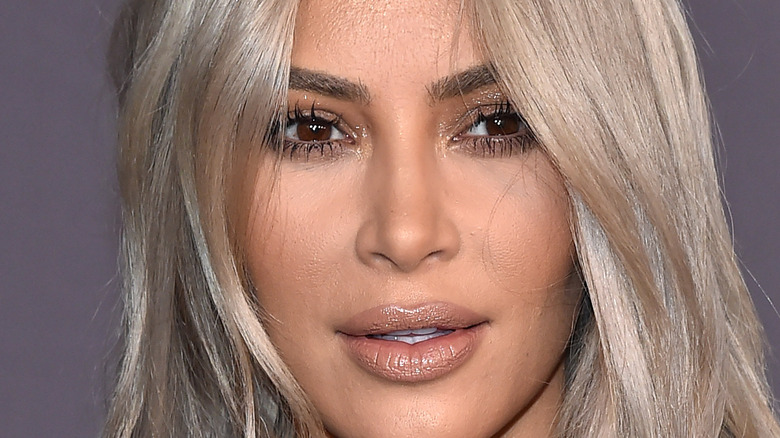 Shutterstock
Kim Kardashian is a woman of many talents. The 40-year-old reality star first became a fixture of the Hollywood scene in the early 2000s when she began working for socialite Paris Hilton (via ABC News). The personal assistant began making headlines for her association with Hilton. In 2007, she became a star herself when she spearheaded the creation of her family's reality series, "Keeping Up With The Kardashians." As we all know, the E! series went on to become a huge success and launched the influencer's career to unimaginable heights.
Over the past two decades, Kardashian fans have watched her transform into a powerhouse player in the beauty industry, business world, and even thrive as a law student (via Forbes). Much of the billionaire's life is spent meticulously scheduling her hectic life around her filming schedule, business meetings, and studying for law school (via POOSH). However, no matter how chaotic things may get, the mother of four always makes her children a priority.
Kim Kardashian has a special bond with North West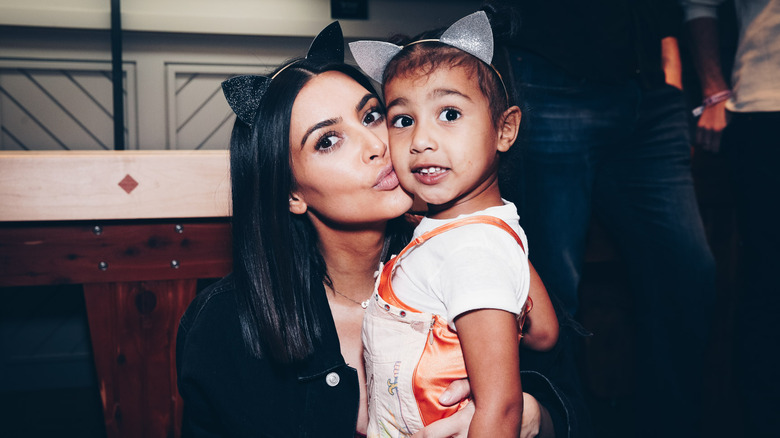 Handout/Getty Images
In 2013, Kim Kardashian welcomed her first child with rapper Kanye West on June 15 (via People). The reality star immediately fell in love with her firstborn. At the time, a source spilled about the reality star's bond with North West, saying, "She spends tons of time with her daughter and is just learning a lot. She didn't know a lot about raising a baby before North was born so this has been a great learning process. She's so happy. I've never seen her happier. She is smiling all the time. She just feels very safe and secure at home right now," (via The Indian Express).
As North grew older, Kardashian began jet-setting around the world with her mini-me and now often shares snaps of their mother-daughter adventures on her Instagram. For North's eighth birthday, the reality star posted a series of behind-the-scenes photos from their 2017 Interview Magazine cover shoot. She captioned the Instagram post, "You bring so much love and joy into all of our lives! You are the silliest, most stylish, most creative person who knows exactly what they want in life! I've never met anyone like you!" Aside from gushing over her eight-year-old daughter, Kardashian dotes over her other three other children, Saint, Chicago, and Psalm.
Kim Kardashian spends as much time with her kids as possible
The coronavirus pandemic gifted Kim Kardashian the opportunity to spend more time with her four children than she ever has before. She said during an interview with Vogue, "Just the amount of time that me and all my parent friends have all spent with our children has been so beautiful." She added, "I always try to look at things in a positive way. Even though it has been such a challenging year, it's a time to regenerate, get creative, spend so much time with family. Just this time I've been able to spend with my children has been priceless."
The reality star explained that she's spent a lot of time going on long walks and watching movies with her children. She even shared an updated family photo to her Instagram in April 2021. The photo series featured Kardashian posing with her four children on a couch together, with the caption, "Tucked in tight, it's my heart where you'll stay. Tomorrow I'll love you even more than today." Though Kardashian's life is always full of ups and downs, spending time with her children is always a source of bliss.