Michael Phelps Shares His Thoughts About Simone Biles' Decision To Withdraw From The Olympics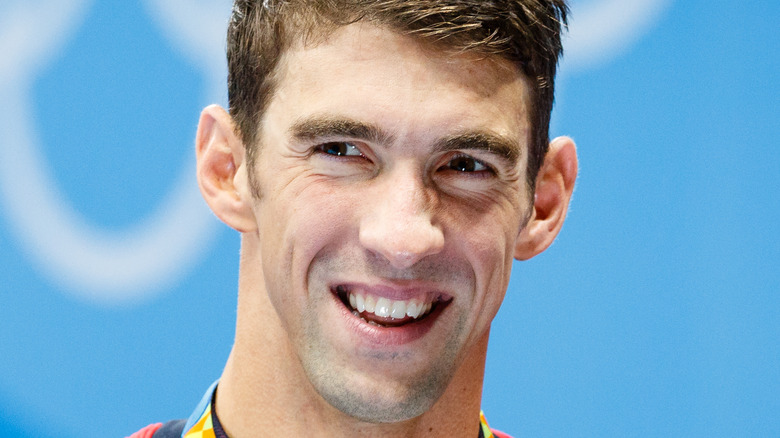 Shutterstock
Simone Biles' decision to withdraw from the 2020 Olympic games in Tokyo came as a great surprise and disappointment to many. According to the BBC, Biles, the most successful U.S. gymnast of all time, revealed that she decided to quit the competition in order to focus on her mental health.
Commenting on Biles' withdrawal, fellow Olympian, Michael Phelps, revealed that he sympathizes with her current situation."The Olympics is overwhelming. There's a lot of emotions that go into it," the former U.S. swimmer told NBC's Mike Tirico on Tuesday, July 27. "I think athletes and Olympic athletes in general ... we need someone who we can trust, somebody that can let us be ourselves and listen. Allow us to become vulnerable. Somebody who is not gonna come try to fix us," he added (via USA Today).
Phelps went on to say that Olympic athletes tend to "carry a lot of things and a lot of weight" on their shoulders, and especially "when [they] have the lights on us and all the expectations." Commenting further on Biles' withdrawal, Michael added that his heart broke upon hearing the news. "We're human beings, nobody is perfect. It's ok to not be ok ... I felt like I was carrying, as Simone [Biles] said, the weight of the world on my shoulders. It's a tough situation," he told NBC. 
Speaking to Tirico, the swimming champ also shared his belief that, over the past 18 months, mental health has been a subject "that people are talking about."
Michael Phelps has experienced his own mental health struggles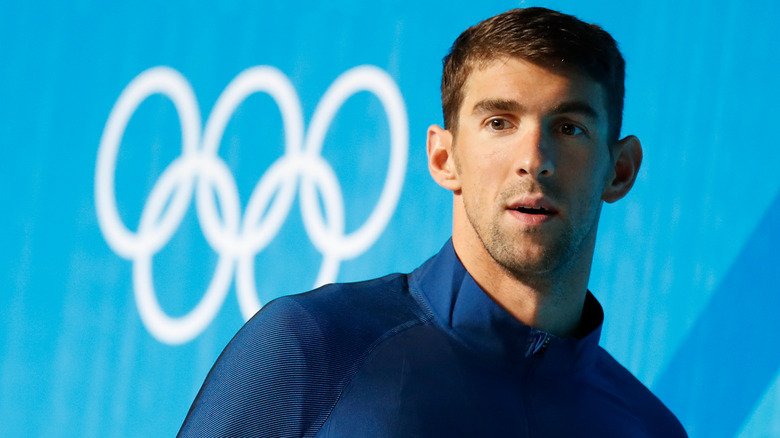 Shutterstock
Phelp's comments arrived after Biles opened up about the intense pressures of competing in the Olympics. Speaking on Instagram, she explained to her millions of followers, "it wasn't an easy day or my best but I got through it. I truly do feel like I have the weight of the world on my shoulders at times. I know I brush it off and make it seem like pressure doesn't affect me but damn sometimes it's hard."
According to NBC Washington, Phelps himself experienced mental health struggles throughout his Olympic swimming career, and has in the past opened up about his battle with depression. By seeking professional help, Michael was eventually able to overcome his mental health issues and later set up the Michael Phelps Foundation which aims to promote mental, emotional, and physical health. Per USA Today, Phelps is also on the board of Medibio, an organization that aims to focus on the diagnosis of mental health disorders.
Sharing his thoughts on the fallout from Biles' Olympic exit, the swimming champion explained that he hopes her decision to quit will become an eye-opening experience. "I hope this is an opportunity for us to jump on board and to even blow this mental health thing even more wide open. It is so much bigger than we could even ever imagine. This is something that's gonna take a lot of time, a lot of hard work and people who are willing to help," he added.
Other Olympians have shared their thoughts on Biles' withdrawal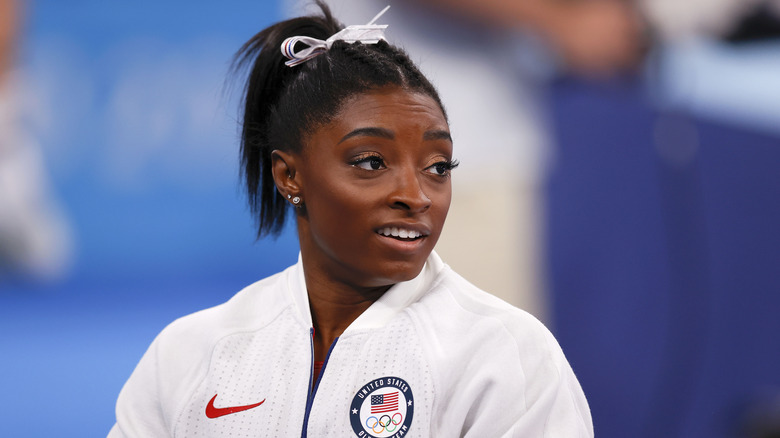 Fred Lee/Getty Images
Phelps wasn't the only Olympic athlete to share his thoughts on Biles' withdrawal from the 2020 Tokyo games, and, according to CNBC, former U.S. female gymnast Shannon Miller praised Simone's decision to put her mental and physical wellbeing first.
"What I think is really important here is, you have Simone, who clearly knew something wasn't quite right, and when you are flying and flipping and turning 10, 15 feet above the floor, looking for a landing, you better be in the right headspace or really bad things are going to happen." Miller continued, "I think it's so important for the message to be sent that it is important to be aware of your body, be aware of your emotional state and your mental state as well. I think that's a good message for all of us."
Elsewhere, the former Team USA gymnast, Aly Raisman, said she was "completely devastated" about the situation, adding that she hopes "Simone is okay." 
Raisman continued "I think it's also just really important to think about how much pressure has been on her, and there's only so much that someone can take. She's human, and I think sometimes people forget that" (via TODAY).
If you or someone you know is struggling with mental health, please contact the Crisis Text Line by texting HOME to 741741, call the National Alliance on Mental Illness helpline at 1-800-950-NAMI (6264), or visit the National Institute of Mental Health website.