Why This Olympic Athlete Has Lady Gaga Fans Doing A Double Take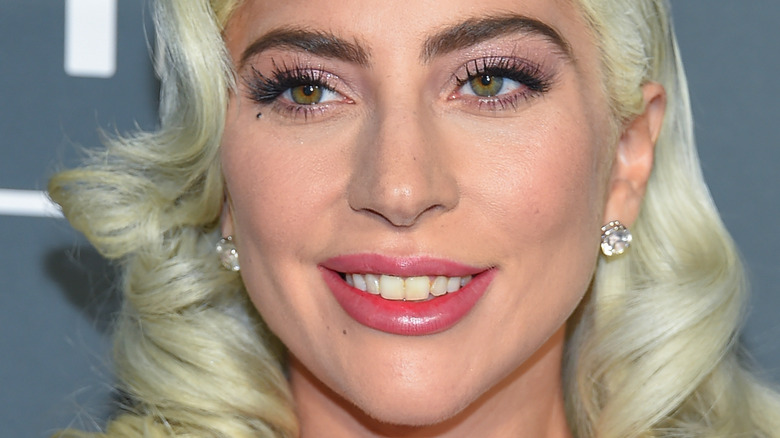 Shutterstock
Lady Gaga has achieved a lot of success by anyone's standards. The 35-year-old has been nominated for 29 Grammys, and won 12. Her role in "A Star Is Born" earned her an Oscar for Best Original Song, and she was nominated for two other Academy Awards (via IMDb). But winning a spot on an Olympic team? Not yet.
This is why Lady Gaga fans are doing a double take upon seeing a certain Jordanian athlete at this summer's Tokyo games. Her name is Julyana Al-Sadeq, and as People reports, the taekwondo star is getting attention at the Olympics not only for her athletic prowess, but because she looks almost exactly like the acclaimed pop star.
A Twitter account for Gaga Daily noted the fact that Al-Sadeq seems to be a doppelganger for the singer, asking followers, "Why is Lady Gaga at the Olympics?" A photo of the athlete was shared along with the question, proving that indeed, Al-Sadeq could basically pass as Gaga, even when it comes to her most devoted fans.
Lady Gaga fans think she could make it to the Olympics
On Twitter, Lady Gaga fans were blown away by how closely the Jordanian resembled their idol, with one joking, "Her Grammys and Oscar are not enough so why not aim for an Olympic gold medal??? AN ATHLETIC ITALIAN QUEEN."
Likewise, someone else noted, "12 times Grammy winner, 3 times Oscar nominated and one time Oscar winner and now winning at the Olympics? God, is there something she can't do??" Another fan quipped, "she's a busy woman."
"One word. VERSATILE," another Twitter user praised the singer in jest.
In reality, Lady Gaga may not have risen to an Olympic level for her taekwondo skills, but she has been spotted on the tennis court in California, as Page Six reported. And we're thinking she looked pretty darn athletic — although, perhaps she is not ready to play a match against Marketa Vondrousova, who just upset American Naomi Osaka in Tokyo (via Bleacher Report).