Here's How Simone Biles' Boyfriend Showed His Support Following Her Olympic Withdrawal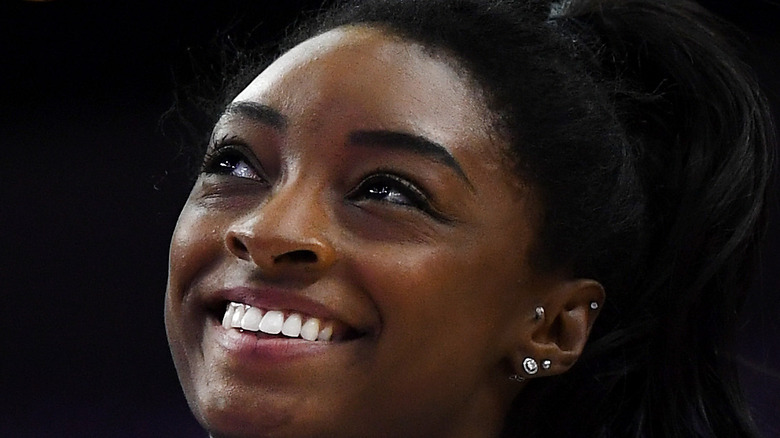 Laurence Griffiths/Getty Images
Simone Biles' bombshell decision to withdraw from the 2020 Tokyo Olympics has rocked the country and the world. According to the BBC, Biles, who is the most successful U.S. gymnast of all time, pulled out of the women's team final on July 27 and later revealed in a statement that she decided to quit in order to focus on her mental well-being.
As Page Six reported, two of her Olympic teammates, Sunisa Lee and Jordan Chiles, openly voiced their support of her choice online. "You will forever be loved," Chiles wrote. "We can't thank you enough. You have such a huge inspiration on all of us. We wouldn't have done it without you love you mo." Lee added: "love you so much. thank you for inspiring me every single day. you are not only an amazing gymnast but you are also an amazing person."
Keep reading to find out what her boyfriend, Jonathan Owens, had to say about Simone Biles' monumental choice.
Simone Biles' boyfriend voiced his support of the Olympian's decision
Although many fans were disappointed in Simone Biles' choice to exit the Olympics, her boyfriend, Jonathan Owens, was quick to offer his support on social media. Commenting on a recent Instagram post shared by his girlfriend, Owens wrote, "I'm so proud of y'all."
The post included a photograph of Biles posing with Sunisa Lee, Jordan Chiles, and Grace McCallum, her fellow teammates on the U.S. women's gymnastics team. In an accompanying caption, Biles wrote, "OLYMPIC SILVER MEDALISTS... I'm SO proud of these girls right here. You girls are incredibly brave & talented! I'll forever be inspired by your determination to not give up and to fight through adversity!"
According to The Guardian, an official statement from U.S. gymnastics also supported Biles. "After further medical evaluation, Simone Biles has withdrawn from the final individual all-around competition. ... We wholeheartedly support Simone's decision and applaud her bravery in prioritizing her wellbeing. Her courage shows, yet again, why she is a role model for so many."