Here's What Chyler Leigh Is Doing Now Since Leaving Grey's Anatomy
Shutterstock
American actress Chyler Leigh — who has a stunning net worth — might be best known for her stint on Shonda Rhimes' "Grey's Anatomy," but what has she been up to since her exit? On ABC's resident medical drama, Leigh portrayed Lexie Grey, the half-sister of Meredith Grey, the series' main character. According to People, Leigh joined the series in 2007 during its third season and ultimately left the hospital after Season 8 in 2012 — but she didn't leave forever. Leigh returned in 2021 for a single episode in the show's 17th season, though the actress had to film on a green screen in Canada because travel between Canada and the United States was limited due to the COVID-19 pandemic.
While Leigh wasn't able to reunite with her former cast mates in person, she did reunite with them on the screen. Interestingly enough, she noted that her dialogue was filmed with her talking to tennis balls since her costars weren't in Canada with her. "[And] to be able to close the chapter for Lexie, and to appear in a way where she's not eaten by wolves. Kind of bring a little life back to it ... It was a special experience to be able to be part of that," she said of her return.
While Lexie Grey may have gotten proper closure after nearly a decade since Leigh's exit, just what has the former on-screen surgeon been up to in those years?
From hospitals to comic books, Chyler Leigh is always saving people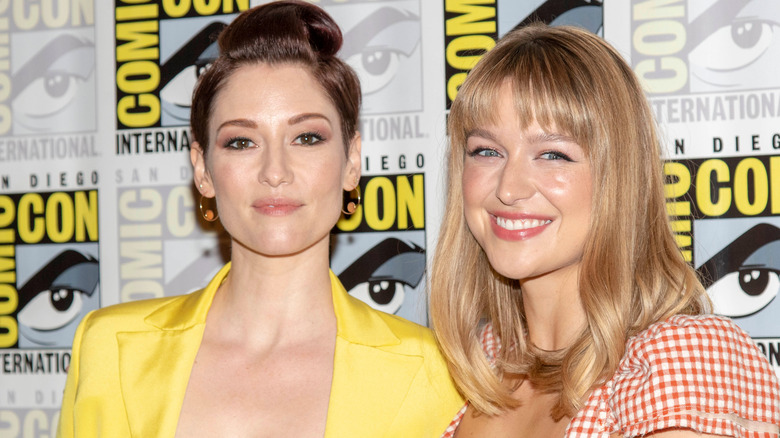 Shutterstock
Before her five season run on "Grey's Anatomy," Chyler Leigh worked on a number of television series. She appeared in "That '80s Show," "7th Heaven," "Safe Harbor," and many more (via IMDb), and since her exit from Grey Sloan Memorial Hospital, Leigh has continued to anchor herself on the small screen scene. Most notably, she took up the role of Alex Danvers in The CW's DC superhero universe, including the "Supergirl" series.
According to IMDb, Leigh began portraying Alex Danvers in 2015 and continues to play her to this day. Danvers is the human sister of the Kryptonian Kara Zor-El, who is portrayed by "Glee" alum Melissa Benoist, meaning Danvers has been a main character on "Supergirl" during its entire six season run. While "Supergirl" is ending in 2021, Leigh always has the chance to appear in other DC series on The CW. After all, she's already appeared in "DC's Legends of Tomorrow," "The Flash," and "Arrow" as Alex Danvers during her six year residency in the superhero world.
As Danvers, Leigh has been able to become a superhero in her own right. She always assists her on-screen sister with her missions, and as the show progressed, Danvers came out as a lesbian (via Entertainment Weekly). Because of this, she's been able to show just how strong a queer superhero can be — and this representation will be sorely lacking once "Supergirl" ends.