Facebook Is Calling Out This Man Over His Anti-COVID Vaccine Stand
We may receive a commission on purchases made from links.
If we needed any proof to show that vaccines and masking against the coronavirus worked, we need only look at the dramatic plunge in the number of cases — from a high of more than 250,000 in a day in early January, to just over 4,000 by the end of June (via The New York Times). But efforts to vaccinate people against COVID-19 have hit a snag as anti-vaxxers have dug in their heels and have refused to protect themselves against the coronavirus, triggering what CDC director Rochelle P. Walensky now calls a "pandemic of the unvaccinated," with those who have resisted the vaccines making up 97% of hospitalizations (via Insider). 
It might be easy to point out that the evidence and the data supporting the need to vaccinate is overwhelming. But sceptics aren't looking to mainstream media to bolster their claims. Instead, they rely on a group of social media voices who have become known as the "Disinformation Dozen" — literally 12 individuals who have been tied to the spread of as much as 65% of anti-vaccine rhetoric among a wide group of followers. On the top of that list, generated by the Center for Countering Digital Hate, is Florida-based osteopathic doctor Joseph Mercola, who positions himself as an expert in holistic health and wellness.
Joseph Mercola is an osteopathic doctor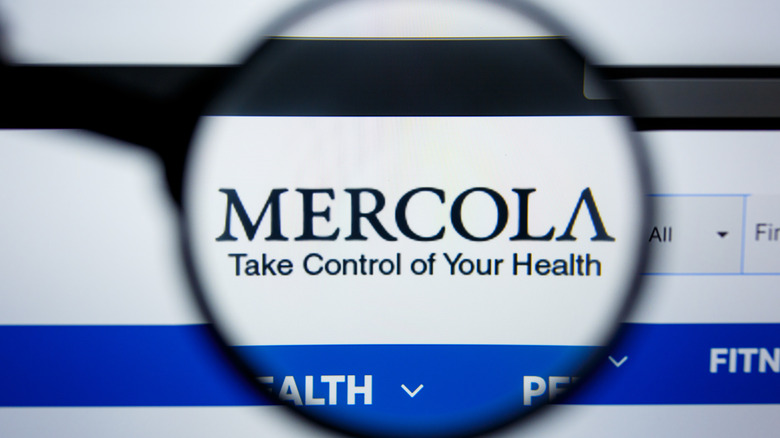 Shutterstock
According to The New York Times, Joseph Mercola has been a practicing osteopath since 1985, but he moved into natural health medicine in the 1990s and gained a following by sharing his treatments and cures on his website, which urges followers to "take control of your health," and he has built both his reputation and his wealth (he claims his net worth is "in excess of $100 million") on unproven natural health cures. University of Washington researcher Kolina Koltai calls Mercola "...the pioneer of the anti-vaccine movement. He's a master of capitalizing on periods of uncertainty, like the pandemic, to grow his movement."
The Svengali-like doctor is able to resonate with his followers not by discrediting the science, but by raising questions about the credibility and safety of vaccines, using studies which have already been disproven. In one article cited by the Times, Mercola called vaccines a "medical fraud" because they didn't prevent the vaccinated from getting sick, make them immune, or even to stop them from spreading COVID-19.
In Mercola's view, the vaccines "alter your genetic coding, turning you into a viral protein factory that has no off-switch." To help push his theories, he's even published a book: "The Truth About COVID-19: Exposing the Great Reset, Lockdowns, Vaccine Passports, and the New Normal: Why We Must Unite in a Global Movement for Health and Freedom," which as of this writing, is Amazon's No.1 bestseller in "Public Affairs and Policy Politics Books" (via McGill Office for Science and Society).
Joseph Mercola resonates with sceptics and conspiracy theorists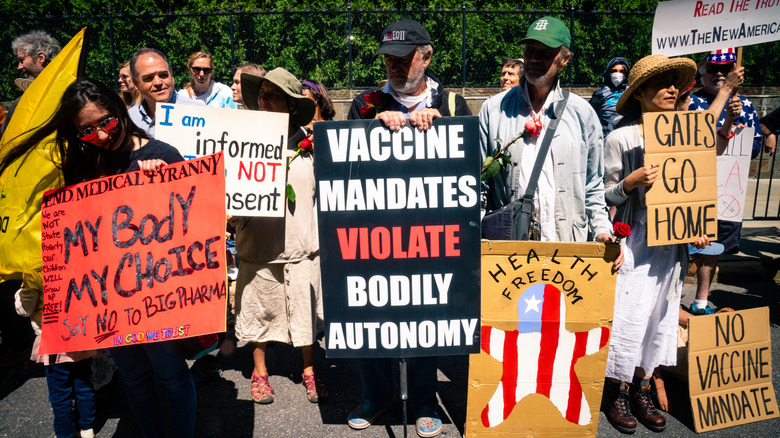 Shutterstock
Joseph Mercola succeeds because he is able to resonate, not just with vaccine sceptics who believe in personal freedoms and the rights of individuals, but with those who care about the state of their bodies. As one anti-vaxxer told The New York Times, "I have that choice to decide whether I put something in my own body. Anybody should." Mercola and others like him also succeed because they amplify and give credence to conspiracy theories. Imran Ahmed, who heads up the Center for Countering Digital Hate, said, "COVID was the opportunity. COVID generated a lot of anxiety and conspiracies and misinformation thrive where there is anxiety" (via NPR). 
To combat misinformation, social media sites like Facebook have told The New York Times that it has labeled "many of" Mercola's information as false and they have banned ads on his main page. Twitter has taken down some posts and called out others, while YouTube doesn't allow him to make money from his ads. But Mercola's main Facebook page, which lists 1.7 million followers, is still up, and he continues to reach out to his fans and followers through blog posts, newsletters, and videos — all published in several languages. Mercola's success in getting himself heard and amplified even now, indicates that the battle to conquer COVID-19 with the use of masks and vaccines still has quite a way to go.