Why Simone Biles' Bittersweet Message Has The Internet Talking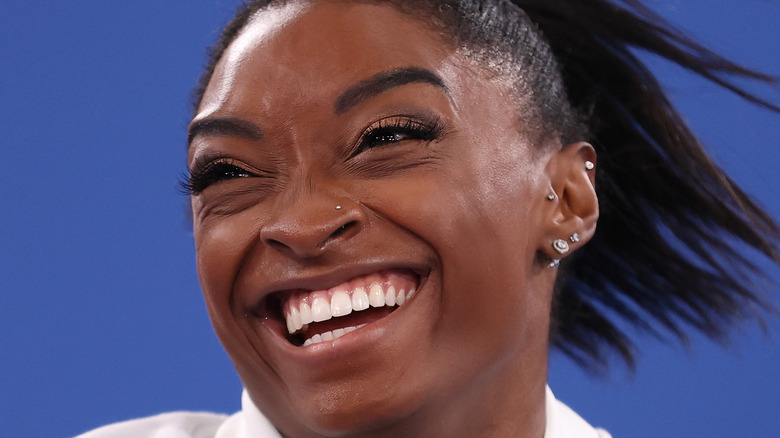 Laurence Griffiths/Getty Images
The world was shocked on Tuesday, July 27 when Simone Biles, arguably the perceived star of this year's Tokyo Olympic games, chose to drop out of the Women's All-Around Team Finals due to mental health reasons. She had just performed her vault routine, scoring lower than expected, and many thought she injured herself. She further shocked the world when she chose to also withdraw from the individual all-around competition (via USA Today). As more about why Biles withdrew became known, Americans showed their support for the five-time gold medal winner, prompting her to finally speak out on Wednesday night with a tweet that could bring tears to your eyes.
"The outpouring love & support I've received has made me realize I'm more than my accomplishments and gymnastics which I never truly believed before," Biles tweeted, prompting a further outpouring of love from people showing their appreciation for all she has done and an understanding of why she made her decision this week.
Simone Biles receives thanks and understanding after her tweet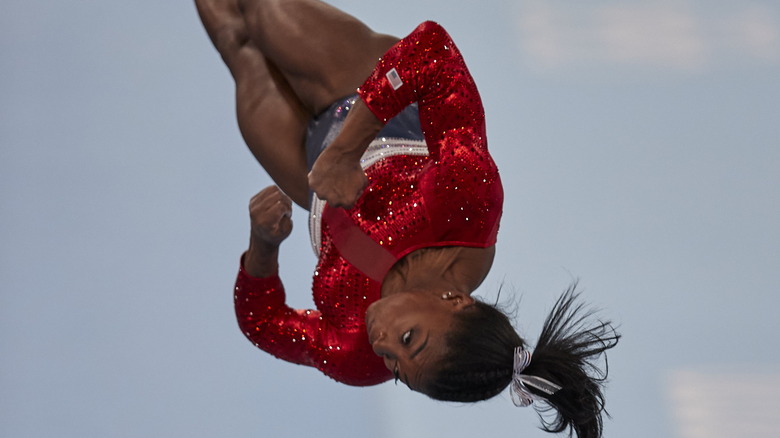 Defodi Images/Getty Images
Followers and fans thanked Biles for bringing mental health to the forefront, with one tweeter saying: "You've helped normalize people taking time out for their mental health, the domino effect of which will help millions across the country. A greater feat, arguably, than a gold medal. Thank you & I wish you nothing but the best."
A mother with an athletic daughter told her that she's a shining example of putting oneself first. "Just today my daughter had heat exhaustion at a softball tournament. She asked me if she's going to play tomorrow, and I said, 'it's your choice. You decide how you feel.' Inspired by you, Simone."
Former Olympic gymnasts also expressed their admiration for Biles. Dominique Moceanu, a 1996 gold medalist, also chimed in. "Gymnastics is what you do. It's not who you are," she tweeted. In addition, 2004 gold medalist Carly Patterson said: "I've loved watching you over the years, you have a lot to be proud of! Your accomplishments will always be yours, & even better than that you have so much life/happy times ahead of you beyond gymnastics."
Biles showed she is still a team player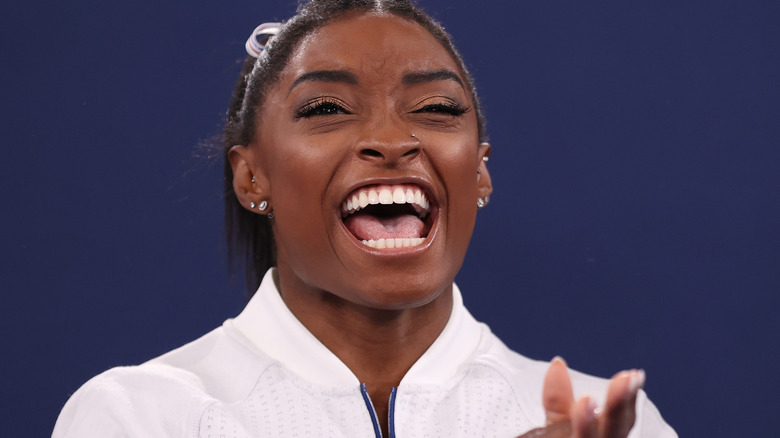 Laurence Griffiths/Getty Images
During her vault routine performed before she withdrew, Biles said she had a case of what's known as the "twisties" when she was in the air attempting a 2 ½ twisting vault that turned into a 1 ½ one. The Washington Post explained that the twisties is a phenomenon that occurs when a gymnast loses the mind-body connection in air that allows them to perform moves many of us think of as super human. It could result in serious injury, but thankfully didn't for Biles.
After the US team won its silver medal on Tuesday, Biles explained why she made her decision. "No injury, thankfully, and that's why I took a step back, because I didn't want to do something silly out there and get injured," she said (via NPR). "It's been a long week, it's been a long Olympic process, it's been a long year. So, just a lot of different variables and I think we're just a little bit stressed out ... I knew the girls would do an absolutely great job and I didn't want to risk the team a medal for kind of my scruff because they worked way too hard for that."
She then explained that she had to put herself first for her own well-being. "It's OK sometimes to even sit out the big competitions to focus on yourself because it shows how strong of a competitor and person that you really are rather than just battle through it."
If you or someone you know is struggling with mental health, please contact the Crisis Text Line by texting HOME to 741741, call the National Alliance on Mental Illness helpline at 1-800-950-NAMI (6264), or visit the National Institute of Mental Health website.