Jamie Lee Curtis Opens Up About Her Child's Gender Identity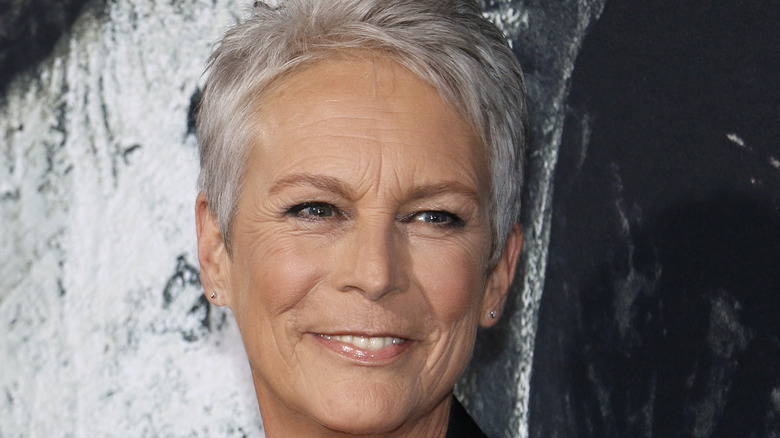 Shutterstock
Jamie Lee Curtis' life has had enough drama, romance, and triumph to inspire a whole miniseries (and we hope they'll make one of her someday). Growing up as the child of Hollywood legends Tony Curtis and Janet Leigh, she saw firsthand the pitfalls of fame but pursued an acting career anyway. She fell into drug and alcohol addiction after being shamed into getting plastic surgery (via Variety) but now is proudly sober and even holds offset recovery meetings when she works. 
In a new interview with AARP Magazine, Curtis reflects on her childhood, her movies (including two new "Halloween" sequels coming out this year and next), her loving 34-year marriage to Christopher Guest, and her ongoing quest to live authentically. "I am someone who sheds every day," she tells the magazine. "Let's get rid of that, I don't need that. It's all about old ideas that don't work anymore."
She also opens up for the first time about a very personal family matter: one of her adult children's gender identity. Keep reading for her take.
Jamie Lee Curtis fully supports her child's decision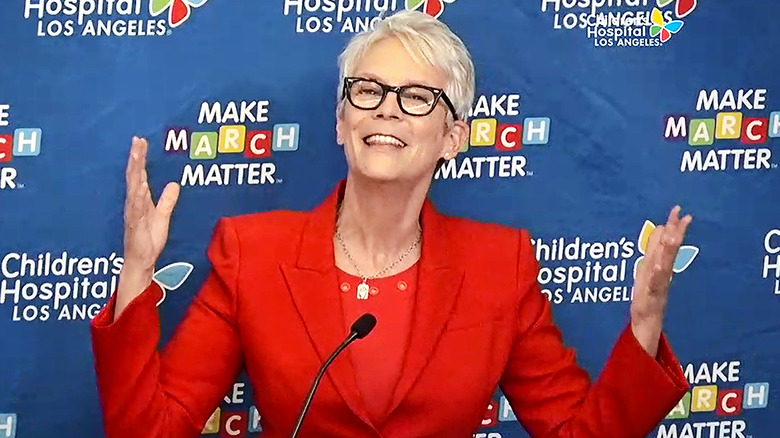 Children's Hospital Los Angeles/Getty Images
The younger of Jamie Lee Curtis' two children came out as transgender and has since transitioned. Curtis says she and husband Christopher Guest "have watched in wonder and pride as our son became our daughter Ruby," per AARP Magazine. Now 25, Ruby is a computer gaming editor who is engaged to be married in 2022; Curtis will officiate at the wedding.
It should come as no surprise that Curtis fully embraces her daughter's identity: She has been an outspoken supporter of the LGBTQ+ community for years. Her Instagram feed includes such posts as a shout-out to openly gay NFL player Carl Nassib, a reflection on the anniversary of the PULSE nightclub shooting, and a repost of LEGO's new rainbow people set. She also promotes Free Mom Hugs, an alliance of mothers who work to promote understanding and awareness of the LGBTQ+ community and its issues.
Despite her rep as a "scream queen" horror movie star, Curtis' life these days is all about love and kindness. She has a new podcast, "Good Friends," that celebrates friendship through conversations with her own best pals. She also created My Hand in Yours, an online shop featuring merch that represents the theme of "comfort, celebration and CONNECTION!" (Proceeds go to the Children's Hospital of Los Angeles.) Parents are also familiar with her line of children's books celebrating love, feelings, family, identity, and fun, such as "I'm Gonna Like Me: Letting Off a Little Self-Esteem" and "Tell Me Again About the Night I Was Born."
With all these projects, Curtis has enough on her plate to keep her going for the foreseeable future. But she's also hoping for a new chapter in her life before too long. She tells AARP that she doesn't yet have any grandchildren, "but I do hope to."