The Real Difference Between Setting Spray And Setting Powder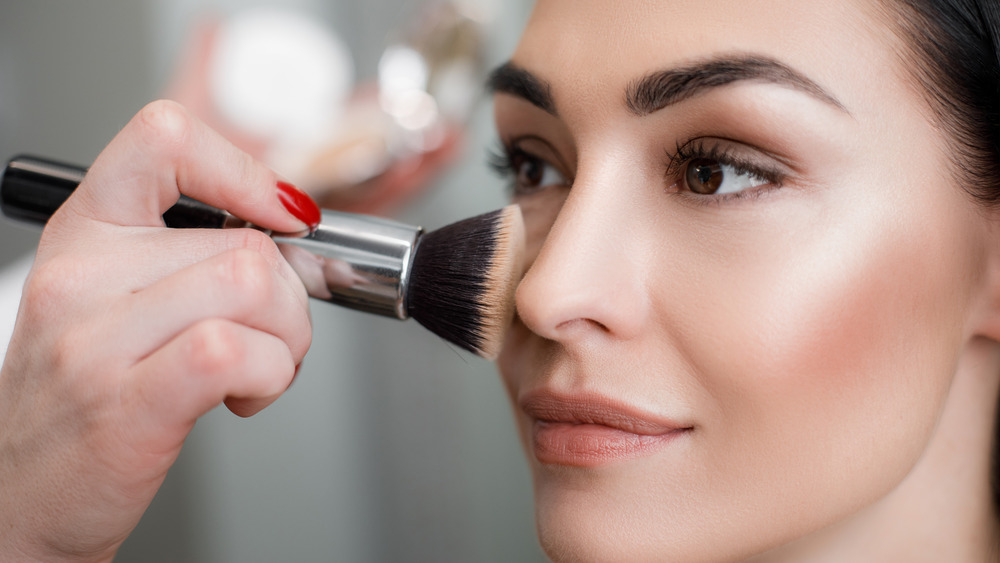 Shutterstock
The dreaded running eyeliner and smudged lipstick can make any of us angry after spending 45 minutes in the mirror. A beauty trend that has helped various types of makeup stay put, setting products have saved many people headaches. But, there are subtle differences between setting spray and setting powder that can impact your look. Plus, different skin types work better with one or the other. Kenny Screven, a beauty influencer and makeup artist tells Byrdie that, "They may sound the same, but they have a few key differences."
For those with oily or combination skin, powder usually offers the best staying power, according to the outlet. Powders help absorb excess oil, meaning that they create a smoother palette for flawless application. Plus, you can use it before or after you put on your makeup, as Screven notes, "I generally like applying setting powder after I apply concealer to help keep it in place. This helps to brighten the under eye and to keep the concealer in place for a longer amount of time."
Find a setting powder with ingredients such as cornstarch, silica and mica, the outlet suggests. From here, you can opt for a product with a shade that matches your skin or a translucent option for your makeup base. Dino Dilio, a makeup instructor at CMU College of Makeup Art & Design explains, "Colorless versions are universal for all skin tones, while tinted kinds are used to warm up or deepen a foundation."
Different types of setting spray have varying objectives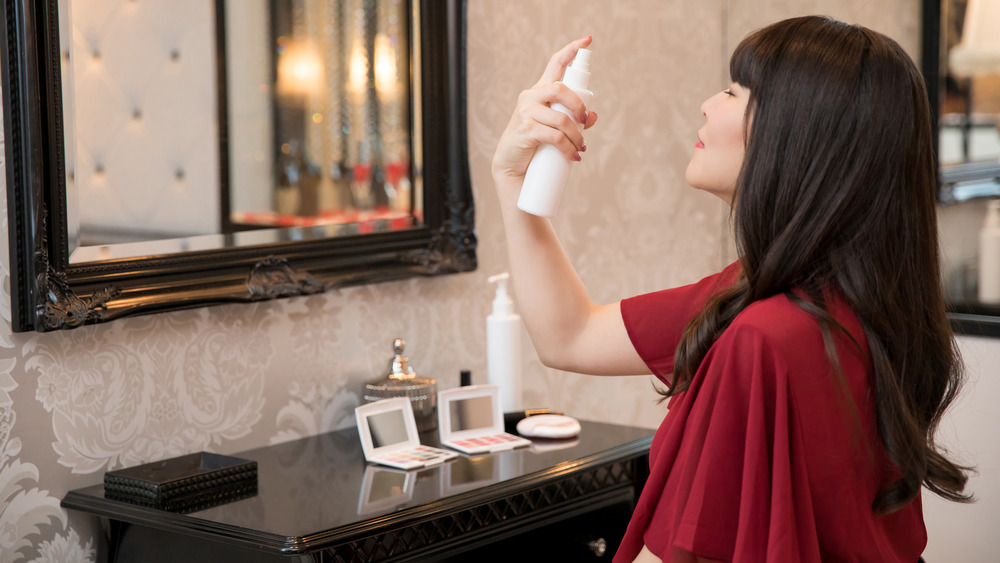 Shutterstock
While setting powder helps remove excess oil and smooth out the surface, setting spray adds moisture to your look — meaning that it's a good option for those with dry skin. You can also opt for specific sprays that work well with oily skin, Well+Good notes, just find one that has oil-absorbing properties to mitigate the shine. Gina Brooke, an international makeup artist and cosmetic brand consultant tells the outlet, "Setting spray is not for every day, and is mainly used to achieve long-wearing makeup. Most setting spray contains alcohol, so if you have dry skin, use one that's alcohol-free."
Furthermore, setting spray offers a softer addition and look to your makeup. Those with flaky or intensely dry cells should look for an option that provides moisture with ingredients such as aloe, Byrdie recommends. Just make sure to spritz at least 14 inches away from your face for a gentle misting rather than a dousing. The outlet suggests starting towards the middle and spraying above and below once each time. Then, let it dry and you're all set to go! Just make sure to check the type of spray before you use it — if you want a dewy finish, find a product that helps create that, while a mattifying spray will give you the opposite effect.
There are clear differences between setting powders and sprays. From the way they interact with your skin type to the type of finish they provide, it's best to do your research before you add another product to your makeup bag.