Why Gemma Chan Likes To Keep Her Life Private
Shutterstock
When it comes to Hollywood, it's hard to keep your private life, well, private, but that doesn't mean it isn't worth trying to do so. After all, there's nothing more special than family time, your personal relationships, and everything else that makes your life uniquely yours, and you shouldn't have to sacrifice your private life simply because you want to sing or act in movies. 
While it may be hard to maintain a private life, some celebs do so successfully. One such celeb is Gemma Chan, the wealthy actress known for such projects as Marvel's "Captain Marvel" and "Eternals," along with other projects like "Raya and the Last Dragon," "Crazy Rich Asians," and "Transformers: The Last Knight," per IMDb. Chan may be one of the best dressed stars at Hollywood's most elite ceremonies and shows, but outside of events and the screen — both big and small — the actress leads a very private personal life. Now, she's spoken out about this decision. "My life is fairly low-key," Chan succinctly explained (via Elle).
For Gemma Chan, this is the 'clear distinction' between publicity and privacy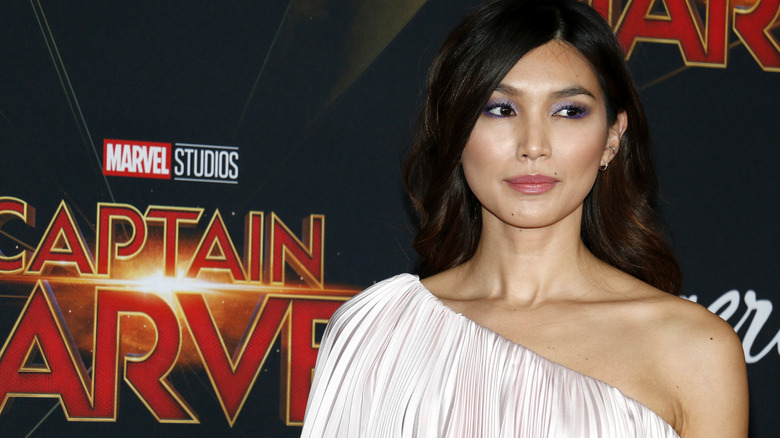 Shutterstock
Gemma Chan's private life is very private, and there's a good reason for it. As Elle noted, this may be because the actress was in relationships with high-profile names before her career blasted off after "Crazy Rich Asians," with Chan dating Jack Whitehall from 2011 to 2017, and Dominic Cooper from 2018 onward. She was exposed to the life of a celebrity while her star was still growing, and now that she's at such a high level herself, she wants to maintain her sense of normalcy for as long as she can.
"Over 10 years, you learn the importance of privacy, what you choose to share and what you don't. When you start out, you don't even know what is important to keep for yourself — I didn't anyway — whereas now I think there are certain things that I absolutely know, 'that's mine and it's private,'" Chan explained to Elle. "For me, my comfort level is to have a clear distinction between what is for me and what I'm happy to talk about."
Chan further opened up to Elle and explained that the press has mostly been accepting of her privacy. They don't corner her into revealing anything, though she said that she's had to learn what she can and cannot say in front of the press, as words can become twisted rather quickly.
In fact, Chan's life is so private that most people don't realize that she spent most of her time during COVID-19 lockdowns volunteering for Cook 19, a service that delivers meals to hospitals.