The Truth About Whether Or Not Trench Coats Are In Style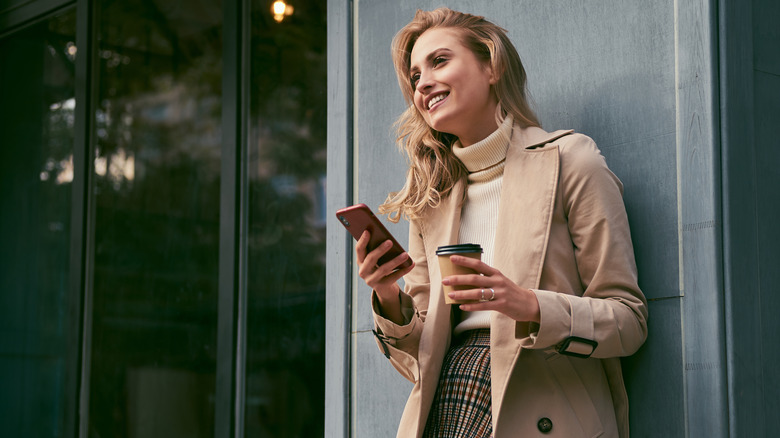 Shutterstock
From the battlefields in 1912 to the fashion runways of 2021, as reported by Smithsonian Magazine, trench coats have survived the test of time. But are they still in style?
While the history of trench coats dates back to the 1910s military garments of the British army, trench coats have remained part of our fashion vernacular because of their versatility and classy reputation (via Harper's Bazaar). Whether you're pairing your trench with casual jeans and a white-tee look, or as the outer layer for a sexy black slip dress moment, trench coats are the key to an effortlessly classic look.
The iconic Burberry trench – the model after which most trench coats are inspired by – debuted by Thomas Burberry in 1916 features the staple belt, flaps, and buckles. The heavy black hardware contrasts with the tan cotton-gabardine material and is finished with the iconic check lining (via Harper's Bazaar).
From that base, brands and designers have often played with the material and silhouette of the Burberry trench for their own take on the coat. A-line or oversized, some takes on the trench often become less classic than the original. While finding the balance between classic and trendy with such a versatile piece of clothing can be hard, the key in investing in a trench coat is to be conscious of the material you pick.
Leather, linen and cotton, oh my!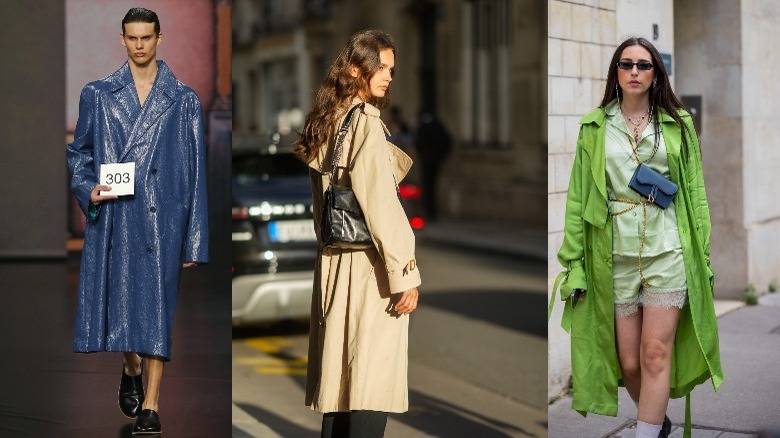 Edward Berthelot & Christian Vierig & Elisabetta Villa/Getty
Though originally perfected for the wet British weather, trench coats have morphed into different styles and iterations in its over 100 year history. From deconstructing the classic silhouette to playing with materials from leather to linen, plastic to PVC, designers are constantly finding the balance between classic and trendy (via GQ).
Leather iterations of the trench are becoming increasingly more popular. Oversized leathers easily elevate a casual outfit. Find one with a fitted waist and a matte finish and fully embodied the 70s feel (via Harper Bazaar).
Linen trenches may just be the solution for tropical summer rains – breezy yet a protection from the rain.
For an added umph of attention, GQ suggests you go loud and bold with patterns and colors. The 2021 runway was filled with orange and yellow trenches, some even going fully embracing logo-mania (via GQ). And if you want to step just slightly out of your color comfort zone and stick to the neutrals, why not try a black-and-tan trench for a Cruella vibe? (via Vogue UK).
So whether opting for the classic trench or a more trendy iteration, the question is settled – trench coats are and will always be in style.