The Ultimate Guide To Achieving A Trendy Minimalist Fashion Aesthetic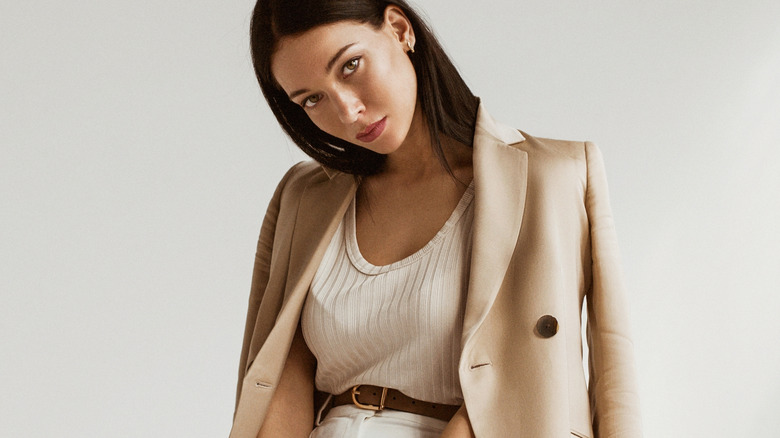 Shutterstock
While we'll always have a soft spot for maximalist florals, sequins, and boho chic, there's something to be said about the elegant minimalist aesthetic. In varying tones of beige, gray, tan, brown, white, and black, this style is all about "clean shapes and muted colors" while always putting "simplicity first" (via Vogue). Say so long to stuffy prints or overpowering accessories — this trend prizes being uncomplicated, to-the-point, comfortable, and timeless. Plus, with a neutral color palette, the focus becomes interesting textures, fabrics, and shapes, evoking modern art (via The Lifestyle Files). Want to know more? Here's everything you need to know about how to nail minimalist style. 
Minimalist fashion is all about investing in the classics: investment pieces you'll reach for time and time again for years to come. As per Editorialist, this "less-is-more approach" involves quality construction, color-blocking, and lots of neutral tones in differing fabrics. So where to start? The outlet recommends going for a traditional beige trenchcoat, a simple blazer, elegant midi skirts to wear with heels or flats, classic trousers, and lots of denim and basic tees, too. For the minimalist aesthetic, pieces should feel at home in any place or time period — timelessness and simplicity are key.
All about minimalist style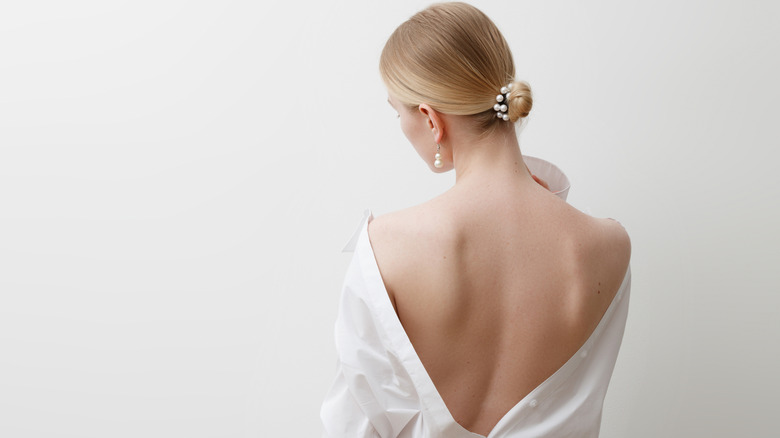 Shutterstock
For casual minimalist looks, the perfect pair of straight leg jeans, a rib tank, and loafers or sneakers is the best uniform. Similarly, wool cardigans, chunky sweaters, tight leggings or trousers, and a lightweight fitted midi dress can take you from day to night (via Editorialist). Steer clear of bright colors, prints, or busy textures, opting for sleekness in every way possible. For night, a slinky pair of black, white, or nude heeled sandals will work great, pairing them with black leather leggings, a great tee, or a crisp, white shirt. If minimalist style has always felt boring to you, try mixing it up with a backless shirt, interesting shapes, voluminous sleeves, or unexpected textures like suede or linen.
When it comes to jewelry, you should go for "wearable art" (via Vogue). Complement your neutrals with hammered gold pieces and look for jewelry that is sculptural and abstract. Thick cuffs with cutouts, uniquely-shaped collars, and mismatched earrings will take you far. The best minimalist shoes are chunky loafers, running sneakers, flip-flop style leather sandals, and wear-forever heels. For makeup, as expected, keeping it low-key is all part of the minimalist attitude: try a moisturizing gloss with a slight tint, a liquid blush or bronzer, and your go-to mascara.