What You Don't Know About RHONJ's Gia Giudice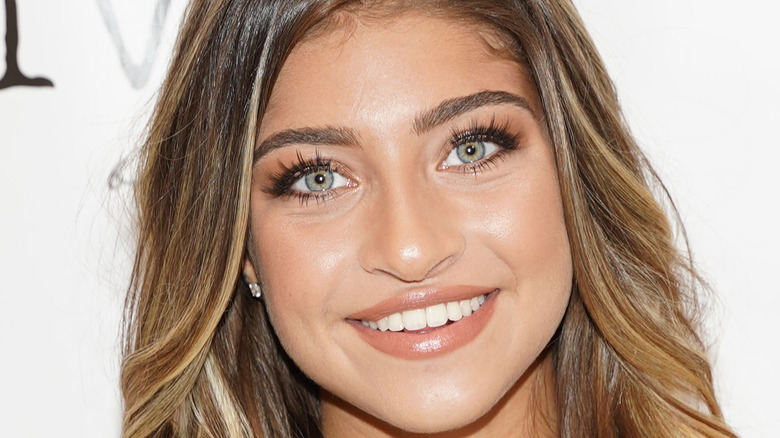 Manny Carabel/Getty Images
The prodigal daughter of the "Real Housewives of New Jersey" has reached adulthood, and she's ready to come out of her mother's shadow. Gia Giudice made her television debut in 2009 when she was just 8 years old (via IMDb), and it was clear from the jump that fabulous was in her blood.
We watched Giudice, along with her sisters, Gabriella, Milania, and Audriana, spout off some iconic one-liners, but it was Gia who seemed determined to be a star. During the series, we saw her get towed along to a number of after-school activities, including gymnastics, dance, and even an audition for a Dwayne "The Rock" Johnson film, as she attempted to find her niche. Giudice grew from a child to a young woman before our eyes, eventually dealing with the pressures that come with having your entire life documented. 
While it would be understandable for Giudice to have a complicated relationship with her parents, she amazes us with the maturity and grace she's developed at such a young age. When Giudice's parents went to jail, or "camp," as her mom called it (via Bravo TV), she handled it in stride, even when her parents' tax discrepancies culminated in her father being deported to Italy (via Page Six). Teresa Giudice has called each of her four daughters "strong and resilient" (via Us Magazine), but none has demonstrated it quite like her eldest.
RHONJ's Gia Giudice was in a girl band
Fans of "RHONJ" have likely seen Gia Giudice's now-viral song from Season 3 of the series, in which she tearfully urges her mother and uncle, Joe Gorga, to mend their broken relationship (via Us Magazine). But many avid watchers may be surprised to learn that Giudice went on to create her own girl group in 2014 (via The Things). 
Giudice's band, 3KT, was made up of her and friends Alexa Maetta and Cristianna "Lil Cee" Cardinale. The group has released two music videos, including a cover of Britney Spears' "Circus" and holiday single "Season of Joy" (via YouTube). According to the group's Instagram account, 3KT stands for three karats, because "our manager Maria has always called us her shining diamonds." The band cites their musical inspirations as "Britney Spears, Beyonce, Madonna, Rihanna, and Christina Aguilera."
Unfortunately, 3KT was short-lived, and its production company, Xist Entertainment, is now permanently closed.