Natural Face Masks That Actually Work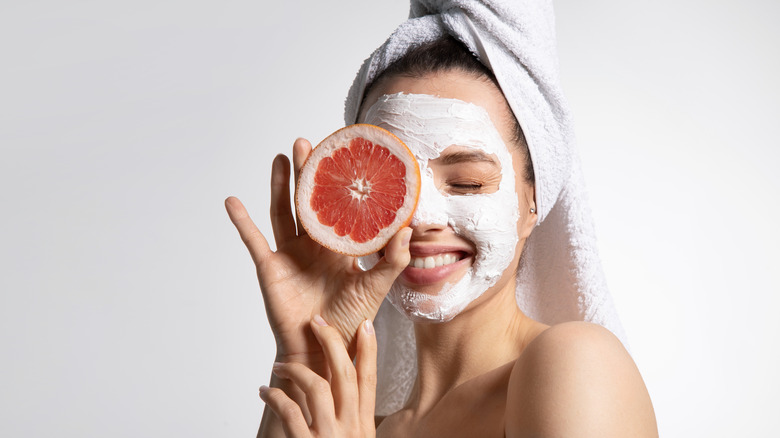 Shutterstock
We may receive a commission on purchases made from links.
If your regular skincare routine just isn't transforming your skin in the way you desire, it might be worth your while to venture into the world of face masks. Especially for those facing specific problems with their skin, like excessive blackheads and a lackluster complexion, face masks can be an easy, budget-friendly addition to any skincare routine. Those hooked to natural skincare alternatives can easily find a plethora of hardworking natural face masks on the market. Despite the fact that the Food and Drug Administration does not have many regulations when it comes to labeling skincare products, those products that are marketed as being "all-natural" or "100% natural" are expected to be free of those synthetic ingredients that can aggravate the skin, per Prevention.
When on the hunt for natural face masks, be sure to check the list of ingredients involved in each face mask to ensure that it contains natural components that will work well with the chemistry of your skin. According to Ogle School, natural ingredients like avocado, honey, aloe vera, turmeric, lemon, coconut milk, yogurt, raspberries, and blueberries are all good options.
Want to slather on a natural face mask, but don't know where to start? We'll guide you through the best natural face masks designed to treat a wide variety of different skin issues.
Natural face masks can cure a number of skin issues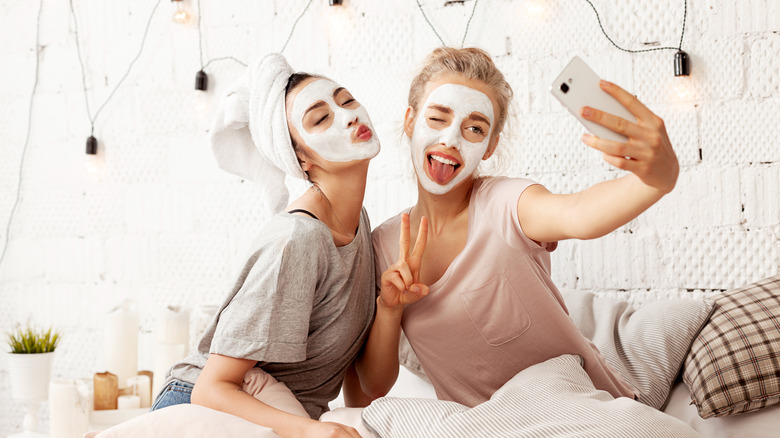 Shutterstock
Those who want to invest in a natural face mask without breaking the bank will get quite the bang for their buck with the Aztec Secret Indian Healing Clay Facial Treatment. This detoxing mask, comprised of pure bentonite clay, can be found in nearly every drugstore for only $10, according to Byrdie. For even more detoxifying power at a bit of a higher price tag of $39, opt for the Caudalie Instant Detox Mask that uses coffee and clay to get rid of excess oil in the skin.
Looking for a face mask that will restore your skin's moisture barrier? We've got you covered. One of the easiest ways to combat dry skin is to slather on a mask that you leave on your skin overnight, like the Tree Hut Skincare Hydrating Overnight Mask. The mask contains a Siberian ginseng extract that boosts skin cell recovery and chamomile that promotes cell generation. Two fluid ounces of the Tree Hut Skincare Hydrating Overnight Mask is $13.47 as of publication, and can be purchased on Amazon.
If you suffer from acne, the Herbivore Blue Tansy AHA + BHA Resurfacing Clarity Mask can treat any blemishes with a natural blend of AHAs and BHAs that thoroughly clean your pores and exfoliate the skin, per Byrdie. Though the mask comes at a higher price tag ($48 for two ounces of product), a large number of positive reviews on Sephora's website highlight its blemish-clearing power.