Here Are The Face Mask Ingredients You Should Look For Based On Your Skin Type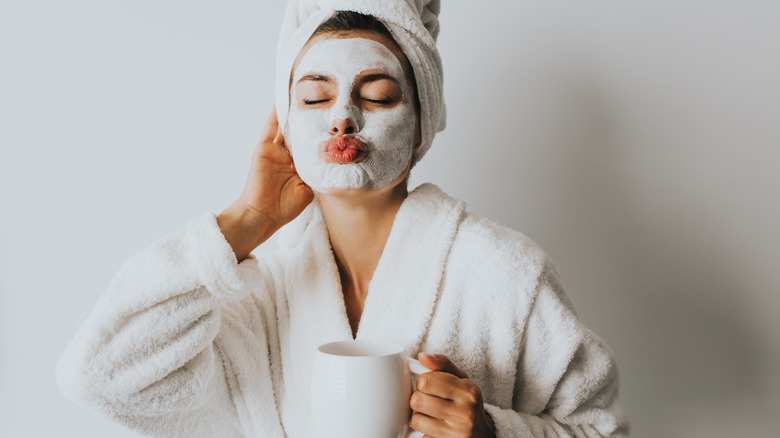 Shutterstock
If store-bought face masks aren't cutting it, there are countless DIY beauty treatments that can transform your skin. Of course, your face mask ingredients should be chosen carefully for your skin type, whether oily, combination, dry, or sensitive. While naturally absorbent clay can work wonders for those with oilier skin or acne, it can do more harm than good for dry skin types. Knowing the right ingredients for your face mask will streamline your shopping trips, making the process even more worthwhile. 
Marie Claire cites an incredible recipe for oily or acne-prone skin, combining antimicrobial cinnamon, antibacterial honey, and antiseptic and exfoliating baking soda, plus green tea powder (an antioxidant). Prevention, meanwhile, recommends a few other oily skin powerhouses, such as a combination of bentonite clay and green tea to draw sebum out and reduce acne. The outlet also suggests mixing blueberries and plain yogurt, both exfoliating alpha-hydroxy acids, with soothing honey. Other great face mask combinations for acne-prone skin are a mixture of calming aloe vera gel with antibacterial tea tree oil, or going for a mix of aloe with fresh egg whites, which absorbs sebum (via Cosmopolitan). 
So what DIY masks work for combination skin? As per Prevention, a mix of anti-inflammatory herbs like mint with exfoliating yogurt will give your skin type a gorgeous glow. Other masks for radiance include a combo of water, green tea, and vitamin C-packed raspberries (via Cosmopolitan), or a mix of anti-inflammatory oats, honey, melanin-reducing lemon, and the antioxidant turmeric (via Marie Claire).
DIY face masks for every skin type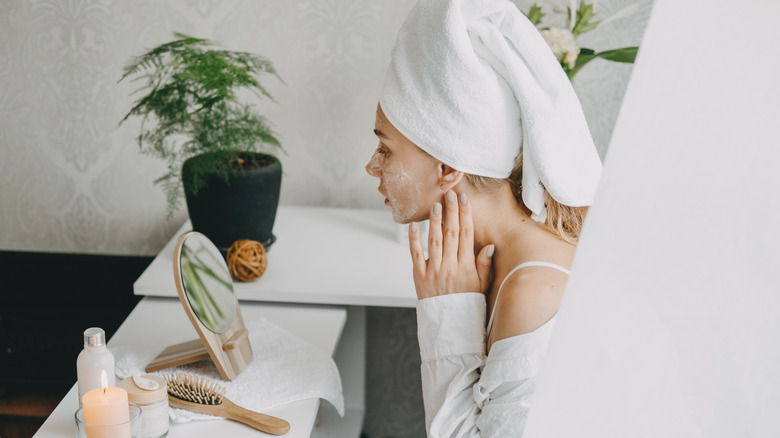 Shutterstock
If you have dry skin, you're probably looking for smoothing masks that will leave your face soft and supple. Prevention suggests combining anti-inflammatory honey with moisturizing avocado, which can be alternated with olive, jojoba, argan, sunflower, or grapeseed oils. If your skin is feeling dull, the outlet also recommends a mix of exfoliating oats, skin-brightening banana, yogurt (a natural lactic acid), and honey. Marie Claire swears by mixing similar ingredients, combining avocado, banana, yogurt, and honey into a paste whenever your skin is feeling tight or flaky.
Sensitive skin can also benefit from DIY face masks, as Prevention clues readers into a mixture of skin-quenching cucumber, calming honey, antioxidant black tea, and a few drops of lavender. Cosmopolitan recommends a mix of oatmeal, raw honey, and water for eczema-prone skin, or a mix of soothing fresh aloe and matcha powder for redness or inflammation. Combining rolled oats, honey, and yogurt can also work well for irritation (via Marie Claire). The perfect bedtime ritual, it's still worth testing any face mask on your forearm beforehand for possible reactions.
Tighten large pores with a homemade egg white and lemon mask, or reduce blackheads with exfoliating brown sugar, moisturizing olive oil, and honey (via Marie Claire). Smooth wrinkles with a mix of banana, honey, yogurt, and glow-ready turmeric, which can also reduce hyperpigmentation, or reduce under-eye circles with ground coffee and honey (via Cosmopolitan). Whatever your skin issue, a DIY mask might be just the trick.