The Style Evolution Of Raven Symoné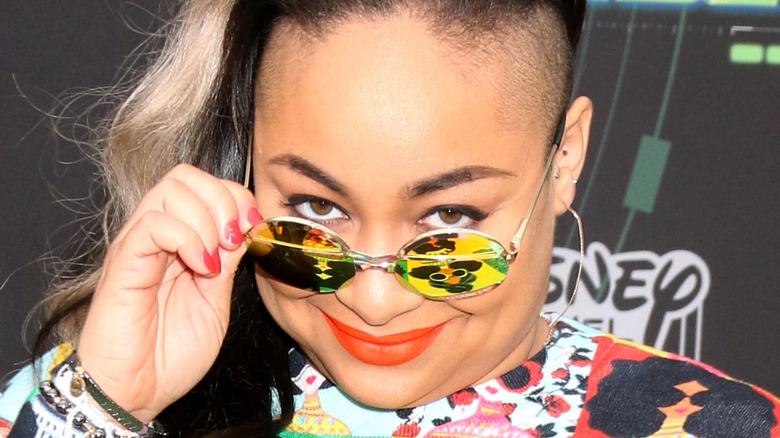 Shutterstock
Ever the stylish woman, Raven Symoné has been gracing us with fashion inspiration since she first hit our screens on "The Cosby Show." The actress-singer-songwriter has grown up in the public eye, and like many child actresses has often been scrutinized for her style. Growing up in the limelight, we've seen Symoné evolve alongside her fashion choices. From the velvet outfits to matching berets of the '90s, the colorful LV bag of the '00s, to the quilted dress of 2020, Symoné has been serving looks for as long as we've known her (via Nylon).
The 35-year-old star surely knows how to keep up with trends, but isn't afraid to set her own. Recent news on the former "The View" co-host focused mainly on her major weight loss, dropping 30 lbs. after receiving some "scary" numbers during her latest doctor's appointment (via CNN). Her recent appearance on the red carpet with wife Miranda Pearman-Maday proved that no matter what she wears, Symoné is one to watch out for in the world of fashion.
Raven Symoné is a Disney star and style icon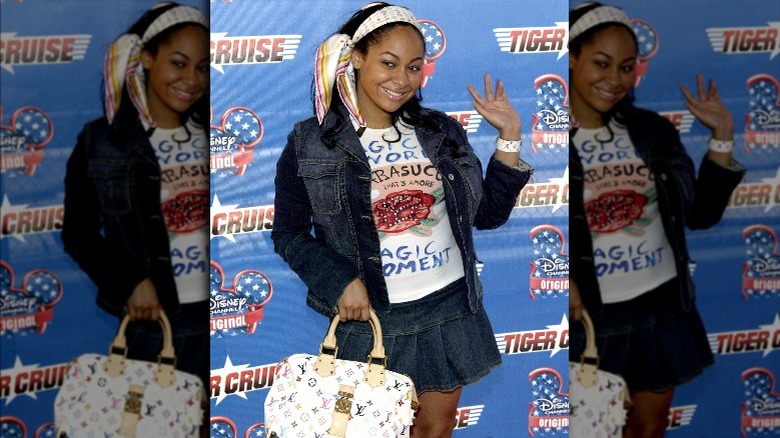 Paul Hawthorne/Getty Images
During her days starring in "That's So Raven," Symoné was known for her eclectic and colorful fashion both on and off the screen (via Harper's Bazaar). In the show, Symoné rocked lilac denim-on-denim, a lime green pantsuit, and of course, her signature space buns. On the red carpet, she was a fan of bucket hats, making sure they'd match the trimmings of her pants (via Nylon). Symoné was also a queen of the early 2000s trends, rocking a light blue corset top with sheer sleeves and, of course, a matching hat.
Even in "The Cheetah Girls" movies, Symoné loved the more-is-more aesthetic that became associated with Disney stars. We can never forget about the iconic matching sweatsuits in different colors of cheetah-print the stars wore in their first movie (via KMOV4). Growing up, Symoné was not only a fashion icon, but one who knew how to shop on a budget. Starting in her teen years, Symoné began donating clothes to Goodwill.
"Being in the industry for as long as I have, we do red carpets, you have to have a different look on at all times, so I accumulated a lot of clothing," she told Spectrum News 1. She's since partnered with Goodwill and donated some of her newer pieces as part of the "Do Good. Do Goodwill" campaign (via Goodwill).
Casual comfort is Raven Symoné's key to confidence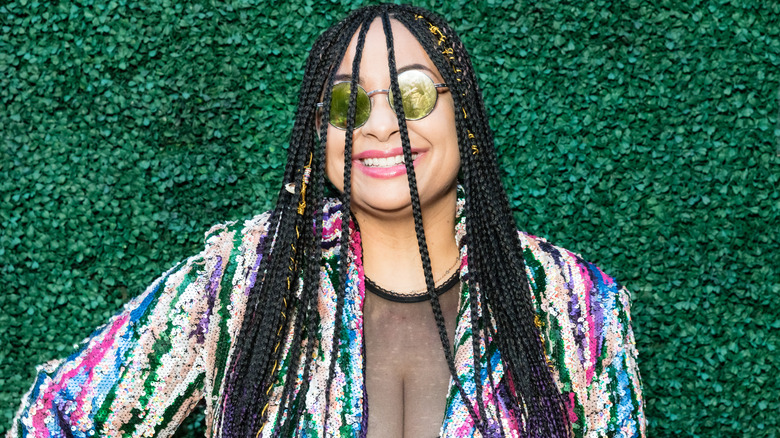 Greg Doherty/Getty Images
As Raven Symoné grew up, she realized that the key to feeling confident in her own style was taking the reins herself. "I wanted to do it because I never got the chance to express myself other than as Raven-Symoné on TV," she told Footwear News. "There came a point when I was so tired of not looking like I felt and having to put on for a particular [event or situation]. Now that I have taken that power over, when I do have to come to those same situations, I want to be myself –- heightened."
Comfort has been a key in the past six years of Symoné's style, as she's opted for pantsuits and track pants on the red carpet. At the 2019 "Kim Possible" premiere, she was photographed wearing an Andy Warhol t-shirt with black pants. By 2020, she'd added sparkle at the Byron Allen Oscar gala with a colorful sequined suit and a sheer black top (via Nylon).
A lover of sneakers, Doc Martens, and Uggs, Symoné will often opt for comfort over height. At the 2019 premiere of "The Lion King," she rocked a black zipper dress with black and red lace-up boots. Shoes with a larger surface area also allow her to paint them, a newfound favorite pastime (via Footwear News). In fact, the only pair of heels she owns are heeled sneakers. But the day she decides to go back to height, she knows Yves Saint Laurent will be waiting for her.