Of All Of David Bowie's Looks — This Stands Above The Rest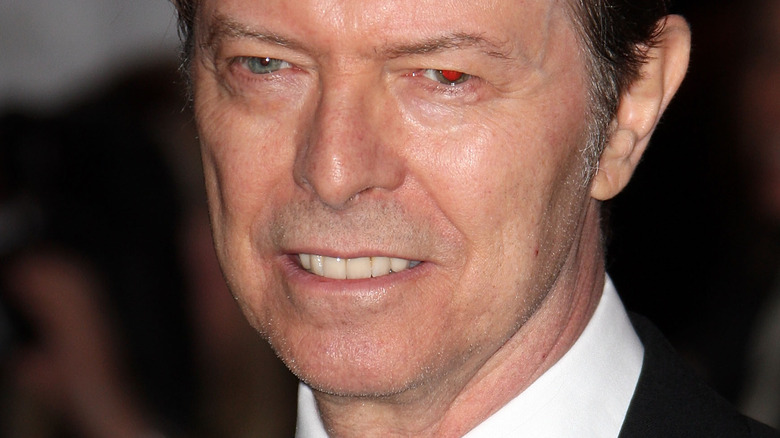 Andrew H. Walker/Getty Images
His music inspired generations, and his fashion influenced the industry with a crack of lightning. David Bowie was synonymous with reinvention, consistently changing up his style and looks to suit the dozens of personas he fronted across his career. While he retired from fully-fledged characters following the Thin White Duke in 1976 (via Rolling Stone), Bowie continued to change up his looks with every record up until his final album — "Black Star" — in 2016.
It's hard to choose the most iconic Bowie look, as they're all memorably unique in different ways. But one look that will forever be linked to the musician is the lightning bolt striking across his face on the album cover for his 1973 release "Aladdin Sane." Following Bowie's death in 2016, the world was flooded with various interpretations of the lightning strike (via The Independent) — so much so that astronomers gave the musician his own constellation in the exact shape of the bolt from "Aladdin Sane" (via the Guardian).
But how exactly did Bowie come up with this iconic look?
The lightning bolt signaled a new era for Bowie following the success of Ziggy Stardust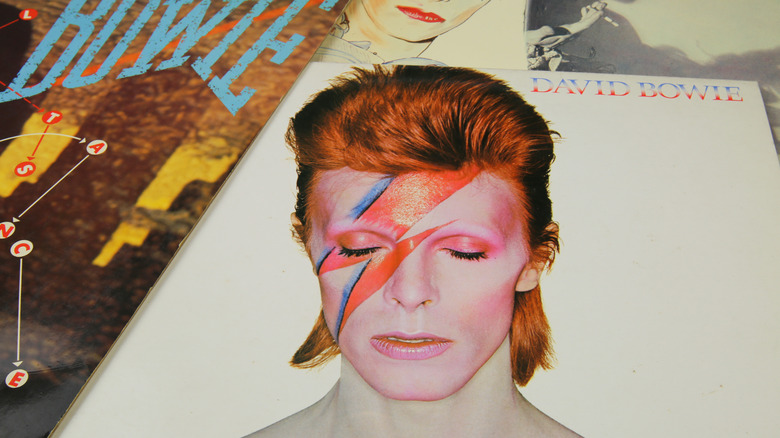 Shutterstock
After retiring the persona of Ziggy Stardust in 1973, Bowie created a new character — Aladdin Sane (via Ultimate Classic Rock). Described as "Ziggy Stardust under the influence of America," Bowie's latest creation featured a darker version of Ziggy's red mullet with the addition of a red-and-blue lightning bolt striking across his right eye. "I didn't want to be trapped in this Ziggy character all my life," the musician told Rolling Stone. "And I guess what I was doing with Aladdin Sane, I was trying to move on into the next arena — but using a rather pale imitation of Ziggy as a secondary device."
As for the iconic lightning bolt, according to Ultimate Classic Rock, it was "partly inspired by the way Bowie felt he was being pulled in different directions" after his breakthrough with the 1972 record "The Rise and Fall of Ziggy Stardust and the Spiders from Mars."
Elvis was a major inspiration for Bowie when it came to creating Aladdin Sane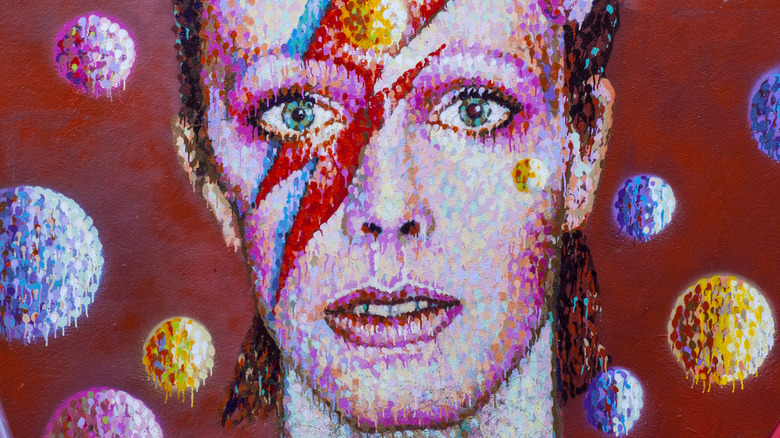 Shutterstock
In an 1987 interview with Rolling Stone, David Bowie described the look as "an electric kind of thing" for his new persona. "I thought he would probably be cracked by lightning. Sort of an obvious-type thing, as he was sort of an electric boy," the singer explained. As for the accompanying tear drop, that was photographer Brian Duffy's idea. "He put that on afterward, just popped it in there," Bowie explained. "I thought it was rather sweet."
As for how Bowie came up with the design for the bolt, according to Duffy he was inspired by an Elvis ring "which had the letters TCB [taking care of business] as well as a lightning flash" (via David Bowie's official site). When it came to applying the iconography to Bowie's face, that was down to his makeup artist Pierre La Roche. According to the photographer, a Panasonic rice cooker in his studio bore the symbol, which La Roche copied onto Bowie's face with lipstick (via CNN).