How Sarah Jessica Parker And Matthew Broderick Make It Work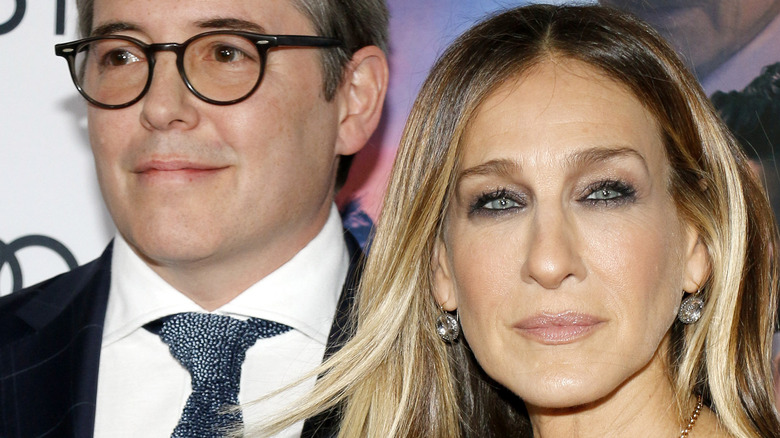 Shutterstock
If there's one celebrity marriage that has stood the test of time, it's Sarah Jessica Parker and Matthew Broderick. Despite their busy schedules and numerous rumors of infidelity and divorce, they have remained united and grown a beautiful family together. With so many Hollywood relationships ending in separations, these two seem to have found the secret. Based on their interviews, here is how Sarah Jessica Parker and Matthew Broderick make it work.
The couple married all the way back in 1997 and have raised three children together (per Biography). When asked the secret to their success on the SiriusXM "Radio Andy" show in 2020, Broderick didn't know. "I don't know the secret at all, but I'm very grateful and I love her and, it's amazing," he said, per CNN. "I mean, I can't believe that it's been that long. It doesn't feel like it."
Throughout the decades together, they have faced their fair share of trials and tribulations (via Oprah Daily). Broderick and Parker tend to keep quiet about their personal life and it works for them. Following reports of Broderick's alleged affair, Parker spoke with Harper's Bazaar about her response to the rumors. "Yeah, I didn't comment on it," she said at the time. "So when our marriage came up in conversation, it wouldn't occur to us that we were obligated to respond to allegations or gossip. You have to be a bit circumspect, but you also have to take up a position, and you have to stick to it."
How SJP and Matthew Broderick stay connected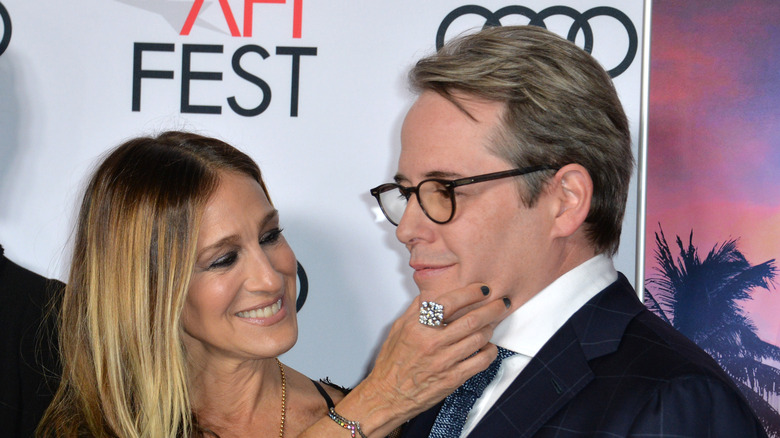 Shutterstock
And while they don't speak publicly much about marriage and divorce, that doesn't mean Sarah Jessica Parker and Matthew Broderick don't have the important conversations together. "There is an enormous amount of discussion and dissection and introspection [between Matthew and I] about it. We have common interests and we still really enjoy each other's company," Parker the The Telegraph in 2016. "I know it sounds dreary and not sexy, but I think the most important part of it is companionship. For me, it's about asking myself: who do I want to sit with, in Ireland? 'Who do I want to see those ruins with? Who is still the most challenging to me? Who do I like best?'"
Along with companionship and conversation, Parker also credits the time apart that their work schedules demand for maintaining the strong bond. "I know this sounds nuts, but we have lives that allow us to be away and come back together," Parker told Sophia Amoruso on "Girlboss Radio" in 2018 (per Fox News). "His work life takes him here, and mine takes me there. In some ways, I think that that's been enormously beneficial because we have so much to share in a way ... anytime that any relationship is hard, it's the point in which you're deciding, is this worth the investment getting through whatever that thing is?"
While their unique relationship may not work for everyone, it has kept their marriage going for decades now. And that is certainly something worth celebrating.