Lady Gaga's Makeup Artist Reveals What Her Daily Work Like Is Really Like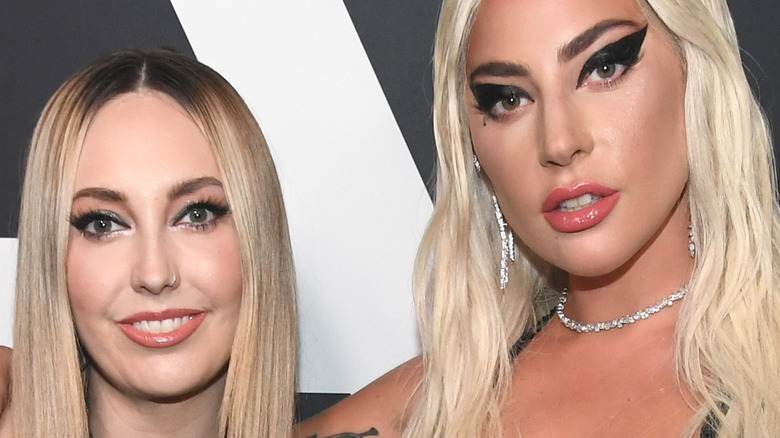 Kevin Mazur/Getty Images
Before she became the genius behind Lady Gaga's iconic beauty looks, makeup artist Sarah Tanno was working at a MAC makeup counter in New York City following a rough patch in her life. She told Refinery29 in 2019, "I had moved to New York from LA after a breakup. I was almost broke, trying to make it all happen, shooting editorials and struggling. I didn't want to ever do celebrities — I was a fashion makeup artist. I remember watching the VMAs in 2009 when she [Lady Gaga] performed 'Paparazzi' and Kabuki, the makeup artist, did her makeup. She was hanging from the rafters, dripping in blood, and I was like, Oh, that girl is bad***. If I could work with anyone, it would be her." Considering how quickly her dream of painting Gaga's face with her creations came true, it's clear that Tanno was manifesting her future.
Tanno recalled telling a coworker at the time, "I know I said I didn't want to work with celebrities, but I would die to work with her" (via Refinery29). Minutes later, Gaga's manager was requesting Tanno's services for hair and makeup during the final shows of the Fame Ball tour. Despite the fact that Tanno didn't have the hair experience she felt the job required, she rallied her skillset and managed to flawlessly execute the requested glam for the job.
Lady Gaga's makeup artist has a well-rounded skill set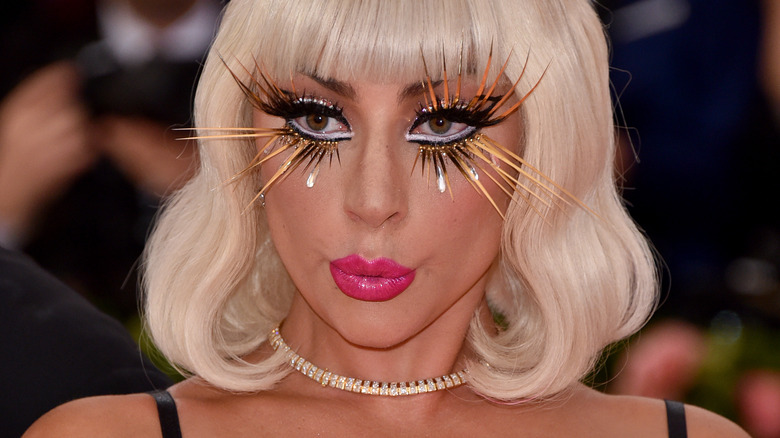 John Shearer/Getty Images
Over the course of 10 years, Sarah Tanno worked both directly and indirectly with Lady Gaga, often doing her dancers' makeup for shows, before eventually becoming the "Paparazzi" singer's go-to artist in 2014 (via Refinery29). A strong work ethic cultivated through her childhood desire to earn money to ride horses coupled with her intense passion for makeup artistry have made Tanno a staple in the pop star's beauty routine. Considering that the job often calls for a variety of looks, a day in the life of a makeup artist for one of the biggest stars in the world requires some serious versatility. Of Gaga's personal preferences, Tanno says, "Gaga likes it better when I put on her makeup in five minutes with two products than when I spend an hour on it. She likes the grit; she likes it to feel like an emotion" (via InStyle).
Tanno has created countless iconic looks for Gaga, ranging from crystal encrusted eyes for a Super Bowl performance to a David Bowie tribute following his death. Creating these masterpieces takes some collaborative effort, and as Tanno told Grazia, "It is always a collaborative process. I love to work with the stylist, hair stylist and the client to get on the same page. When they say it takes a village, it's because it takes teamwork. If I have an idea for makeup and the hair doesn't go with it, the whole look is wrong. It's important to trust your instinct but also your team​."
Gaga isn't afraid to mix professional with personal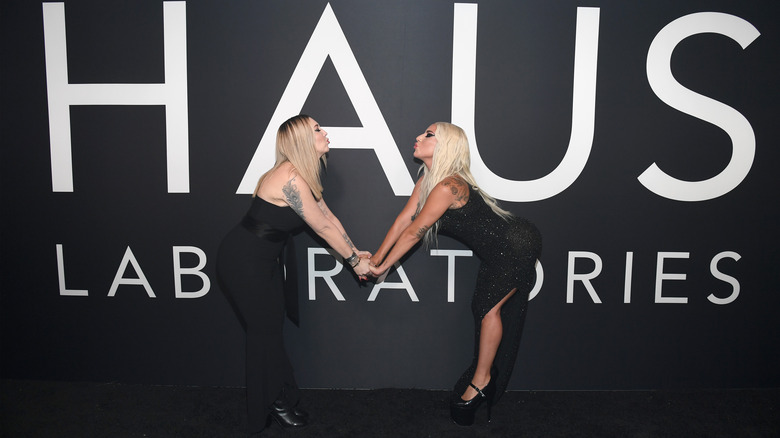 Kevin Mazur/Getty Images
These days, Sarah Tanno's relationship with Lady Gaga has taken on new forms. Recently, the pair launched Haus Laboratories, a vegan and cruelty-free makeup line, to develop and showcase the ultra-pigmented statement hues that tend to get tons of use in Tanno and Gaga's own glam looks (via InStyle). 
In addition to partnering up in business, the two have developed quite the friendship as well. Tanno tells Grazia that the "Haus of Gaga" is her true squad; the "A Star Is Born" actor also stood by Tanno as a member of her wedding party during her 2019 nuptials, according to InStyle.
The pair have bonded through a shared vision, with Tanno citing a commonality in the way the two view artistry, telling InStyle last year, "It comes from a place of storytelling and of empowerment."