Meet Brad Ashenfelter, Kesha's Long-Time Boyfriend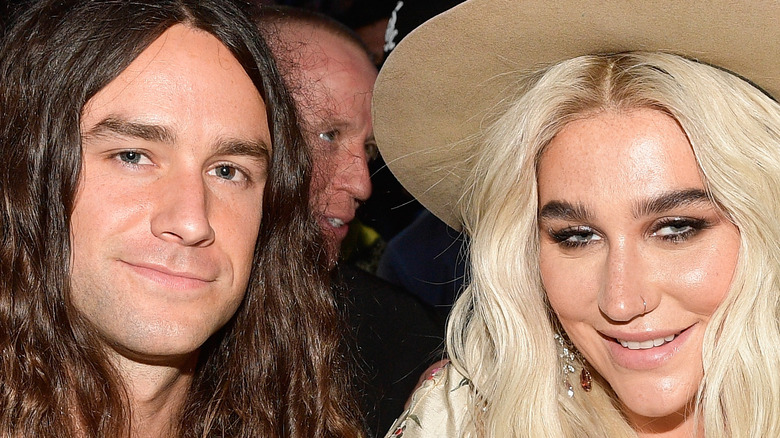 Matt Winkelmeyer/Getty Images
Life after rehab has changed for the better for pop star Kesha. Her path to finding her voice and taking control of an eating disorder was not easy. Thankfully she had boyfriend Brad Ashenfelter standing by her side as she did the work in rehab and during the emotional trial against ex-producer Dr. Luke (via US Weekly).
Introduced by a mutual friend, the couple's relationship deepened during Kesha's time away at a facility where she spent times seeking help for an eating disorder in 2014. Marie Claire reports Ashenfelter flew out to visit her every weekend and the couple would color side by side during those visits. And he allows her to be herself — quirks and all. He also respects Kesha's bisexuality, she told Attitude. "He's a sweetheart, but he also lets me be me," she explains.
Who is this mystery man who stole the heart of the founder of the makeup line Kesha Rose? Let's meet Brad Ashenfelter, Kesha's long-time boyfriend.
Brad is very private person
Brad Ashenfelter and Kesha enjoy their privacy. While the Beauty and BS with Kesha YouTube channel host discusses her relationship during some interviews, Ashenfelter keeps a low profile.
Here are a few things we've learned about the main man in Kesha's life. Marie Claire reports a contributing writer biography page published on The Inertia said Ashenfelter asserts "pizza and good sandwiches can be only be found in New Jersey," which happens to be his hometown.
Aside from proclaiming loyalty to the Garden State and his East Coast roots, Brad Ashenfelter remains loyal to pre-recorded music. According to that same biography published in The Inertia, the writer is described as spending the majority of his income on compact discs and records (via Marie Claire). So it wouldn't be a huge surprise to learn he listens to Kesha's songs on CDs and not a streaming app.
Despite his love for CDs and old school records, Kesha and Ashenfelter's relationship continues to thrive. Life & Style reported that the couple who reside in Venice, California was heading toward marriage in 2017. Well, it's 2021 and it does not appear that the two have tied the knot since an engagement ring has yet to adorn the ring finger of the "Tik Tok" singer. However, the singer-songwriter and the writer did get matching skulls tattoos in 2017 (per Heavy). Perhaps the next permanent skin art will be something on the ring finger? We're "Praying" it happens soon!