The Heartbreaking Death Of General Hospital's Jay Pickett
Vince Bucci/Getty Images
Jay Pickett, the daytime star who was best known as Detective Frank Scanlon on the "General Hospital" spin-off "Port Charles," died on July 30, 2021 while on the Idaho set of his latest film "Treasure Valley," according to CNN. The actor was 60 years old.
The film's director, Travis Mills, later posted the news of Pickett's death on "Treasure Valley's" official Facebook page, writing: "Many of you have already heard about the tragedy that happened two days ago. Jay Pickett, our leading man, writer, producer, and creator of this movie passed away suddenly while we were on location preparing to film a scene. There is no official explanation for the cause of his death but it appears to have been a heart attack. Everyone present tried as hard as they could to keep him alive. Our hearts are broken and we grieve for his family who are so devastated by this shocking tragedy."
Jay Pickett's rise in the soap opera world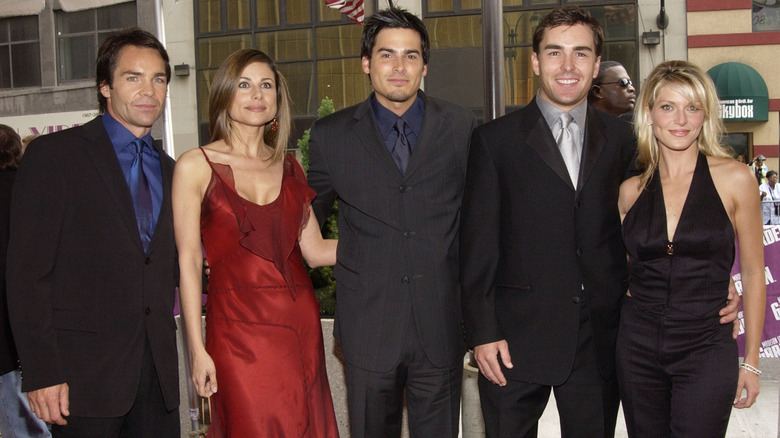 Lawrence Lucier/Getty Images
Jay Pickett was born in Spokane, Washington on Feb. 10, 1961 and earned a degree in acting from Boise State University in Idaho, where he grew up. After a move to California, Pickett earned a Masters of Fine Arts from UCLA, and his career soon started to take off (via Soap Hub). He appeared in a variety of episodic television roles, making a name for himself on series such as "China Beach," "Jake and the Fatman," and "Mr. Belvedere." In 1991, he landed his first soap role as Dr. Chip Lakin on "Days of Our Lives" and remained with the series for one year. By 1997, Pickett became a genuine soap star when he landed the part of Frank Scanlon on "Port Charles." He appeared on the soap opera until its cancelation in 2003, but ABC Daytime wasn't done with the actor (via IMDb).
Like other "Port Charles" stars, Pickett eventually went on to a new role on "General Hospital" where he played Port Charles police officer Detective David Harper, but according to Soap Hub, his passion was westerns, which is what he was filming when he died.
Jay Pickett's western dreams come true
In the later years of his life, Jay Pickett took a step away from the world of daytime drama and began making westerns. The actor, who was married to Elena Marie Bates since 1985, appeared in a variety of cowboy movies over the last few years, including "Soda Springs," "A Soldier's Revenge," "The Siege at Riker's Station," "Catch the Bullet," "Heart of the Gun," and "Soda Springs" (via Soap Hub). Tragically, he never got to finish "Treasure Valley."
After Pickett's death became public on July 31, 2021, his former "Port Charles" and "General Hospital" co-stars expressed their grief on social media. Actor Kin Shriner tweeted: "The sudden passing of my pal Jay Pickett Is very sad. He loved acting and Westerns , and when we got together we laughed a lot . R.I.P. Jay."
Pickett is survived by his wife Elena, and their three children, Tyler, Michaela, and Maegan (via Famous Birthdays).