The Truth About NHL Star Evander Kane And Anna Kane's Relationship Drama
Shutterstock
Evander Kane, who plays for the San Jose Sharks in the National Hockey League, was forced to deny allegations – made by his "soon to be ex wife" — that he'd thrown games in a statement shared to Twitter on Sunday, August 1, 2021. The day prior, his estranged wife, Anna Kane, took to her Instagram story to accuse the Canadian left winger of gambling, game-fixing, and soliciting prostitution, tagging the NHL — whose former players include Carrie Underwood's husband and Candace Cameron Bure's, too — and the league's commissioner in the process (via People).
"When you were flying to different cities this year on OFF days with criminals to count cards at random casinos and told me the people you are gambling with would kill me and Kensington [the couple's daughter, born 2020] if I told anyone," said Anna on her story, addressing her estranged husband. "So I was supposed to let you gamble, cheat on me with prostitutes and be ok with that life."
However, Evander was quick to respond, denying all details posed against him from Anna. "Unfortunately I would like to address the completely FALSE accusations that my estranged wife and soon to be ex wife has made against me," he began in his statement, denying having ever bet or gambled on a hockey game or throwing any games he'd been involved in. "I look forward to cooperating fully with the league's investigation, having my name cleared and looking forward to this upcoming season," he finished. 
The NHL will be investigating the claims against Evander Kane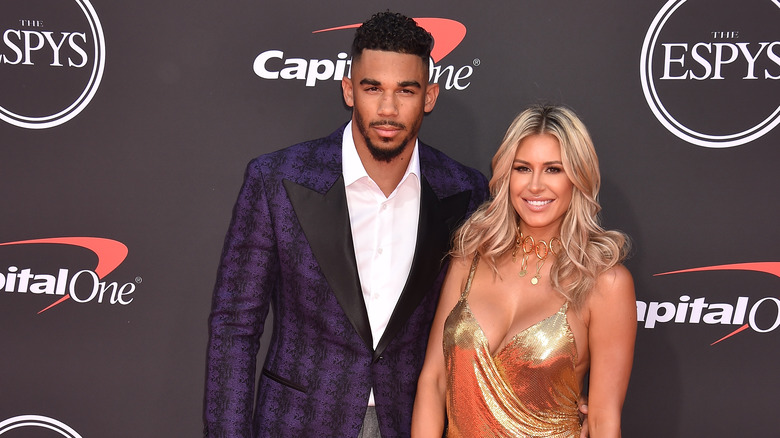 Shutterstock
Evander Kane wasn't finished there, however. In a second Twitter statement, he talked about his daughter, one year old Kensington, and how, "I will and always have taken care of my daughter in every way possible." He then accused Anna Kane of using Kensington as "leverage," and insinuated that she is "mentally unwell." "I hope this is the last time I will be publicly addressing any further misrepresentations of me as a father," he said. 
Meanwhile, Anna accused her estranged husband of leaving her and their daughter to run off to Europe with 26-year-old model Mara Teigen, writing "Have fun Mara ... He will prob scam your money to lose it. Since he has nothing." After her allegations, the NHL announced that they would be conducting a full investigation into the gambling and betting allegations (via People). It's just the latest in a turbulent year for the family, after Evander was reported to have filed for bankruptcy in California, with debts of $26.8 million (TSN Hockey).