Inside Coco Austin's Controversial Decision To Continue Breastfeeding Her Daughter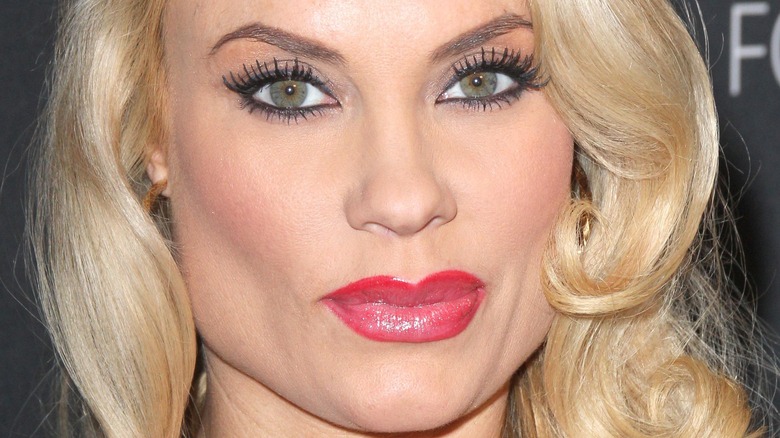 Shutterstock
Coco Austin is no stranger to controversy. Upon becoming a mom to baby Chanel in 2016, the wife of actor Ice T was criticized for how she dressed the tot in designer outfits (via Us Weekly). Now, years later, the reality star is still at the receiving end of backlash over her parenting decisions.
This time, Austin is defending her decision to continue breastfeeding Chanel, who is 5. As she told Us Weekly about the practice, "Chanel still likes my boobs. It's a big bonding moment for a mother and your child."
According to the CDC, it's recommended that babies are exclusively breastfed for the first six months of life. Ideally, moms should nurse for a year or longer to complement the introduction of foods, with the World Health Organization recommending breastfeeding for two years or longer.
Meanwhile, Healthline notes that the practice of extended breastfeeding is common in many cultures around the world, and that moms will choose to breastfeed a child until age 5 or older.
The outlet goes on to note extended breastfeeding offers benefits to mother and baby, and that social judgement is really the only detriment to continuing the practice.
Coco Austin enjoys breastfeeding her 5-year-old no matter what people say
Despite medical support for the practice of extending breastfeeding, it isn't surprising that Austin has been criticized for her decision to nurse Chanel past her toddler years. On Twitter, detractors reacted to an E! News story about Austin breastfeeding Chanel at age 5, with one person saying, "That's just plain sick." Likewise, another Twitter user responded, "Nasty." 
But several people supported Austin, with one commenting, "Why does ones choice to breastfeed past a certain age anyone else' business. Your body your choice right ? Well it's Cocos body, so leave her alone. You go Coco !!!" A similar commenter tweeted in part, "I don't think it's anyone's business."
Undeterred by her critics, the model told Us Weekly she will let Chanel determine how long she breastfeeds. "Why take that away from her? ... If she doesn't want it, all right, that's where you stop it," she said, adding, "But I'm not just going to say no."