Rudy Giuliani Has Harsh Words For Anyone Who Thinks He Should Go To Jail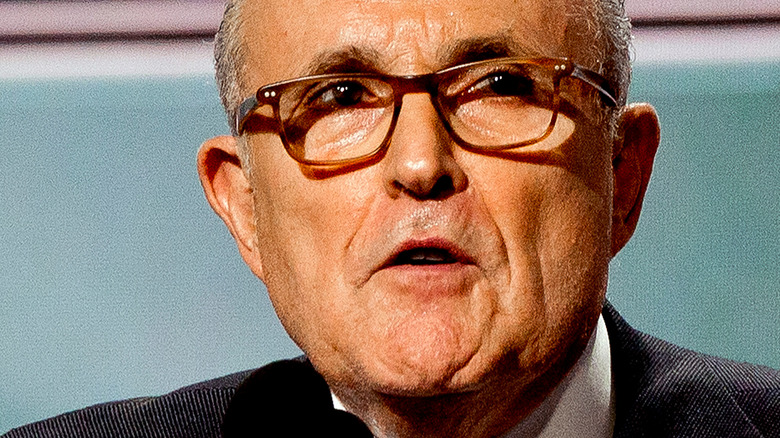 Shutterstock
There was a time when Rudy Giuliani put criminals behind bars as the U.S. Attorney for the Southern District of New York. In the 1980s, he successfully prosecuted more than 4,000 cases and made a name for himself putting away drug dealers, mafia bosses, and white collar criminals. As mayor of New York City in the 1990s, he was known for being tough on crime and implemented policies that cut the crime rate in the city by a third and the murder rate in half (via Biography).
Giuliani, who was once known as America's Mayor, is under criminal investigation himself by the federal government for his involvement in trying to persuade the Ukrainian president to announce an investigation into Hunter Biden in 2019 at the behest of former President Donald Trump. This is the same incident Trump was impeached for the first time. According to CNN, the FBI seized 18 electronic devices from Giuliani in April of 2021, in order to help them investigate if he was working for Ukrainian officials while failing to register as an agent of a foreign government. Giuliani claims he was working as Trump's personal attorney during that time and recently spoke to New York City's local NBC station and called the investigation "lawless."
Rudy Giuliani offers thoughts on being criminally investigated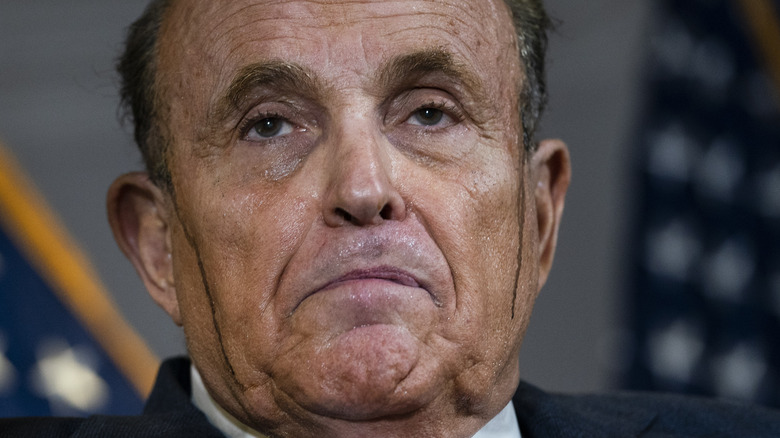 Drew Angerer/Getty Images
Rudy Giuliani, who saw his law license suspended in both New York and Washington, DC earlier in 2021 (via NPR), told NBC he did not break any laws. "I committed no crime, and if you think I committed a crime, you're probably really stupid, because you don't know who I am," Giuliani said. "Is the guy who put the mafia in jail, terrorists in jail, [former New York City Mayor] Ed Koch's commissioners in jail, and the worst people on Wall Street — I'm not going to file [a form]? I mean, that's just crazy."
However, Giuliani did say he was willing to spend time behind bars, despite denying he did anything wrong. He also issued a warning to his would-be jailers. "I am more than willing to go to jail if they want to put me in jail. And if they do, they're going to suffer the consequences in heaven," he said. "I'm not, I didn't do anything wrong."
The astute NBC reporter then asked Giuliani why he would be willing to go to jail when he insists he's innocent. Giuliani simply answered, "Because they lie, they cheat."
When asked about the legacy he will one day leave after being lauded as a tough-on-crime prosecutor and mayor for years, Giuliani seemed pragmatic and hopeful at the same time. "I can't control that, I can't control my legacy," he said. "I believe I will be vindicated."