Simone Biles' Huge Olympic Competition Decision Has Fans In A Frenzy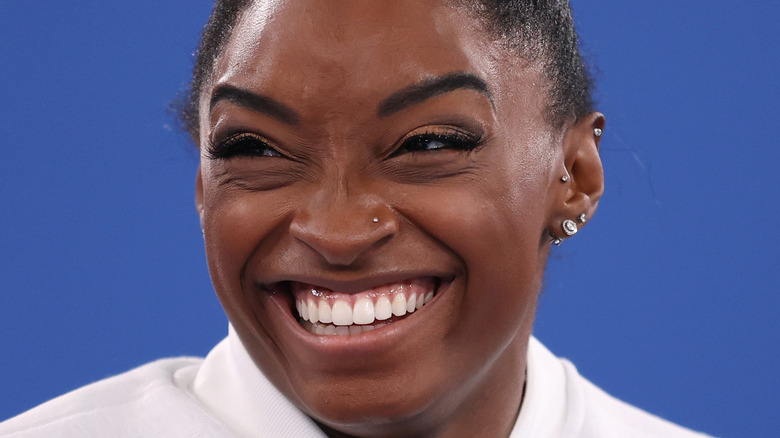 Laurence Griffiths/Getty Images
Simone Biles shocked her fans when she withdrew from the team finals at the 2020 Tokyo Olympics, per People. The team went on to win the silver medal, but Biles stayed largely on the sidelines. The gymnast, who is often referred to as the "GOAT," also withdrew from the individual all-around event, which she won the gold medal in during the 2016 Rio Olympics. She later announced that she would not be participating in the finals for vault, bars, or floor. Although fans were stunned to see Biles drop out of the competition, many supported her after she admitted that she was dealing with some mental health issues, which were causing her to not perform at her highest level.
After withdrawing from the team event, Biles opened up to "Today" anchor Hoda Kotb about the situation (via NBC Chicago). "Physically, I feel good," she said. "Emotionally it varies on the time and moment. Coming to the Olympics and being head star isn't an easy feat. I'm OK, just super frustrated, but super proud of these girls and now we're silver medalists, something we'll cherish forever. We hope America still loves us," Biles added.
Biles' willingness to step back from gymnastics to prioritize her own mental health has been a hot topic and has sparked a larger conversation about mental health, per The Hill. After the decision to exit the majority of the events at the Tokyo Games, Biles is ready to get back to gymnastics.
Simone Biles is set to compete in the balance beam finals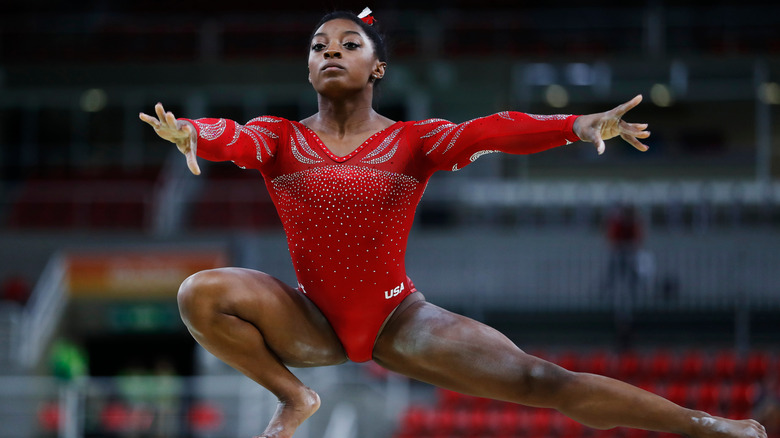 Shutterstock
Simone Biles is preparing to make her Olympic comeback on the balance beam in Tokyo. The gymnast has officially announced that she plans to compete in the final individual medal event of the Games, as of publication (via People). "We are so excited to confirm that you will see two U.S. athletes in the balance beam final tomorrow — Suni Lee AND Simone Biles!! Can't wait to watch you both," the official Twitter account of the USA Gymnastics team tweeted. Of course, fans immediately began to share their excitement for Biles' big news, which spread quickly over the internet.
"This is the gold medal she's been saying she wants the most, but I'm hoping she snatches any medal, and most of all, I'm so happy she's feeling ok enough to compete now," one Biles fan commented. "Simone held a Q&A on her insta and said it was with twisting skills that caused her twisties to come out and the balance beam usually doesn't have those so i'm glad she seems confident enough to do the beam final safely," another wrote. A third pointed to Biles' prioritization of her mental health, and praised the gymnastics star for displaying to the world what "self care looks like." 
It appears that the nation is ready to cheer on Biles as she looks to win her first individual medal in Tokyo.