Here's The Frozen Honey Trend You Need To Hop On This Summer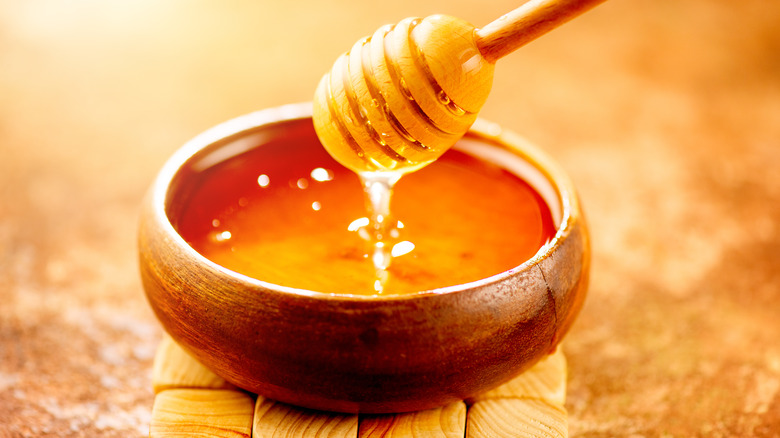 Shutterstock
It might feel like there's a different food or drink trend with each new season. Last fall, TikTokers discovered whipped hot chocolate, while who can forget the pandemic craze of banana bread earlier on in 2020? There's always something new to try, and things are no different right now. 
It might not be something that would instantly come to mind, but frozen honey is rising in popularity at the moment, becoming a real trend on TikTok (the hashtag has about 300 million views) and away from social media, too (via PureWow). While many of us will go for a popsicle or put some ice in our drink if we're hot in the summer, frozen honey is certainly an ... alternative option. But, how do you make frozen honey, and how do you eat it? Do you combine it with anything or enjoy the chilly sweetness on its own? Here's what all the cool kids are doing on TikTok.
Frozen honey is eaten straight from the bottle
Unsurprisingly, frozen honey is honey that's spent some time in the freezer. However, the name 'frozen honey' is something of a misnomer. Being mostly sugar, honey has an extremely low freezing point — one that the freezers in our homes won't be able to reach. Instead, it becomes more sticky, and plenty of people on TikTok have been having fun playing around with it. 
In the videos, people often take a bottle of honey out of the freezer, give it a squeeze, and take a bite when the cold honey comes out. For a bit more fun — it is TikTok, after all — some users have even added Jell-O powder to the honey to create all sorts of weird and wonderful colors (via PureWow). People are divided on how it tastes, with some enjoying the sweet snack, and others considering it a little too sweet. However, if you've got something of a sweet tooth, it might be worth trying — it's safe to try in moderation, but perhaps don't go eating the whole bottle (via Health).