The Truth About Dan Levy And Paul Rudd's Relationship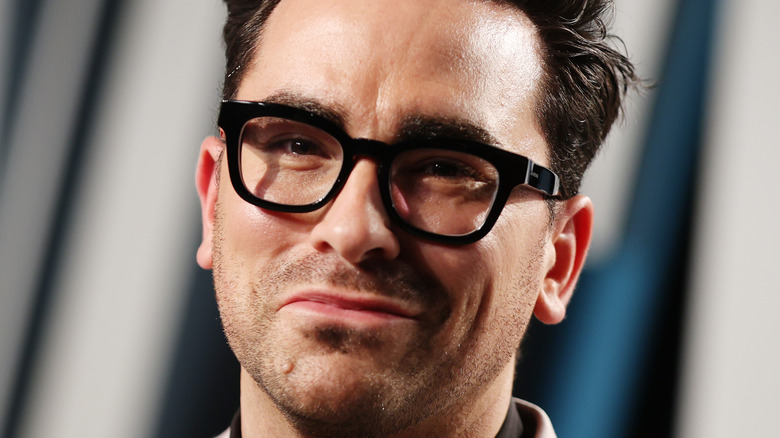 Rich Fury/vf20/Getty Images
Dan Levy has become a huge hit among fans with his work in television shows like "Schitt's Creek," and in films such as "Happiest Season" (via IMDb). So, when fans saw a photo of Levy having dinner with another fan-favorite actor, Paul Rudd, the internet went wild, per E! News. Levy and Rudd were photographed having dinner together at Darjeeling Express, and the owner shared a photo of herself with the Hollywood stars on social media. "When Paul Rudd returns to your restaurant and brings Dan Levy with him!!!" she wrote in the caption.
In the snap, Rudd and Levy are seated next to each other with full plates of food sitting in front of them. Rudd wore an all-black ensemble and Levy sported a printed shirt and his signature glasses (via Hollywood Life). The duo smiled for the camera as they looked to be enjoying their time at the London establishment. Of course, the photo did more than put a smile on people's faces, it ignited speculation and raised some big questions among fans.
What's really going on with Dan Levy and Paul Rudd?
The photo of Dan Levy and Paul Rudd sharing a meal together began to circulate around the internet and quickly had fans talking. It seems that everyone wanted to know why the two men were dining together. Hollywood Life reported that it's unclear whether or not the outing was simply a meal between friends, or if it could hint that the duo are gearing up to work together in the near future.
According to Screen Rant, fans immediately began to speculate that Levy could have a role in Rudd's latest "Ant-Man" movie. The outlet revealed that "Ant-Man and the Wasp: Quantumania" is currently in London as of publication, and is set for a 2023 release. Of course, the photo had many fans hoping that Levy could be joining Rudd on the big screen. "Paul Rudd is filming 'Ant-Man and the Wasp: Quantumania' right now in London ... has Dan Levy been cast in it too??" one Twitter user wrote. "If Dan Levy is in the new 'Ant-Man' movie I will LOSE IT," another said, per E! News.
While fans are eager for more information about Levy and Rudd's relationship, it seems that only time will tell if the two are just friends or if we'll be seeing them work together on an upcoming project. However, one thing is certain, if the actors unite on screen, it's sure to be comedy gold.