Where Was Schitt's Creek Actually Filmed?
Schitt's Creek has become one of the most talked about shows in recent years, with even celebrities such as Kelly Clarkson, Jennifer Lawrence, and Mariah Carey publicly declaring their love for the series, per Narcity. Although the series ended its run after six hilarious and heart-warming seasons, many fans are just now discovering the gem thanks to streaming sites such as Netflix (via Vulture). The show was created by actor Eugene Levy and his son, Dan Levy. The duo also starred as father and son, Johnny and David Rose, on screen. The storyline focused on the Rose family, which also included mother Moira (Catherine O'Hara) and sister Alexis (Annie Murphy). The family had enjoyed a lavish lifestyle thanks to Johnny's chain of video stores. However, they were robbed by their business manager and left penniless in the pilot episode.
The family was forced to pack up what belongings they were allowed to keep and move to the small town of Schitt's Creek. Johnny had purchased the town as a joke at the height of his wealth. However, the little country town ended up being the family's saving grace. Throughout the series, Schitt's Creek is revealed to be in North America, but an exact location was never given for the setting.
Where did they film Schitt's Creek?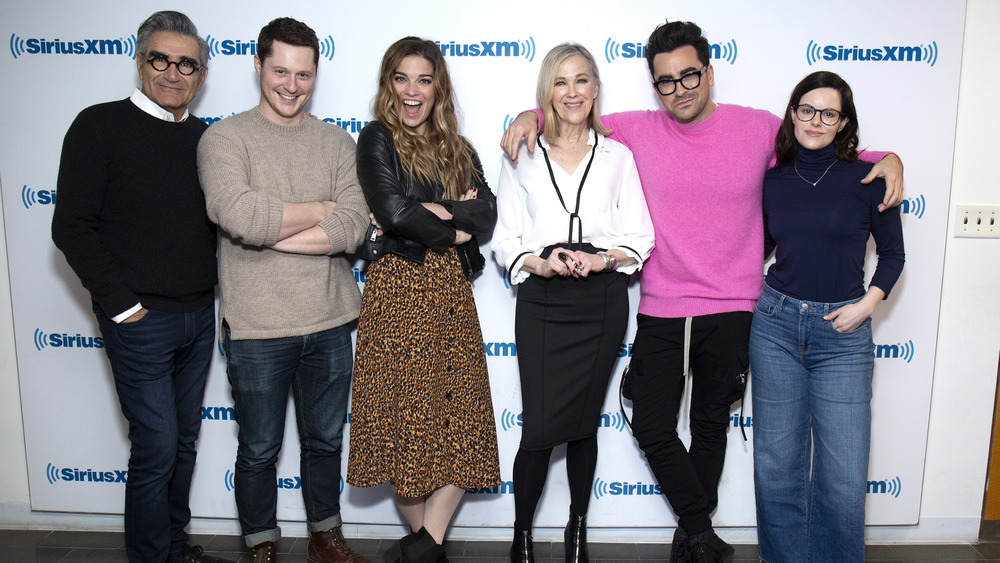 Santiago Felipe/Getty Images
The town of Schitt's Creek may be fictional, but that hasn't stopped fans from flocking to the show's filming location in Canada. According to Cosmopolitan, the series was filmed in Goodwood, which is just north of Toronto. Diehard fans, many of whom call themselves "Schitt Heads," now flock to the location to see well-known landmarks from the show. Fans can take photos in front of locations such as the Cafe Tropical, Bob's Garage, and Rose Apothecary, which in reality is a wool and craft shop. Guests can even stay at the famed Rosebud Motel, which is called the Hockley Valley Motel. The motel doubles as a slice of TV history, as it was also used on the hit Netflix show, Umbrella Academy.
While the main hangouts for the Rose family and their friends can be easily found in Goodwood, there are locations that some fans have tracked down as well, such as the wooded area where Patrick proposed to David. In actuality, it's the Rattlesnake Point Conservation Area. Another familiar place appeared in the last season of Schitt's Creek. David and Patrick considered getting married at Elmbridge Manor, which is actually a large Georgian mansion in Toronto called Graydon Manor Hall. While the scenes from the show are all set in Canada, the series was careful never to mention if the Rose family resided in Canada or the United States, adding a bit of mystery to the plot.