Why You Recognize The Song In Allstate's Everything's Alright Commercial
The thing about advertising is that companies not only want you to be invested in their products and/or services but they want to keep you invested. To do this, they often employ music that will get stuck in your head or perhaps trigger an emotional pull to make you inclined to purchase their product. It's a no-brainer that companies would want to associate their product with popular music, as The Drum, a marketing news site, explained.
Because of this, we end up with advertisements such as Visa's new "Meet Visa" and Adam Driver's Burberry commercials, which both feature catchy songs to promote their products. Another company that utilizes this tactic is Allstate, as evidenced by their popular duet commercial, which features The Pet Shop Boys' classic "Opportunities (Let's Make Lots of Money)." They haven't stopped there, though, as Allstate has a new commercial featuring a nostalgic sound. This is where you know it from.
This throwback song brings up all the feels for Allstate's marketing campaign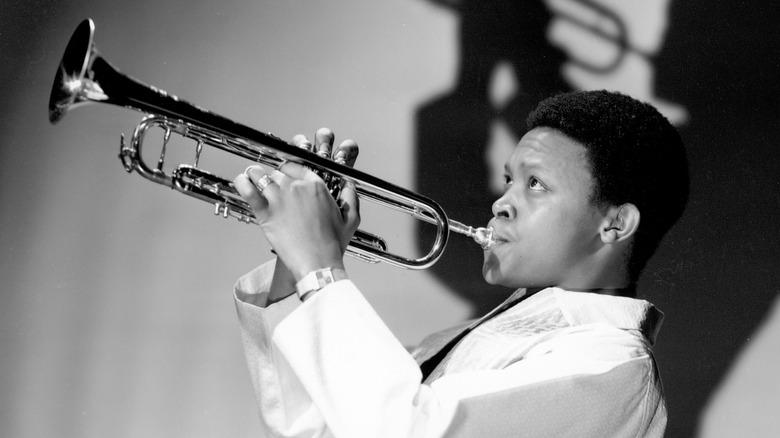 Michael Ochs Archives/Getty Images
Allstate's commercials are always evocative and enticing, and their latest is no different. The ad, voiced by Alicia Keys, features people going about their lives while a fun, cool, and swanky instrumental song plays in the background (via YouTube). If you're thinking that this music sounds familiar, you'd be right. 
The song was recorded in 1968 by South African jazz trumpeter Hugh Masekela and comes from his album "The Promise of a Future" (via SongFacts). The song's title is "Grazing in the Grass," and it draws emotion through its various instruments (via YouTube). Cowbells and trumpets offer unique sounds and perspectives, and Masekela's raw, true talent shines through with each note. The song evokes the idea of grass grazing brilliantly because of its happy tones. These tones elicit a feeling of enjoying the simple life, which Allstate's commercial promotes as well, saying that their insurance can help you live your everyday life simpler and more at ease. 
The song was, in fact, named "Grazing in the Grass" because the tune it was based on — "Mr. Bull #5" — took place in a cow pasture, which also inspired the use of cowbells (via SongFacts). Masekala purchased a record of "Mr. Bull #5" during a trip to Zambia, which his producer wanted to rework into their own sound. Now, that reworked sound is still being used in commercials decades later.
This song was so influential upon its release that it climbed to number one on the charts in the late '60s, according to Stereogum, which helps explain why we still recognize it today.