Why Jinger Duggar Vuolo's New Hairstyle Is So Important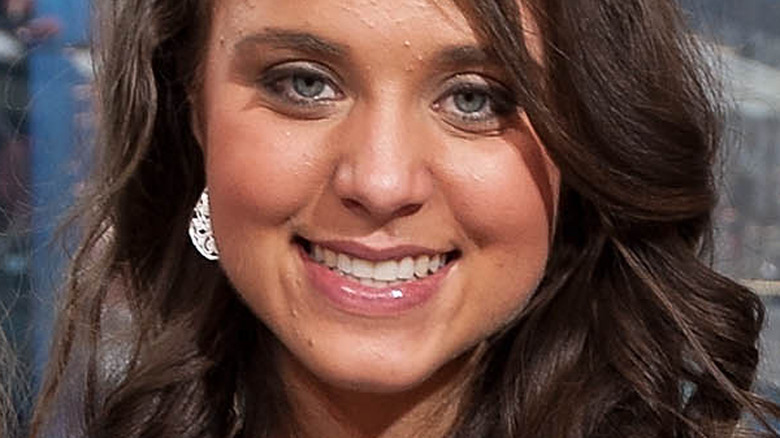 D Dipasupil/Getty Images
Although she's not a reality TV star anymore, Jinger Duggar Vuolo is still managing to stay in the public eye. Fans of TLC's "19 Kids & Counting" and the spinoff "Counting On" enjoy following Vuolo and her husband, Jeremy, through their podcast, their autobiographical book "The Hope We Hold," and their social media accounts. (They also have an online merch site, but it's currently undergoing some work.) The couple, married almost five years, have shared many personal moments with their fans: the births of their two daughters; their moves to Texas and Los Angeles; holiday celebrations and date nights. But one seemingly ordinary new photo is being seen by many as an important milestone in Vuolo's life.
In her most recent Instagram post, Vuolo showed a series of pictures revealing that she had her hair cropped to her shoulders, a substantial change from its previous mid-back length. She also had it dyed a warm honey brown, a more flattering look than her former beachy blond shade. "Sometimes you just need to change the hair up a bit," she wrote. But apart from being easy to care for (a must for a mother of two young children!), Vuolo's new hairdo represents a personal triumph over a repressive childhood.
Jinger Vuolo's long hair represented allegiance to a controversial group
Jinger Duggar Vuolo's parents, Jim Bob and Michelle Duggar, are followers of the controversial Institute for Basic Life Principles (IBLP). The fundamentalist Christian organization — some refer to it as a cult — promotes men as heads of the household and wives as submissive, loyal helpmates who should "maintain their outward beauty" (via IBLP). By the group's standards, that means wearing long skirts, covered shoulders, and long, curly hair. Although the hair rule is supposedly inspired by a biblical passage (via E!), an ex-member of the IBLP claims that it actually reflects the personal tastes of IBLP founder Bill Gothard, who left the group in 2014 amid allegations of sexual misconduct (via Salon).
Since her marriage, Jinger has been showing the world that she's carving her own path in life. After doing her own research, she decided that wearing pants — and even the occasional miniskirt — doesn't go against the Lord's will (via People). Her new 'do further sets her apart from the dress code her mother and many of her sisters still follow.
Nearly 200,000 followers have given their approval (as of this writing). Among them is big sister Jill Duggar Dillard, who is estranged from their parents and who also follows her own clothing choices. Katie Joy, of the YouTube channel Without a Crystal Ball, agrees that Vuolo's new look is a sign that she is recovering from her restrictive past. "Go Jinger Go!" she cheered.