How To DIY An Old Sweater Into A Trendy New Sweater Vest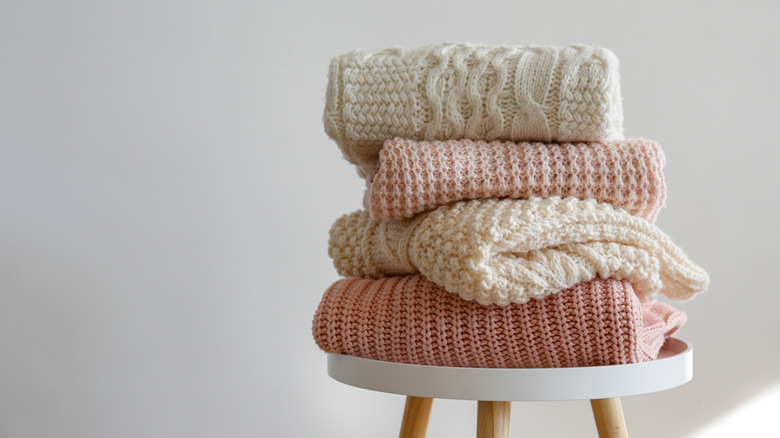 Shutterstock
It seems like more and more, throwback trends are coming back around and becoming in style again. From chokers to jelly shoes to fanny packs, what we wore back in the '80s and '90s are coming back to grace us with their presence all over again. All over TikTok and Instagram, we see influencers and celebrities bringing back iconic styles and trends to make them look chic. And we can't deny that we totally love it. 
One of the trends that we all know and love from back in the day is the sweater vest. You know, the oversized, extra comfy sweater vest that you would throw on over a white T-shirt with some baggy jeans, a style noted by FabFitFun. Or, even pairing it with a cute skirt and knee-high socks. Sweater vests have been around for decades, and they weren't just for dads and grandpas. 
Now that they're making a comeback, it's hard to find the ones that are chunky and comfy like we saw back in the '90s. But, if you have some old sweaters that you don't wear much anymore, you can actually make your own DIY sweater vest at home! 
How to make a DIY sweater vest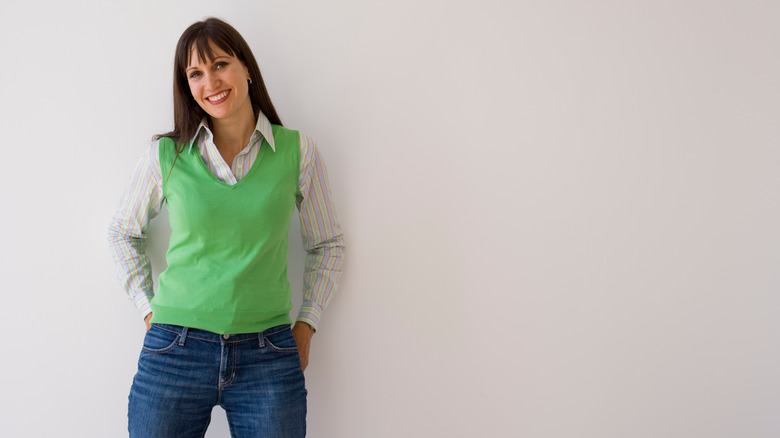 Shutterstock
If you have a few sweaters at home that you're ready to recycle, we're here to help you turn them into chic and comfy sweater vests. You'll need a sweater, some fabric scissors, an iron, and either fabric glue or a needle and thread, according to City Line.
To turn your sweater into a sweater vest, you simply need to lay down the sweater on a flat surface and make sure it's flattened evenly. Next, you'll want to cut the sleeves off of the sweater. Don't worry if you cut them off evenly, but make sure you get them as close to the seam as possible. 
Then, you'll want to turn your sweater inside-out. Next, fold over the area where you cut your sleeves off so they're even on both sides. Iron that so it's completely flat. After that, you can either use fabric glue to glue down the flat, folded over area, or you can use a needle and thread to sew it inside. When you turn your sweater right side-out again, you'll see you have a brand new, comfy, chic sweater vest! 
Easy and inexpensive — we love it!