Inside The Staggering Findings Of The Andrew Cuomo Investigation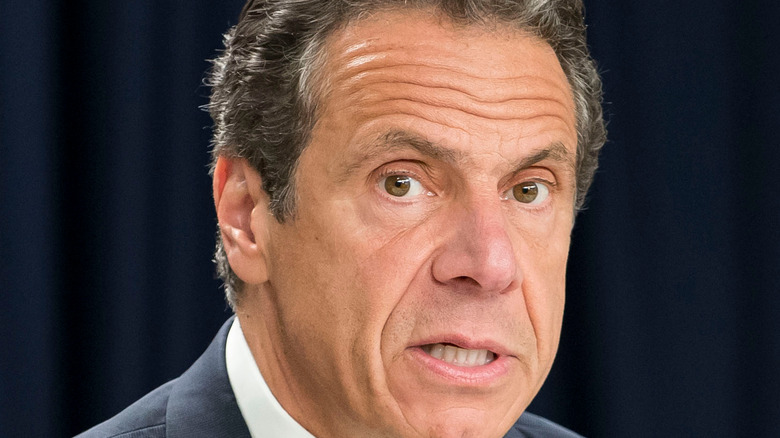 Shutterstock
The whispers accusing New York Governor Andrew Cuomo of sexual misconduct began in December 2020, then began to pick up steam in February 2021 after several women came forward to talk about how uncomfortable Cuomo made them feel in the workplace. In March 2021, Attorney General Letitia James finally acted on the accusations by appointing independent investigators, and just over five months later, they reached a conclusion.
Calling it "a sad day for New York," James announced that independent investigators Joon H. Kim and Anne L. Clark had found that Governor Cuomo sexually harassed multiple women and, in doing so, broke both state and federal laws in incidents that took place from 2013 to 2020. In their report, investigators say they interviewed nearly 200 women, including those who had filed the complaints, as well as both current and former New York state employees including State Troopers, and those who have worked in the Executive Chamber.
"I am grateful to all the women who came forward to tell their stories in painstaking detail, enabling investigators to get to the truth. No man — no matter how powerful — can be allowed to harass women or violate our human rights laws, period," James said. 
The findings were released a day after Cuomo's testimony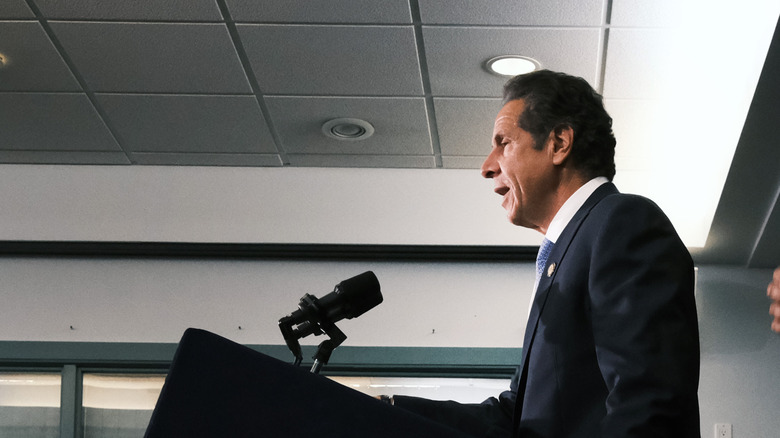 Spencer Platt/Getty Images
The findings from Joon H. Kim and Anne L. Clark were announced a day after Governor Andrew Cuomo reportedly spent about 11 hours speaking to investigators, who had wanted to hear first-hand about the way he treated the women that worked with and for him. The meeting, which was reported on by The New York Times, was private and confidential, and little was said about the direct outcome of the meeting itself. It was later reported by the Attorney General's office that while the governor had denied more serious allegations, he had done so by either giving them "blanket denials" or by saying that he could not remember details of specific incidents. The investigators also said that Cuomo's testimony contradicted the statements of those who had filed the complaints against him, or who might have witnessed the behavior (via New York Attorney General's Office). 
Aside from finding Cuomo guilty of sexual harassment, the investigators also found that his offices, or the Executive Chamber, was full of "fear and intimidation" that went some way in creating a hostile work environment.
President Joe Biden has said in the past that Cuomo should step down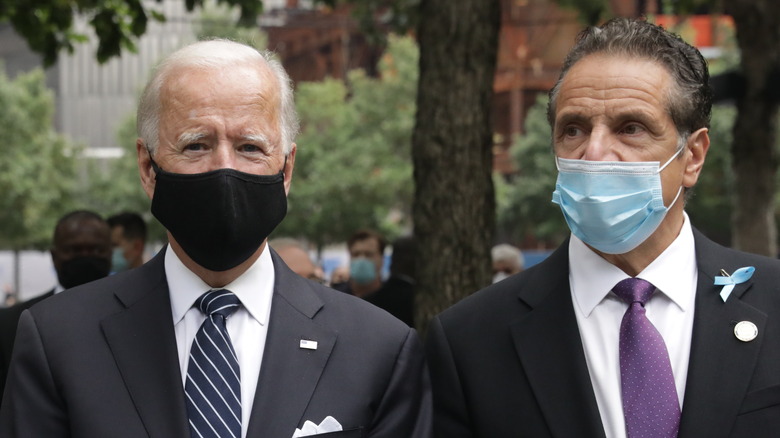 Pool/Getty Images
While her report laid the New York governor's sins out for the public to view, New York Attorney General Letitia James didn't want to say whether or not he should resign because, as she put it, "that decision is ultimately up to the governor of the state of New York," via The Washington Post. 
But one person who has not been shy about expressing his opinion on the matter is President Joe Biden who, back in March 2021, had expressed an interest in the case as well, and he referred to it when he sat down to speak with ABC News. When interviewer George Stephanopoulos asked him whether Cuomo should step down if the investigation collaborated the women's testimonies, Biden replied, "Yes. I think he'll probably end up being prosecuted, too."
The New York governor has, himself, said that he was "very eager to get the facts to the people of this state," and added that, "I think when they hear the actual facts, what happened, how the situation has been handled, I think they're going to be shocked. Shocked," (via The New York Times). In that, at least, we know what he said was not wrong.