Meghan Markle Might Give Royal Fans This Gift For Her 40th Birthday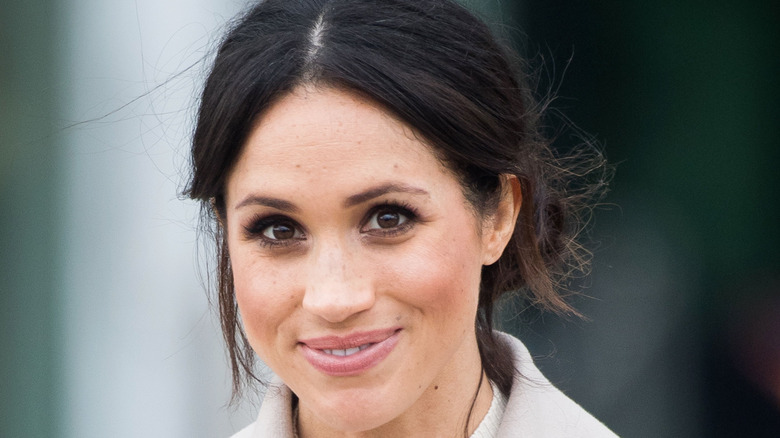 Shutterstock
Who says Meghan Markle isn't generous? She's about to celebrate a milestone birthday, but the biggest gift of the day may be the one she gives to her fans.
The Duchess of Sussex will turn 40 on August 4, and depending on which tabloids you follow, she and Prince Harry will either be going off on an intimate family getaway or hosting a bash at their Montecito mansion. Express is guessing it'll be the second option, dropping hints about the guest list (Oprah! George and Amal Clooney!) and the cake (reportedly a three-tiered confection with the "naked" icing style, costing $225). 
But the picture that will be making front pages won't be a shot of an A-list actor or a slice of strawberry cake. Instead, royal experts are predicting that Meghan and the prince will be releasing the first official photo of their infant daughter, Lilibet Diana, on her mom's birthday. No one has seen so much as a picture of the littlest Sussex's big toe since she was born two months ago. "I think it's likely we will see a picture of the family," royal expert Phil Dampier told The Sun (via Express). "It wouldn't surprise me if Meghan does release a pic of her with Lilibet to mark her 40th birthday, as they will want to emphasize what a happy family unit they are."
One expert thinks a pic of Lili would be a bad idea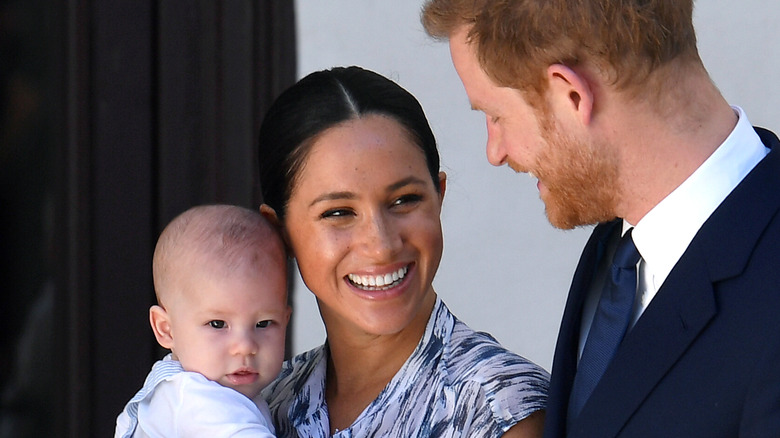 Pool/Getty Images
By contrast, the world was treated to pictures of big brother Archie Mountbatten-Windsor two days after his birth, at his christening, and in occasional candid moments. On Archie's second birthday in May, Harry and Meghan also posted a picture of him in a rear view (via BBC). Other royal family members have also been forthcoming with family photos, such as Princess Eugenie, Prince William, and Catherine, Duchess of Cambridge. 
Why, then, have Harry and Meghan been so secretive about showing off their new daughter? Safety issues could enter into it; without the dedicated security they enjoyed as working royals, the couple might be concerned that their baby might be a target. They may also be taking advantage of their privileges as private citizens. It's traditional for new royal moms to present their newborns to the public as soon as they leave the hospital (via The Independent); Meghan had the luxury of giving birth quietly in Los Angeles and returning home without cameras flashing in her baby's face.
Considering the heat the Sussexes have taken about their interviews and business ventures, they may want to spare their daughter from the slings and arrows of the media as long as they can. But perhaps that ship has already sailed; Adam Helliker, a royal commentator, told The Sun (via Express) that timing a Lilibet photo to Meghan's birthday would come off as a slick and calculated move "to promote the Sussexes' brand."