Inside Tom Cruise's Relationship With Mimi Rogers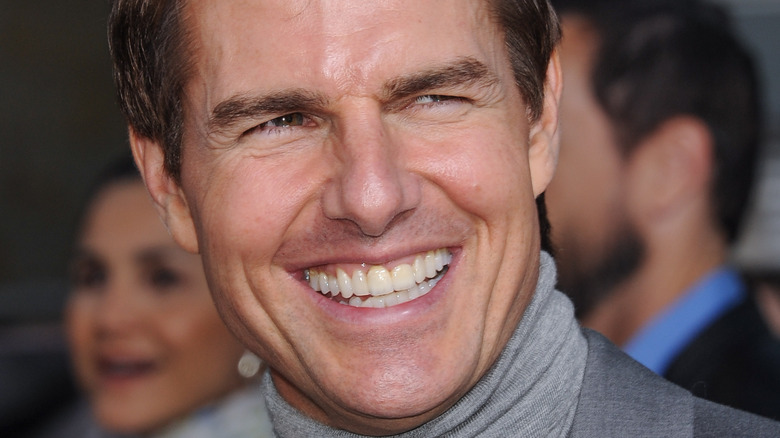 Shutterstock
Tom Cruise is one of the biggest movie stars on the planet. With notable roles in movies like "Top Gun," "Mission Impossible," and "Jerry Maguire," Cruise has been a leading man in Hollywood since the 1980s. Perhaps known for his personal life as much as he's known for his professional career, Cruise has made headlines over the years for his belief in Scientology, as well as for his romantic partnerships with various Hollywood starlets.
Cruise has had two highly publicized marriages in the past — one to actress Nicole Kidman and another to actress Katie Holmes. Everyone recalls the time when Cruise excitedly, and strangely, jumped on Oprah's couch in a 2005 television appearance after he was asked about his romance with Holmes (via YouTube). But long before Cruise was jumping up and down over his love for the former "Dawson's Creek" star, he was involved in a quiet marriage to actress Mimi Rogers. The two wed in the late 1980s, when Rogers was a television star in her own right, so why isn't there more attention on this past union?
The history of Tom Cruise and Mimi Rogers' relationship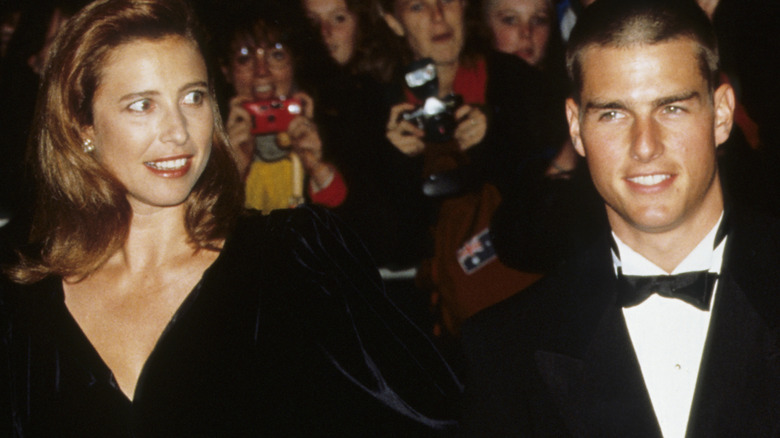 Georges De Keerle/Getty Images
Tom Cruise and Mimi Rogers have varying accounts about how they met. Cruise insists they met at a dinner party while he was developing "Top Gun," whereas Rogers stated that the two were set up by mutual friends. "I wasn't seeing anybody, he wasn't seeing anybody, and they thought, 'These people should be going out with somebody — let's see if they want to go out with each other ... And we said, 'Aw, what the heck'" (via the Sun Sentinel). Regardless of how they were actually introduced, Cruise and Rogers hit it off almost immediately.
The two discussed the idea of marriage pretty early on in their relationship, and it's widely believed that Rogers is the one who initially introduced Cruise to Scientology (via E!). They decided to wed in secret in May 1987 to avoid the onslaught of press and media attention they had been garnering since making their public debut. Reportedly, the only two people in attendance at the wedding were Cruise's mother and his best man, Emilio Estevez (via Entertainment Weekly). Though it seemed like the pair were well matched, they eventually parted ways three years later in 1990.
The pair tells very different tales about their split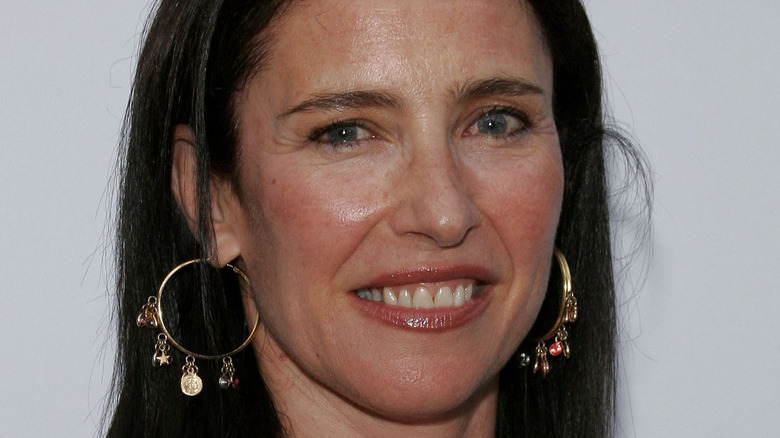 Shutterstock
The media speculation surrounding Tom Cruise's divorce from Mimi Rogers in 1990 was as wild as you'd imagine. There were rumors that Rogers was jealous of Cruise's stardom, that perhaps their six-year age gap was too substantial, or that Rogers had grown tired of constantly being referred to as "Tom Cruise's Wife" in the press (via Entertainment Weekly). Since Cruise never offered any insight as to what his perspective was on the divorce, the actual cause is down to mere speculation.
When announcing their divorce, the two released a statement that was more confusing than it was clarifying, saying, "While there have been positive aspects to our marriage, there were some issues which could not be resolved even after working on them for a period of time" (via InStyle). This was seemingly the end of the matter, until Rogers gave an interview to Playboy in 1993 where she stated that the reason for their divorce was rooted in Cruise's desire to become a monk. "Well, here's the real story. Tom was seriously thinking of becoming a monk. At least for that period of time, it looked as though marriage wouldn't fit into his overall spiritual need" (via E!). Whether Cruise was really considering the prospect of becoming a monk or these two just wanted different things, the mystery will seemingly remain unsolved.